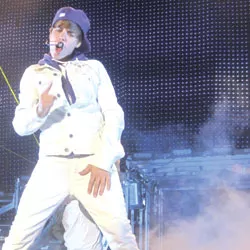 It's 3:30 p.m. Justin Bieber may have just hit the stage at the Champlain Valley Fair in Essex. Or maybe not. Scores of preteen girls are gathered at the fence just outside the grandstand, eager for a peek at their idol. "I think I saw him! He has a white hat!" one exclaims breathlessly.
Other girls, desperate for a look at the 16-year-old singer, have hopped on the Ferris wheel for a bird's-eye view of sound check. Vendors on each side of the grandstand are already doing a brisk business in posters, glowsticks imprinted with Bieber's name and $35 T-shirts.
No matter how big the name, teen idols never seem to be above an appearance at a mall or county fair if the money is right. And the name Justin Bieber is huge. He is the youngest artist to top the Billboard 200 charts since 1963, when Little Stevie Wonder achieved that feat. Bieber Fever seems alive and well in Essex Junction, though it doesn't measure up to the fervor that's caused riots at other venues and resulted in canceled shows.
I'm pushing 30, old enough to have seen other idols rise and fall. I remember when Aaron Carter came to the fair a decade ago. According to the title of one of his singles, Carter had "beat Shaq." Where is he now? Coming in fifth on "Dancing With the Stars."
Bieber may well be destined for a similar fate, but at the moment he's actually beating Shaquille O'Neal (on the "Shaq vs." TV show) and has developed a strange bromance with the 38-year-old athlete. Reality star Kim Kardashian, 29, has admitted that if the 5-foot-4-inch, 108-pound pop moppet were of legal age, she would hit that.
At the Champlain Valley Expo, fan club VIPs have filed into the arena for a meet-and-greet, which is audible from outside. Listening in, I'm not sure Bieber and Kardashian would have much to talk about. Bieber turns on his version of charm, reciting Chuck Norris jokes in his still-unchanged voice. "An interviewer asked Chuck Norris what his favorite music is," he says with obvious glee. "Chuck Norris roundhouse kicked him and said, 'That's music to my ears.'"
The jokes are met with startling silence. Apparently, the fans are too perplexed to fake a laugh. Mom and Dad have a few hours yet to explain who the hell the 70-year-old action star is and why their idol cares.
Once inside, fans have more waiting to do. Finally, the show starts promptly at 7 p.m. with strains of "Sweet Dreams Are Made of This." But it's not Annie Lennox, or even Marilyn Manson. It is Vita Chambers, a 17-year-old performer with a great hair toss and not much of a voice. It doesn't matter. The collective screams of the assembled create something akin to a sonic boom. If my head explodes, I will not be surprised.
Chambers performs for just 15 minutes, followed by another teenybopper on the rise, Jessica Jarrell. Just 15, she recorded a duet called "Overboard" with Bieber on his album My World 2.0. Jarrell has no live band and makes no secret of the fact that she's not actually singing. She raises or lowers the microphone to her mouth at her leisure, mostly to chat into it over her recorded vocal track. She's distinguishable from her two backup dancers only because she's less polished than they are, and occasionally stops moving to lip-synch. The motions remind me of Carmen Electra's "Aerobic Striptease" videos and their relatively innocent use of classic floor-show moves.
Next, Bieber collaborator Sean Kingston takes the stage. The 20-year-old released his first album in 2007, making him the elder statesman of this group. Kingston has a band and several backup singers, one of whom is so heavy I initially mistake him for the portly lead man. When Kingston enters, a couple of songs into his own set, he is unmistakable. In his orange outfit he looks like a pumpkin. His vocal, which appears to be not just prerecorded but Auto-Tuned, is mostly inaudible behind a wall of screams. Kingston instructs the audience to jump. On the creaky bleachers of the grandstand, it feels like an Indianapolis 500 tragedy in the making.
Kingston slowly waddles around the stage, but the fans are out of their seats. If you want a preteen ass in your face, this is the place to be. Trying to watch the concert, I can't seem to find anywhere for my eyes to land but on jean-shorted bums. One girl, who appears to be about 13, has been busily texting for the duration of the show. Now, she looks primed for an installment of Girls Gone Wild, her passions aflame, wiggling for the pumpkin onstage. I feel like a senior citizen.
Finally, Kingston finishes with an entreaty to his fans to follow him on Twitter. Screens on either side of the stage begin a 15-minute countdown to the main event. When we get to nine minutes, a trio of small boys beside me — one of whom bears an uncanny resemblance to Stand by Me-era Jerry O'Connell — begin counting down the seconds in very loud but squeaky voices. At five minutes, mass hysteria kicks in, and the screams are deafening. At two minutes, chants of "Justin!" begin and continue through much of the Xbox ad that starts the show.
Bieber finally enters amid a blast of green lasers, smoke and flashes from a giant LED screen at the back of the stage. He sings a song that I initially identify as "Lovefool," the 1996 hit by Swedish band the Cardigans. It turns out the Bieb's peeps have just nicked the chorus, slightly changing the words. I hope Nina Persson is getting residuals.
Bieber's dance moves are surprisingly sharp. Maybe it's their oversize jeans, but his backup dancers look sloppy in comparison. The singer's prepubescent passion for action comes across once again at the start of the second song, when he mimes roundhouse kicking each of his dancers, who roll away with wounded-looking break-dance moves. Not to appear too butch, Bieber follows this with some voguing.
There's not a hint of masculinity in the kid's presence as he flits, pixie-like, across the stage. Nor does he project flaming homosexuality. Bieber is wholly asexual, a real-life Peter Pan. Let's face it: He's 16, and his voice still shows no trace of maturing. He may never grow up.
Nonetheless, the Bieb is a pro who sticks to the script. "I think there's a lot of beautiful girls here tonight. How many single ladies are out there?" he intones. The responding wails bore into the bones of my face. "I'd like to dedicate this song to all the single ladies out there," he says.
Since all 13-year-olds are single ladies, Bieber has plenty of choices when he plucks one fan from the audience. She sweats under the hot lights and looks supremely embarrassed, leaning away as he sings (apparently live for this song and a few others) in her face.
"Vermont is home to three great things: Ben & Jerry's, Burton and some of my greatest fans. I'd do anything for my great fans," Bieber tells the crowd. A young mother seated behind me asks, "Did he just say 'Bernie'?" Alas, the teen sensation has not yet taken a socialist stance.
This is followed by a video package of JB drumming, singing and ice skating while, it appears, still in diapers. Clearly, Bieber's teenage mom had plans for her boy. Strangely, when she appears on screen, the audience explodes with cheers.
Putting aside the alarming Internet rumor that the star impregnated his own mom, it's clear that she impregnated him with a razor focus. The clip ends with a barely verbal baby Bieber reciting the words, "I want to be on TV. I love you all."
The minutes slowly tick by. In a daze, I forget to cover my ears during the screaming. The volume seems to split frequencies and harmonize with itself, like the strains of a throat singer. It is now 9:45, and the concert seems far from ending. Just my luck, I've wandered into a Springsteen-style megashow.
The finale does eventually come, though, with Bieber's wish that "Michael Jackson rest in peace" and his rendition of Jacko's "Wanna Be Startin' Somethin'," accompanied by ample crotch grabbing from the dancers.
After an encore in which Bieber brings out Diggy, one of Rev Run's kids, to provide a tornado of rhymes, the audience quickly files out toward Steakhouse Road and fried food. "I can't hear anything!" yells one visibly alarmed elementary schooler to her friend.
The friend responds, "I think I'm deaf!" I, too, am shell shocked, and relieved to return to the land of grown-ups.