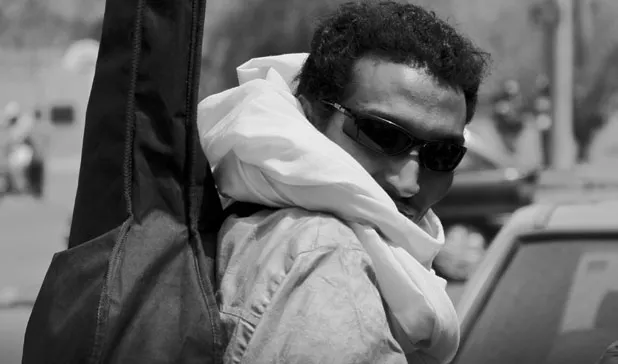 Omara Moctar, 31, was driven from his home as a child during the first Tuareg rebellion in Niger. Moctar is Tuareg, a nomadic culture of people based in the Sahara Desert. When he returned to his hometown of Agadez after living in exile, he learned to play the guitar. His teacher, who invited this promising young student to join his band, gave him the name Bombino — a variation of an Italian word meaning "little child."
In the years since, Bombino has become a world-music star, taking as much influence from traditional Tuareg as Western rock icons such as Jimi Hendrix and the Who's Pete Townsend. He's recorded with the Rolling Stones. He served as Angelina Jolie's guide during her first visit to Niger. Dave Matthews personally invited him to perform at his Dave Matthews Band Caravan festival after hearing Bombino's most recent album, Agadez. Later this summer, Bombino will share a stage with Stevie Wonder and Janelle Monae at the Hollywood Bowl.
Still, despite his increasing inroads into Western pop-music culture and the accompanying fame, Bombino's heart and soul remain with his people in Niger. He says his crowning achievement was playing a peace concert at the Grand Mosque in Agadez, following the end of the second Tuareg rebellion in 2010.
In advance of his performance at the Higher Ground Showcase Lounge on Friday, July 22, Seven Days spoke to Bombino by phone from Boston, through an interpreter.
SEVEN DAYS: What was it like to grow up during the first Tuareg rebellion?
BOMBINO: It was difficult to grow up in that moment. We left the country and lived in Algeria, a country that I didn't know. It was difficult to integrate. I didn't speak Arabic. But it was impossible to avoid being in this moment. And, after everything, you get experience. It's life. Sometimes it's good. Sometimes it's bad. So, when you grow up in this kind of moment, you can release insecurities about life, you can understand the life and become passionate about everything. Still, it was hard.
SD: How important is music in Tuareg culture?
B: The importance of music in the life of the Tuareg is deep. Our people are nomadic. So they are moving often. And when there is a celebration or a ceremony, we come together, with no differences, and listen to the music. They are dancing. They are together. They are happy. People are feeling the same emotions. The music is very, very important to the Tuareg. It helps us speak about the life of the Tuareg.
SD: Where did your interest in rock and roll come from?
B: When I first heard some tapes of rock groups, I understood they were real, making good music. Good power playing guitar. In Agadez, a young guitarist likes to play rock in their music. It is a good manner of playing guitar. Often we find that rock and our music go together.
SD: Dave Matthews personally invited you to play his Caravan festival. What was your reaction to that?
B: It was a big moment for me. I'm very happy about it. It's an opportunity to bring my music to people on behalf of my community, on behalf of my people. It helps the world discover our music.
SD: So … what was Angelina Jolie like?
B: [Laughing.] Beautiful. [Laughing.] Very, very beautiful.
SD: You have played all over the world, and will play some amazing shows in the U.S. this summer. But I imagine the peace concert at the Grand Mosque in Agadez at the end of the second rebellion must have been the most memorable.
B: It was a great moment in life. There is nothing more important in the life of a country than peace, continuing the peace. That moment meant that the process of peace had started. I was happy about that, and happy to come back to my town, to come back free and help develop peace with the people. There were great emotions that I will never forget.
SD: You are often called the voice of the next generation of Tuareg. Do you welcome that responsibility?
B: It is a big responsibility. We try to always say something about the life of the Tuareg in order to carry out this responsibility, to tell what I have seen about the life of the Tuareg. We have started a new process of peace, and maybe if the government will cooperate as well as they can, I think we can continue to build peace and develop our country together. That is the message I like to bring.