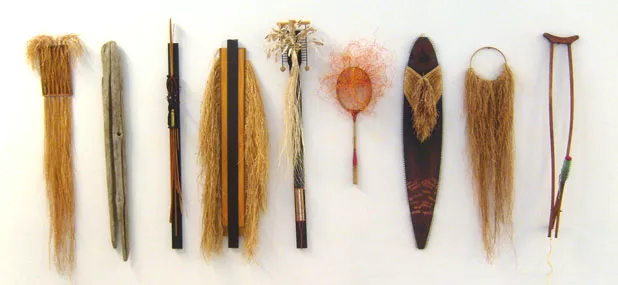 "Primal Suite" by Jane Horner
For the first two weeks of July, Burlington artist Jane Horner took over the Flynndog gallery and made it her studio. The result of her labors is a sprawling show that gathers disparate elements into an aesthetically unified whole. Called "Intermediaries," the exhibition includes a 25-by-3-foot roll of figure drawings, seven paintings, a substantial installation and a host of assemblages of varying scale. At times Horner seems to explore Dada, with an ironing board and ladders presented in the "readymade" tradition of Marcel Duchamp. In other instances — most notably in her paintings — Horner's work is formal and refined. But there's no question these diverse artworks rise from the same font of creativity. The pieces are all interrelated, even if their relationships aren't always clear.
Layers of plaster gauze wrap around sections of the two ladders, which Horner dubs "Mummies." Hardly the sturdy, climbable stepladders of hardware stores, these are spindly, like giant spiders, and the wound gauze softens their edges to give them an organic quality.
"Warrior," which hangs on the wall, is a wooden ironing board with a red tassel dangling from it. The posh silk accent profoundly alters the mundane domestic object — a hallmark of Horner's work.
Dominating the exhibition is a monumental collection of more than 50 10-foot-high poplar and birch saplings and branches, collectively titled "Solace." The saplings are basically unaltered, but window casements and barely visible, white-on-white silhouettes of shadows traced on the gallery wall add layers of complexity. The work is an artificial yet ghostly forest; the weathered bark, windows and pale painted shadows seem frozen within the gallery space.
The nine vertical constructions of "Primal Suite" have ambiguous narratives. At once aboriginal-looking and somewhat precious, each 40-inch-tall element has a descriptive moniker. "Ghost" is simply a piece of driftwood, while the elaborate "Guardian" includes a machine-gunshell casing. "Burning Bush" is a badminton racket with red fibers emanating from its webbing. Another readymade in the group is a broken crutch christened "Hero." "Primal Suite" is an aggregation of connotative objects that have a greater impact as a group than they would individually. Perhaps they are like the parable of the blind men and the elephant — each is a constituent piece revealing something of an unseen entirety.
"A Conversation" is a delicate assemblage of sticks wrapped with colored cotton threads. Horner has experimented with the technique before. Her 2008 Art Hop sculpture consisted of wrapped sticks planted in the ground. Nearly 20 years ago, she wrapped the trees in front of the Fletcher Free Library with swaths of colorful cloth. The hues of this assemblage reappear in paint on Horner's canvasses.
The 50-by-40-inch "New Heaven" is built upon a foundation of geometric shapes — specifically triangles — in acrylic. From a dark value of blue in the lower right corner to a light upper corner of misty hues, Horner has worked the abstract space into delicate layers, like folded phyllo dough. Understated textures add body to the painting's surface. "Crossing Over" is an unstretched, 60-by-84-inch acrylic that includes transparent equine forms playing in the piece's ethereal "sky." Below are broad indigo brushstrokes that seem like waves rolling onto a sandy beach.
Horner is a mature artist who has had a long and productive career. Yet she still challenges herself, and her audience, to broaden the definition of art; she asks us to accept the beauty of raw, found objects — such as this show's birch saplings and chunks of wood — just as we might view her abstract paintings. Nature and art are two sides of the same coin, Horner seems to suggest. Her familiarity with both imbues her works with unreserved elegance.