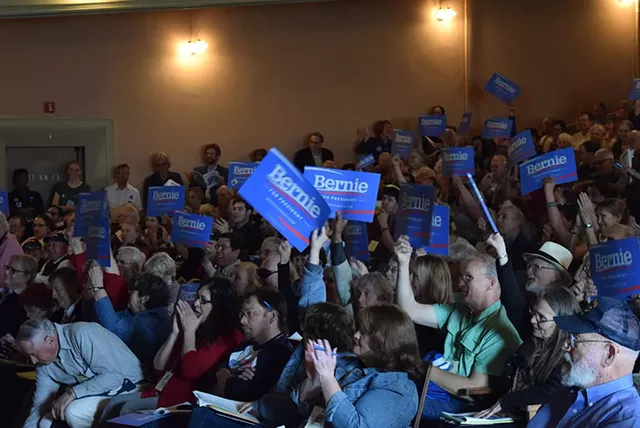 Terri Hallebeck
Supporters of Sen. Bernie Sanders (I-Vt) rally Sunday at the Democratic State Convention in Barre.
Like families gathered at Thanksgiving ignoring Uncle Ned's drinking problem, the Vermont Democratic and Republican parties tried this weekend to dance around their deepest dysfunctions.
Hillary Clinton? Never mind that she is the party's likely presidential nominee; her name was barely mentioned in the course of the five-hour Democratic State Convention Sunday at the Barre Opera House.
Donald Trump? No one said onstage how much it scares them that the outlandish business mogul will likely be their presidential nominee at the Sheraton Burlington Hotel & Conference Center on Saturday. But some in the crowd at the Republican State Convention defiantly tore off the Trump ad that was attached to their name tags — he paid the Vermont GOP $5,000 for that spot — along with a similar ad for Republican gubernatorial candidate Bruce Lisman.
When the Dems convened a day later, Clinton supporters found somewhere else to be. They knew the day would be all about home-state presidential candidate Sen. Bernie Sanders (I-Vt.), whose supporters turned out in force to pick 11 district delegates to the national convention.
At both events, party leaders sought to persuade their faithful that success is possible only by coming together. That's true. They can't win the presidency, the governor's office or a sizable slate of legislative seats without a team effort. Republicans and Democrats struggled mightily to unite their teams.
Republican national committeeman Jay Shepard told GOP delegates that the party's primary for governor was a good thing, saying it offers an opportunity for the two candidates to crisscross the state "and express how great Republicans are." That was just before the gubernatorial candidates — Lt. Gov. Phil Scott and Lisman — went harsh on each other in their respective stage speeches.
Scott, a race-car driver whose blood pressure never seems to rise, took the podium and hauled out a flier that had just arrived in Republicans' mailboxes Saturday morning. In it, Lisman links Scott to Gov. Peter Shumlin, the three-term Democrat who is retiring.
"As Shumlin's lieutenant governor, he's gone along with Shumlin and the big-spending Democrats," Lisman's mailer states, ignoring the fact that the governor and lieutenant governor are elected separately.
"This is D.C. tactics at its worst," Scott scoffed, throwing the mailer to the floor. "At least he's showing me his stripes," he said of Lisman.
When his speech was over, Scott received a standing ovation.
Then Lisman took the stage, where he continued to beat up his fellow Republican. "I should tell you another reason why I'm running," he said. "Phil. He stood by silently while failed policy after failed policy has been enacted that brought us to this sad moment in our state's great history."
Lisman also managed to whack all the Republican legislators in the room along with Scott. "No one — and I mean no one — in government has listened to you," he said.
Not a one stood up when Lisman finished speaking.
Terri Hallebeck
Cheryl Donlon of Enosburg Falls volunteers for Republican presidential candidate Donald Trump at Saturday's Republican State Convention.
Lisman's attack on Scott was the political version of bumping his race car from behind. And Scott responded as he does when that happens at the Thunder Road racetrack, where he is the winningest late model driver in track history. "They know they'll get that sharp jab back if they don't treat me with respect," Scott tells Seven Days.
On the Dem track, party leaders toiled hard to keep the Sanders and Clinton cars from colliding, at least for one day. Party executive director Conor Casey helped Sanders supporters find ways to express their frustration over a superdelegate system that many argue favors Clinton, without devoting hours of contentious debate to the topic.
State delegates passed a near-unanimous resolution urging the party to dump the superdelegate system in 2020 so that high-level party officials would no longer get an unpledged vote at the national convention.
The delegates also sent a not-so-subtle message to Sen. Patrick Leahy (D-Vt.), one of four Vermont superdelegates supporting Clinton. They declined to elect Leahy's state director, John Tracy, as national committeeman. One of Tracy's competitors, Scott Garren of Shrewsbury, says, "In normal times, John Tracy would be a shoo-in."
Instead, two staunch Sanders supporters — Terje Anderson of Montgomery and Rep. Mary Sullivan (D-Burlington) — will be the party's next national committee members. That suggests the Sanderistas will have a say in its future.
Sanders supporters, many attending their first Democratic convention, might feel they own the party now. They should probably remember that the Clinton faction took the day off but hasn't disappeared. Leahy, Shumlin, former governor Howard Dean and national committeewoman Billi Gosh — superdelegates for Clinton — were all wise enough to make other plans. Their presence would only have been a visual reminder that the party is not in lockstep.
Vermont Democratic Party chair Dottie Deans and vice chair Tim Jerman indicated that national party leaders are well aware of the need to ease lingering tensions between the Sanders and Clinton camps. In Philadelphia last week, they joined party leaders from around the country in meetings with high-level Clinton and Sanders staff to prepare for the July national convention.
"The commitment from both campaigns is to come together in unity at the end of the campaign," Jerman told Democrats on Sunday.
But even as there was talk of peace, the rift grew. On Saturday, Sanders endorsed the congressional primary opponent of Democratic National Committee chair Debbie Wasserman Schultz, reigniting their bitter dispute over how the party has handled the presidential primary. On Monday, Sanders told the Associated Press that the national convention "could get messy."
Tension from state campaigns was on display, too.
Former state senator Peter Galbraith, one of three Democratic candidates for governor, didn't name names, but he put down his primary rivals. Only after he called for a higher minimum wage and refused to accept corporate campaign contributions did fellow Democratic candidates Matt Dunne and Sue Minter follow suit, he said. "These issues simply weren't being discussed," Galbraith told the crowd, before ending with another swipe at his rivals. "I am running for governor not just to be governor, but to do something."
Unity? Not yet, anyway.
Norm's In. Who's Out?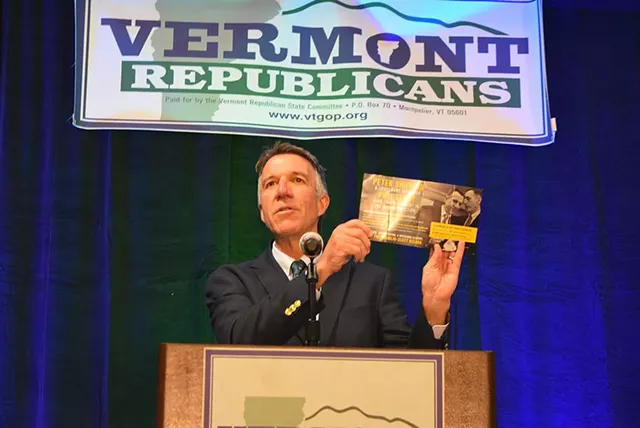 Terri Hallebeck
Lt. Gov. Phil Scott at Saturday's Republican State Convention in South Burlington
A lot of clipboards got passed around at the weekend conventions. Candidates seeking signatures for petitions to run for state offices were up against a new, earlier-than-ever filing deadline — 5 p.m. Thursday, May 26.
We won't have a full view of who's running for what until next week. But some candidacies are worth noting:
Sen. Norm McAllister (R-Franklin) is seeking reelection, which should make for interesting candidate forums in Franklin County. McAllister has been suspended by his fellow senators pending the outcome of felony sexual assault charges against him. His trial related to one alleged victim is set for June 15. "I'm assuming the case is going to come out the way I think it is," McAllister says. He'll face competition in a Republican primary for the two-seat district.
Rep. Kurt Wright, the only Republican in the Burlington House delegation, says he seriously considered running for the tough six-seat Chittenden state senate district, which has two open spots. But, Wright says, "It's not the right time now." He will instead seek reelection to the House.
Republican Scott Milne says he'll likely file petitions Thursday to challenge Leahy and plans a campaign kickoff in July. Milne, the Pomfret travel agency owner who nearly defeated Shumlin for governor two years ago, has never held elected office. He argues that the 76-year-old Leahy, in office since 1975, has been in Washington, D.C., too long. "He is the definition of a career politician, and I believe career politicians are why our country is in the sad condition it is in," Milne says.
Dan Feliciano of Essex, whose run for governor two years ago as a Libertarian cost the Republican Party a chance to unseat Shumlin, is running this year for state auditor as a Republican. And the Vermont GOP is greeting him with open arms. "Dan is a great addition to our team," party chair David Sunderland wrote in a press release. Feliciano is challenging incumbent Democrat/Progressive Doug Hoffer.
Dylan Giambatista and Conor Kennedy, two young and energetic men who've been helping to run the House and Senate, are now going to run for the House and Senate.
Giambatista, who has been the aide to House Speaker Shap Smith (D-Morristown) for the last two years, is a candidate for the House in Essex Junction. Reps. Paul Dame, a Republican, and Jerman, a Democrat who is not seeking reelection, hold the seats now.
Giambatista, a 30-year-old Wallingford native, dropped out of high school, went on to earn degrees at the Community College of Vermont and Johnson State College, and played in the band Rough Francis. He and his wife, Candace Morgan, have owned a home in Essex Junction for two years. Giambatista says he left his job in the speaker's office Tuesday.
Kennedy, 27, is running for the Senate seat vacated by his boss, Senate President Pro Tempore John Campbell (D-Windsor), who is taking a job as executive director of the Vermont Department of State's Attorneys and Sheriffs. Kennedy worked as an assistant in Campbell's office for two years and plans to leave that job Thursday.
Kennedy grew up on a sheep farm in Hartland. He once hoped to be a professional ski racer but got hooked on politics and public policy instead. "I wanted to be in the Statehouse every single day, every waking hour," Kennedy says.
Both Democrats will face competition for the seats.
Eddie Cutler, a 64-year-old retired toolmaker from Westminster who heads up the group Gun Owners of Vermont, has been going to the Statehouse in recent years to fight gun control and other legislation he sees as anti-sportsmen. Now Cutler is a Republican candidate for a House seat in Windham County represented by incumbent Reps. Mike Mrowicki (D-Putney) and David Deen (D-Westminster).
Cutler says he felt like he wasn't being heard at the Statehouse. "If I can't be in the witness chair, I'll be behind the bench asking the right questions," he says.
Lastly, Gordon Bock has spent a fair bit of time at the Statehouse in recent years, as a former inmate advocating for prisoners' rights. Now, Bock is vying for a spot in the two-seat House district representing Northfield and Berlin. The Democrat will be challenging Republican incumbent Reps. Anne Donahue and Patti Lewis.
Bock, 61, says he likely won't play up the two assault cases that got him in trouble — for shooting a former girlfriend's son and later assaulting his own wife, whom he divorced and has since remarried. But he won't try to hide his past, either. Bock credits his faith and a domestic abuse program for his rehabilitation.
Paul Heintz is on vacation. He will return next week.