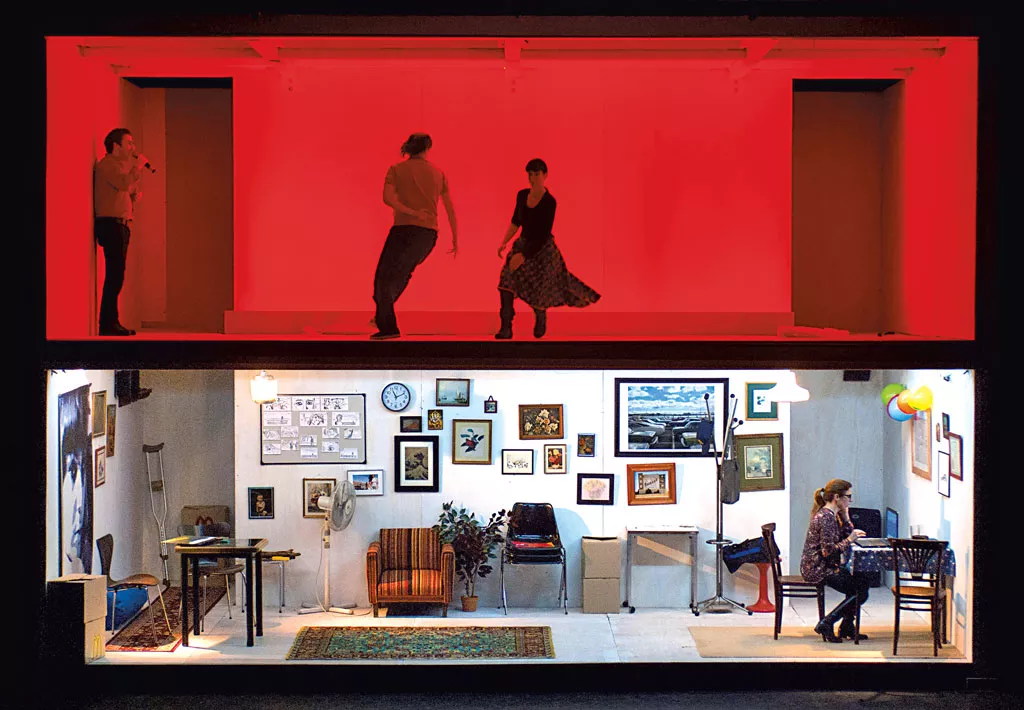 The term "movie theater" gets a new meaning in the latest work from Argentine writer-director Mariano Pensotti. Cineastas, which has earned enthusiastic reviews from Santiago to Toronto, makes its New England debut at Dartmouth College's Hopkins Center for the Arts this weekend and is certain to dazzle audiences with its audacious hybridization of stage and screen.
Part play, part motion picture and completely original, the production combines conventions of both art forms to tell the stories of four Buenos Aires filmmakers while simultaneously staging scenes from the movies on which they're working. To make this possible, designer Mariana Tirantte came up with the idea of a two-level set designed to function as a real-life split screen.
Just five performers handle all the action. On the lower level, the artists live their day-to-day lives and do their work. Overhead, we see that work played out as it's created — sort of like instantaneous flesh-and-blood dailies.
Contributing to the "movie-ness" of Pensotti's stage creation are devices such as voice-over narration, an ultra-catchy soundtrack, flashbacks, a lighting palette beside which Technicolor pales and — believe it or not — subtitles (the play is in Spanish).
"The set was conceived with a wide strip separating the two floors," explains Hop program director Margaret Lawrence in a phone interview. "And the text is projected onto that space." All that's missing are the endless previews and ads. Which, of course, nobody misses at all.
The four director characters vary in age, area of interest and degree of success. Mariela specializes in documentaries about Soviet musicals. When she observes, "Ultimately, film is about people being able to make time stand still," she touches on the central theme of Cineastas: the human desire to freeze life in a frame.
This is very much the motivation of the group's most commercially accomplished member, an artist named Gabriel whose battle with a terminal illness is nearing its end. His film starts out as a "time capsule" of his life for his young daughter to watch after he's gone. As time runs out, however, he finds himself reduced to compulsively recording objects of personal significance and marveling at "how different a represented life and a real one are."
The play has a quirky and lighthearted side, as well. Third director Nadia's way of dealing with the block she experiences after an early success is to put filmmaking aside for a while and immerse herself in the music of Michael Jackson. Lucas is a young artist who makes ends meet by working at McDonald's. He channels his frustration into the story of a kidnapping victim whose masked captors' idea of torture is forcing him to eat cold hamburgers and making him dress up like Ronald McDonald.
When Lucas' protagonist is released, he pigs out at Burger King and delivers a monologue that echoes Warhol: "There are things that are fleeting," he pronounces. "Lives, relationships, families. And other things that last forever, like some cities and leading brands." That might just be the most profound thing ever said by a character in clown shoes.
The play is never more movie-like than when it reaches its ending. It's a pip, and you won't see it coming. Before he became Latin America's foremost experimental auteur, Pensotti made his living as a screenwriter, and Cineastas reflects the bemusement of someone who's seen the industry from the inside and gotten out.
If it were a movie instead of a play, this would be something very like a Charlie Kaufman film. There's a subplot, in fact, concerning a director who finds himself replaced in his life by the actor who's playing the lead in his film.
The prize-winning playwright will take part in a preshow talk titled "Argentina on Stage" on Thursday, January 15; and a panel discussion titled "Real Fictions" on Friday, January 16, moderated by Vermont filmmaker Nora Jacobson.
Pensotti calls his latest creation a "filmic drama." Vermonters might call it a compelling reason for crossing state lines.
INFO
The original print version of this article was headlined "All the World's a Movie Screen in Argentine Play at the Hop"