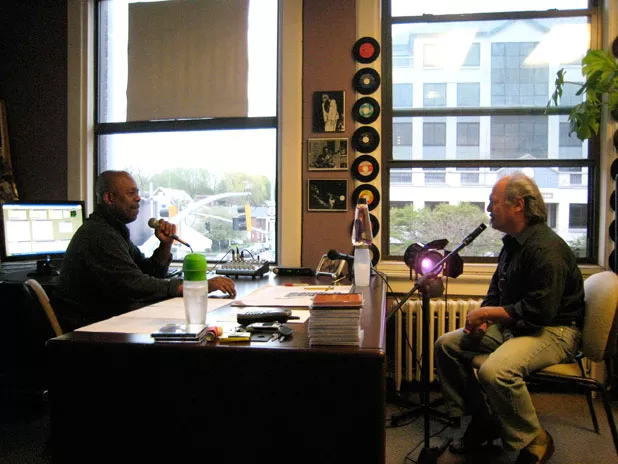 Warren Hardy and Paul Asbell
Long before Nectar's became "The House that Phish Built" or Higher Ground was even a twinkle in its owners' eyes, Burlington's marquee music venue was R.W. Hunt Mill & Mining Company. Or, as it was more commonly called, Hunt's.
Back in the day, the building at 101 Main Street — remember Sha-Na-Na's? — wasn't just a place to see great music, it was the place to see great music. The list of national bands and artists that passed through the club's fabled doors during its 10-year run (1977-1987) reads like a who's who of the era: Taj Mahal, Greg Allman, B.B. King, Roy Orbison, Livingston Taylor, Pat Metheny, Jerry Lee Lewis. And this at a venue with a capacity of just under 300 — only slightly larger than the Higher Ground Showcase Lounge.
Like many folks who were fortunate enough to experience it, Warren Hardy, 52, remembers the nightclub passionately — much like legions of current twenty- and thirtysomething Burlingtonians recall Club Toast. A Queen City resident for 32 years, Hardy was an original partner at Hunt's with owner Yoram Samets, working at the club in various capacities for five years. Recently finding himself unemployed, a casualty of the economy, he turned an eye — or rather, an ear — to the past in the form of a weekly radio show for local online station WBKM.org. "Hunt's Revisited" airs Wednesday nights at 7.
Each week, Hardy invites local musicians and other notables from the Hunt's era into WBKM's downtown studio to reminisce about the club, share stories and talk about their new endeavors. And, most importantly, to listen to music.
On a recent broadcast, Hardy sits down with local acoustic guitar legend Paul Asbell. Asbell agreed to appear even though it's his wedding anniversary — he assures the listening audience his wife gave him the OK — and that suggests just how fondly folks remember Hunt's.
Following a tune from Asbell's Roots & Branches and a charmingly unpolished, borderline giddy introduction, Hardy begins the show in earnest. He plays a track from Big Joe Burrell & the Unknown Blues Band's Live at Hunt's. Asbell, that group's guitarist, listens intently, nodding and tapping his foot as a thin smile cracks his lips. One gets the impression he hasn't heard the record in a while. Hardy claims this phenomenon frequently occurs on the show. And he's right: It happens again on this same edition when Hardy spins a cut from Asbell's Sneakers Jazz Band.
While the late Big Joe Burrell's familiar booming croon crackles through the stereo speakers, Hardy and Asbell gab like old friends. Which, of course, they are. The off-air conversation morphs into an on-air discussion about how Asbell's instrumental jazz outfit Kilimanjaro, at the time a Hunt's fixture, turned into — and was eventually surpassed in popularity by — the Unknown Blues Band. It's a story many listeners had probably not heard before, or had forgotten.
The stories that dig into Burlington's multifaceted musical history fascinate Hardy and provide the foundation for his show. His face beams while Asbell recounts anecdotes from the early days of Kilimanjaro and UBB, even though he's likely heard them all before. Hell, he was probably present when they happened.
Hardy is equally obsessed with the musical connections implicit in the stories — a sort of "Six Degrees of Kilimanjaro."
"Everything always seems to come back to you and Chuck [Eller, Kilimanjaro keyboardist]," Hardy remarks at one point in his conversation with Asbell.
Through the Internet and social-networking websites such as Facebook, Hardy has built a devoted fan base of listeners who remember Hunt's, both as patrons and musicians. But Hardy — and by extension his show — is not solely devoted to the past. Upcoming guests include neo-soul songwriter Myra Mathis Flynn and Burlington ex-pat trumpeter Jennifer Hartswick, both of whom are far too young to have ever set foot in the club.
"The concept was to present the listeners with the music that graced the stage at Hunt's," explains Hardy. "The truth of the matter is that you get musicians like Paul Asbell or Gordon Stone, who played Hunt's in many capacities, with a lot of other musicians. So I branch out to those musicians. And then to the musicians who played with those musicians. The branching just keeps going."
Eventually, the connections lead to younger, current artists.
Though some call the Burlington music scene incestuous, Hardy politely calls it a "melting pot." He also notes that Hunt's served as a showcase for unknown Vermont artists of the time, who were "discovered" by local audiences. "I'm allowing the same thing," he suggests. "It's keeping on with the same tradition that Hunt's had."