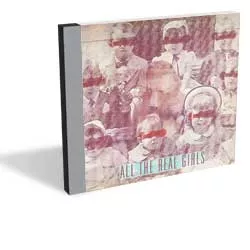 (Self-released, CD, Digital Download)
Bands that borrow their names from movie titles — i.e., My Bloody Valentine, Say Anything, Goldfinger — are a strange breed. The habitual temptation in cases such as these is to search for potential parallels in content or mood between the bands and the films. Most of the time these parallels, if they exist, are not manifested. And if there are comparisons to be drawn between the 2003 Paul Schneider/Zooey Deschanel box-office flop and Burlington's own All the Real Girls, they are not drawn easily.
Now, with that initial observation more or less addressed…
Ten seconds of indistinguishable chatter among seemingly many males and females mark the beginning of All the Real Girls' self-titled LP. It's hard to say what the intention of this voice collage might be, unless to illustrate the fact that this band is composed of many voices — 16 members in total. Incorporating an impressive array of instruments, from a fleshed-out horn section to fluid strings and pedal-steel guitar, All the Real Girls is a real-deal production.
On the waltz-y first track, "The Empress," the listener can easily distinguish, beneath the prominent lead vocal harmonies, the sounds of fiddle, bass, drums, organ and numerous guitars. This brand of lush arrangement is consistent throughout. With the help of Peter Donovan's unflinching lyrical reflections — e.g., "I was so far gone, I couldn't save you from what I'd done" on the string-centric "His Wife, the Painter" — the album ambles fluently from song to song.
The number and diversity of instruments found here is reminiscent of that on Bright Eyes' 2002 breakthrough, Lifted. In both cases, the core of each song is a simple folk ballad composed of acoustic guitar and lyrical introspection. The simple song-statements are then embellished by what sounds like, at its best, a country-and-Western-meets-Salvation-Army band. The results here are varied.
In the end, All the Real Girls comes across as a heavily polished product. It's no surprise to find that it was mastered by Omaha's Doug Van Sloun, the man responsible for mastering most of the albums in Saddle Creek Records' catalog. That includes the majority of Bright Eyes' albums, though, strangely enough, not Lifted.
All the Real Girls clearly know how to achieve their desired sound, and they do it well. Hear for yourself when the band plays the Monkey House in Winooski on Sunday, July 8.