(Left to right): Brennan Joseph Dekeersgieter, Jenna Rae Tatro, Alexa Rose Cioffi and Jesse Palker
The headlines are full of stories about the opioid epidemic: about doctors overprescribing pills, lawsuits against drugmakers and the astronomical cost to our social-services safety net.
The obituaries are full of these stories, too, though few of them come right out and say so (Megan Webbley's obituary this week is one exception). Addiction is still shrouded in shame and stigma. In many ways, that's prevented us from confronting the human cost of the crisis.

To change that, Seven Days is inviting the families of those who've died as a result of opioid-use disorder to share their stories through an online memorial project called All Our Hearts. It launched in September. Submitting an entry is free and easy to do; we've created a form that guides submitters through the process.
These personal remembrances can educate, change minds, awaken empathy and inspire action. We've seen it happen.
All Our Hearts takes its name from the obituary for Madelyn Linsenmeir, who died on October 7, 2018. Her sister, Kate O'Neill, wrote a moving tribute that captured the attention of millions of readers around the globe. In fact, it prompted Seven Days to hire Kate in January to write a yearlong series: "Hooked: Stories and Solutions From Vermont's Opioid Crisis."
In the obituary, Kate wrote: "If you yourself are struggling from addiction, know that every breath is a fresh start. Know that hundreds of thousands of families who have lost someone to this disease are praying and rooting for you. Know that we believe with all our hearts that you can and will make it. It is never too late."
More than 1,000 people commented on Maddie's obituary on Seven Days' website. Just a handful of them knew her personally. Many of the commenters revealed that they had their own stories to tell. Seeing them come forward convinced us that we should help them.
To commemorate the anniversary of Maddie's death, we're publishing excerpts from All Our Hearts entries about Vermonters. Find the full entries, and submit your own, at allourhearts.com.
of Burlington, Vt., and Portland, Maine. (1986-2013). Submitted by Brennan's mother, Margery Keasler
Brennan Joseph Dekeersgieter
What he was like
Brennan was beautiful, kind, smart and so funny. He stood six foot three with blue-green eyes and dirty blond hair. He was an adventurer, a traveler, an amazing snowboarder. He was the oldest of our three kids. Family meant everything to him.
He was so warm and accommodating, such a good son. A good human.
When I first knew something was wrong
Brennan suffered a snowboarding injury, an ACL tear, in his first year at Sierra Nevada College in Lake Tahoe. He came home to recover, and the doctors prescribed an opiate, Dilaudid, for his pain. It turned into full-blown addiction. He eventually moved on to OxyContin, which was all over the streets at the time.
I could see that he was addicted. He wasn't himself. He denied it. We fought about it for four months.
Finally, he came to my acupuncture office — at 19 years old — telling me he wanted to go to rehab. I think about the maturation it took for him to do that and the absolute horror of opiate addiction.
He went to rehab after that, and it took for a little while. But OxyContin grabbed him and held him for seven years.
How opioid-use disorder changed his life
Brennan struggled and suffered like no young man should. He was a victim of the opioid epidemic, which is taking our kids from us like something out of a science-fiction film. They are just disappearing right before our eyes.
The last moment I shared with him
We lost Brennan to an overdose in 2013 in Portland, Maine, while he was in a sober-living situation there.
Before he died, he had come to Vermont to see us and get some paperwork sorted out. I brought him to the bus stop up at the University of Vermont, by the Royall Tyler Theatre. We hugged and said goodbye. I was able to rub his head and tell him how much I loved him.
Margery Keasler leads the Burlington chapter of the support group Grief Recovery After a Substance Passing (GRASP).
of Johnson, Vt. (1992-2019). Submitted by Jenna's mother, Dawn Tatro
What Jenna was like as a child
From the get-go, Jenna was a helper and a lover of everyone. I remember her teacher saying to me, "This girl is going to be the president of the United States. It's amazing what her friends will do for her."
That teacher came to Jenna's wake and said that Jenna had made such an impression on her because she was just so freehearted, always smiling. She changed the atmosphere at her school.
The first sign something was wrong
She was in her first semester of college when her boyfriend beat her up on Christmas Eve, and she went to the emergency room. The doctors prescribed her 30 days of OxyContin.
Jenna turned into someone we didn't even know. I remember the first time we found out Jenna had tried heroin. I just started crying on the floor and knew we had to go to a recovery meeting immediately.
At first there was a lot of fear that everyone would know us there. But we knew we had to go, and that was our first step outside the box, saying that we're affected by this, like so many other families are affected by this disease. That's when I realized that there's a whole community of people just like us. We're not alone.
A vivid memory of Jenna
A girl named Michaela came into Jenna's rehab facility weighing 90 pounds. She walked in and said, "There's no way in hell I'm staying here." She told me that Jenna came hopping into the room with this glow and smile. Jenna said, "Just get through detox. It'll be OK, and then you can leave. You'll feel better if you just get through detox."
And after Michaela finished detox, Jenna said, "Let's just go into the treatment part for 30 days, and then you can go. We'll have fun; we can hang out."
Michaela told Jenna she would go to treatment but that there was no way she was going into sober living. When they finished treatment, Jenna went to sober living and told Michaela, "I'll be waiting when you get there." And when Michaela pulled up in the van, there was Jenna standing on the steps of the sober home with her arms open, and she ran to Michaela and hugged her and said, "You're here! You made it!"
Michaela's mother called me one day and said to me: "Your daughter saved my daughter's life. That's something I can never repay you for." Michaela is still sober to this day.
Jenna died of a fentanyl overdose the day before she would have received her 60-day sober chip.
How we've responded to Jenna's death
We started an organization called Jenna's Promise, which aims to create a network of support for those suffering from substance-abuse disorders. The plans include a community center, called Jenna's House, located in Johnson, that will centralize many different resources to serve the substance-use-disorder community.
In every facility she went to, Jenna always called with a story of someone she wanted to help. At the time, I would tell her we couldn't help everybody.
While she was at the Granite House, she said to me, "Mom. I'm going to be here. I'm committing myself here for nine months. When I get out, you and I will be a team. We're going to find and raise money for these people that want to get better, because I see so many. And they don't have the money to help themselves. We're going to educate people and let them know about this disease. And so let's just promise."
And that became Jenna's Promise.
of Westford, Vt. (1982-2017). Submitted by Jesse's sister, Jordan Palker
What Jesse was like
Jesse was my oldest brother — the oldest of nine siblings. He was an artist, a joker, a licensed nursing assistant. He liked to skateboard, snowboard, cook. He was a very loving human.
And he always made people laugh. In general, when he was around, you were always laughing.
What Jesse was proud of
Starting his own T-shirt company, called Despair Designs, and becoming an LNA and working at the University of Vermont Medical Center.
My mom actually just heard a story about Jesse from a family friend who attended a wedding. The groom was a young man who had experienced a near fatal car accident a few years prior. His mother happened to tell our family friend about a young LNA named Jesse Palker and how he had been an angel sent to her son as he hung on to life in the ICU.
The mother went on to say that her son remembers Jesse's constant words of support through that very critical time to fight hard and to not give up. He has since recovered and was able to walk down the aisle to begin a new chapter in his life.
How drugs became part of Jesse's life
Jesse was in a car accident in 2005. He was in the intensive-care unit for two months and almost died several times.
After the accident, he had chronic pain. One of his doctors prescribed opiates. When the opioid crisis became a big issue in Vermont, doctors stopped prescribing to him and he started using off the street.
How opioid-use disorder changed his relationship with his family
Jesse became very angry and avoided our family a lot. He stole from us. He became very distant at times. He went to rehab several times in Vermont and Florida. He really tried to get past his addiction, but it was a very hard fight for him. He was doing really well before he passed away.
How Jesse died
I got a call from one of my sister's coworkers. Jesse had been staying with his girlfriend and had overdosed. Someone called my sister's work, but she wasn't there, so they called me. I was the first one in our family to know he had been found unresponsive from an accidental overdose. I got a hold of my parents, and everyone rushed to the hospital. He passed away the next day.
If Jesse were still here, I would tell him
How much I love him and miss him. I wish he could have been there for my wedding.
How we responded to Jesse's death
Our family got in touch with his friend, Phil LaCroix, who expressed that he and his wife had lost a lot of friends to addiction.
We started Enough Is Enough VT and began raising money for the Vermont Foundation of Recovery and the Vermont Recovery Network. To raise money and awareness, Phil ran the Long Trail in 10 days.
So far, we've raised over $26,000.
of Burlington and St. Albans, Vt. (1985-2016). Submitted by Alexa's father, Frank Cioffi, who has formally adopted her son, Frankie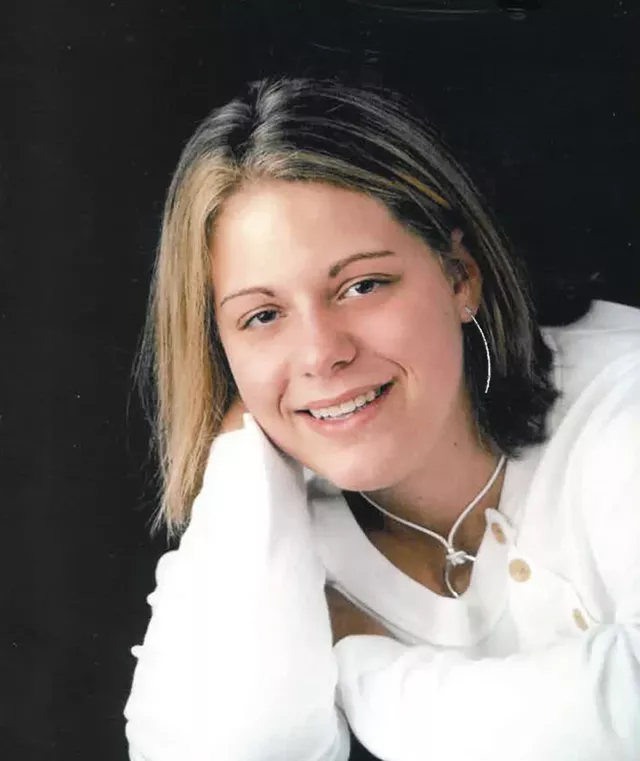 What Alexa was like
Alexa was very outgoing, gregarious and fun to be with. She was a good friend ... and kind and compassionate to everyone. She was always adopting dogs. Anyone who was in need, Alexa was always the first one there to help.
How drugs became a part of her life
She had a car accident — at 17. She broke her wrist, was prescribed painkillers and liked them. She'd use for a while and then not use. I don't think she got super addicted until her mid-twenties.
When I first knew something was wrong
Alexa and I worked together, so I was with her a lot. But she was pretty good at hiding things that were going on in her life. I kind of was oblivious to something being really wrong until she stole from family members, and that led to the discussion: "What do you need this money for?"
What I've learned about addiction
I grew up in the 1970s and I am no angel, by any means, but I don't know what it's like to be addicted to something so powerful that it's all you can think about. Until any of us fully understand that, or have been with someone they love who is suffering like that, you don't realize. Yes, it is an elective choice on their part, but it's all-consuming, overwhelming. Alexa didn't want to be addicted. She couldn't find a way to get there.
What Alexa was most proud of
Being a mother. Definitely. Frankie was 2 years and 4 months old when she died. She had thousands of pictures of him. He was her primary purpose and total love in life.
The last days I shared with my daughter
Alexa texted me to ask if she and Frankie could stay at my family's home in St. Albans, because she didn't feel safe where she was. I said yes, of course. I could tell she was sick. She thought she had a broken rib. And she was limping a little bit. I offered to take care of Frankie. From his birth, I have acted as his dad; I bathed him every night, read to him and put him to bed. Together with Jovana, my former wife and Alexa's mom, the three of us were raising Frankie together.
On the day she died, Alexa was too sick to watch Frankie, so Frankie and I went to the store for diapers and baby needs. We came back within an hour, and the house was quiet. I thought Alexa was still sleeping. I made Frankie a snack and changed him before I went in to find Alexa lying sideways on the bed. I screamed her name. She didn't move. So I shook her. She didn't move. I think that Frankie heard me scream.
I took my phone out, put it on speaker, dialed 911 and started CPR. That's when I noticed she had marks on her neck and chest. As soon as the EMTs came, they injected her with Narcan. They couldn't bring her back and concluded she didn't have an overdose.
The cause of death was acute bronchial pneumonia due to chronic substance abuse. So it was from snorting pills. She just stopped breathing. She might have had a heart issue that kicked in after that.
The autopsy showed traces of fentanyl, too.
If I could say one thing to Alexa now, it would be this
I wish you were here to see your son every day. You would delight in everything he does. And he looks like you, too. He is beautiful.
What I have learned from this tragedy
I've done a lot of things in life personally and professionally, and raising and caring for my grandson is the most meaningful, purposeful and most fulfilling thing I think I've ever been a part of. It's a joyful and fun opportunity and a privilege. He turned 6 yesterday. Blueberry pancakes at 5:45 a.m.
Initial funding for All Our Hearts generously provided by Frank Cioffi, the Greater Burlington Industrial Corporation and GW Tatro Construction.