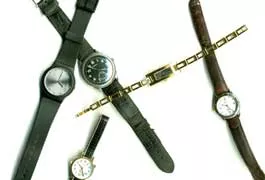 Plutarch once wrote that time is "the soul of this world." Back in the first century, those Greek philosopher dudes could calculate their days with sundials. But the world — and seemingly its soul — has speeded up. Time is of the essence, and I was frustrated at having so little of it last week to search for a new wristwatch.
Once upon a time, I was content to carry a pocket watch. That quaint habit ended when, sitting in a Montréal movie theater, a Québecois man next to me politely complained: "Your clock, she ticks too loud."
In making the switch to a quieter timepiece, I wanted the equivalent of a pocket watch to wear on my wrist, with a few other specific features: a large, round face with easy-to-read numbers — not Roman numerals, little lines or, worse yet, a digital display. Silver, not gold. A black leather or fabric strap. Lickety-split, I was able to find just the treasure I'd hoped for in the Timex section of a local drugstore.
Worn every day, a watch is as much a fashion statement as jewelry or shoes. I was determined that mine would proclaim, "This is a hip, efficient and eminently punctual person."
After spotting someone wearing a wristwatch military-style, with the face near the palm of her hand, I decided to adopt the same look. I suspected this new no-nonsense approach would turn heads, but not a single person has ever commented on my shameless copycat ways.
My first Timex was a simple wind-up model, but I soon learned that the battery-operated method is more reliable in the long run. I also began to yearn for a less glaring watch face — beige or even black rather than white. Plus, it was clear that I really needed an Indiglo button that could light up my life in a dark place.
Luckily, Timex manufactures these more elaborate watches, which increased my expenditure from about $15 to a whopping $30 — along with tempus, money fugit.
After replacing batteries several times over a few years, I bought a second Timex "Expedition." But recently, I began to notice that the metal back on my now elderly replacement watch is corroding and the precious Indiglo is dimming. Time for a new Timex. But then a wild, third-millennium thought popped into my head: Why not explore other brands? "Time as he grows old teaches all things," reasoned Aeschylus, another Greek moralist, in about 400 B.C. With an open mind, I set out on a watch hunt.
At her family-owned Tick Tock Shop in downtown Burlington, Beth Garbo isn't even sporting a wristwatch. After all, she's surrounded by time. The store carries 15 brands, with prices ranging from about $30 — my preferred maximum — to $5000.
"Women usually seem more particular about what they want in a watch," Garbo points out. "But some men are finicky."
Females tend to opt for the elegant "bracelet look," she says, while guys like watches with multiple functions, such as a thermometer, barometer, altimeter, compass, alarm and time-zone gizmo. Garbo indicates the J. Tissot "T Touch," for $595, which offers most of those capabilities. The fancy watches from TAG Heuer and other companies often feature all those bells and whistles.
A high-tech ceramic, as in Rado's "Ceramica," is popular for watch casings and bands. "NASA uses the material to make the space shuttle," Garbo explains. "It's strong and scratch-proof."
Another trend is Movado's sleek "Museum Dial" watch, with no numbers or numerals whatsoever on the face. The hour and minute hands move clockwise through a blank background. You have to guess where they have landed at any given moment. "It's won awards," Garbo says. "They have one on exhibit at the Museum of Modern Art in New York City."
Gucci, Seiko and Rado — with styles named "eSenza," "Crysma" and "DiaQueen" — have jumped on the blank-face bandwagon, too. This concept is essentially the polar opposite of my ideal time machine, as I continue the quest for bold numbers.
Garbo informs me that few watches glow anymore. She's got some Timex models, but none are exactly my cup of tea. Besides, I'm still willing to consider other brands even if they don't promise to "take a licking and keep on ticking."
Before I leave, Garbo gives me a snippet of historical context: Watches once had jewels inside "to keep the wheels and gears from wearing down. Now, with quartz and batteries, there are no more moving parts."
There are also no more little old watchmakers. Watches are all mass-produced. American wristwatch companies are also a thing of the past. One by one, U.S. businesses have been acquired by foreign corporations. Switzerland dominates the luxury watch trade; Japan and Hong Kong control the moderate- to low-priced varieties.
Wristwatches first surfaced in the 1500s. Queen Elizabeth I had one, in fact. In the early 1800s, royalty demanded they be encrusted with jewels. Eventually, the armed forces began to see watches as indispensable for coordinating troops and aerial combat; the difference between digging for a pocket watch and a quick peek at the wrist could save lives.
Rolex invented the first water-resistant watch, which was worn by an English Channel swimmer in 1927. In the 1940s, American civilians could not buy watches, which were then military-issue only. Though allied powers had to concentrate on the war effort, Switzerland, as a neutral country, continued making these wearable clocks.
John Appelt, a watch and clock repairman at It's About Time, Ltd. in Shelburne, reveals that "shock jewels" were developed during the 1950s to make the innards sturdier in case a watch was dropped.
Appelt works with a lot of antique or vintage family heirlooms, but admits there's a Timex on his own wrist. "My kids gave it to me," he explains, sounding like a hip, efficient and punctual man.
In 1957, Hamilton crafted the first battery-powered watch. The next two decades witnessed competition to reduce the size of these devices. When Neil Arm-stong walked on the moon in 1969, the astronaut wore one of the earliest automatic chronograph watches, which mark intervals of elapsed time with a sweep second hand or digital display.
The Swiss created the first commercial quartz watch in 1970, but did not have the wherewithal to mass-produce them. A year later, Japan's Seiko devised quartz crystal watches that were accurate to within five seconds a month, or one minute a year.
In 1983, the Swiss rebounded by introducing the inexpensive but playful Swatch, advertised as a product with "provocation, joie de vivre and imagination." A Swatch craze ensued, as artists such as Yoko Ono and Keith Haring created new designs for the self-proclaimed "streetwise" company. Consumers snapped up Swatch collections, one for every day of the week. Nowadays, there's less buzz about Swatch.
Like much else in the fashion world, watch styles go in and out of favor. At the moment, colored faces are in. Purple, lavender, blue and red faces peer up at me from several glass cases at Filene's. Link, Guess?, Anne Klein II, Fossil and Nine West all reflect this choice of hues in the less-expensive wristwatch section of the Burlington department store.
"Any Indiglo?" I ask a salesclerk who speaks with what sounds like an Eastern European accent. She doesn't grasp the meaning of my question. I thank her and move on to the more upper-crust displays, though I'm clearly out of my element.
Branch manager Anna Trempe tells me that the high-end watches under her purview are really like fine jewelry. New designs arrive every spring and fall, often with innovations.
Citizen, with price tags ranging from $150 to $6000, makes battery-free Eco-Drive models. "It stores energy from ordinary light," Trempe explains. The power reserve lasts for 270 days.
Over at Sears in South Burlington, Elgin, Caravelle, Pulsar, Casio and Folio all flash their wares at me. But I'm dazzled by the sight of two digital Armitrons: One watch has a blue-and-silver face with a wheel-like image in the upper left-hand corner that registers the days of the week between its spokes. The other one is green-faced and includes an hourly chime like the one in Big Ben, a European calendar and a way to check military time — after 12 noon, it's 13, 14, 15 and so on.
Jeweler Cassie Wiltz demonstrates all the Armitron functions before showing me a few snazzy Seikos. A bilingual watch provides the time and date in English, French and Spanish. Another type, the "Kinetic," is activated by the movement of your wrist rather than a battery or other power source.
When I tell Wiltz I'm seeking a relatively uncomplicated mechanism, she shrugs. "There aren't many basic watches anymore," she says. "A lot of people come in here trying to find something that just tells time and maybe the day. I steer them to Timex, which is not as simple as it used to be, but easier to understand than many other brands."
My decision becomes easy. I locate the trusty old "Expedition," with a slightly different leather-and-fabric band. Happily for me, the Sears watches are on sale: $36.74 later, I'm once again a no-nonsense kind of gal — at least when it comes to time.
"You can't find simple clothes or hairstyles anymore, either," Wiltz continues as she rings up my purchase. "Every single day, something changes."
With her confident knowledge of watches, the young woman must have years of experience on the job, right? "I've been here for three weeks," Wiltz confides.
Time is relative when you're watching over "the soul of the world."