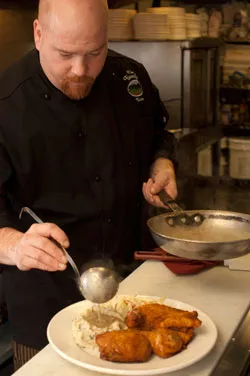 Around this time two years ago, John Raphael was logging more hours handling a nail gun than cutlery. When he bought the Jeffersonville building that was known for years as Jana's Cupboard, later as Peggy's Cookin', Raphael had plans for a new restaurant. But first, he took renovation into his own hands.
Raphael, his realtor brother, David, and their friends gutted the country-style spot and rebuilt it as a rustically sophisticated destination for locals and tourists alike. They opened it later that winter as the Family Table.
The DIY approach is typical of Raphael's handiness in the kitchen and beyond. But it's the former that would make Guy Fieri salivate. Raphael admits he's a picky eater and puts days of effort into the classic comfort food he serves. Like the cooks featured on Fieri's Food Network show "Diners, Drive-ins and Dives," the chef specializes in carefully hewn Americana cuisine that pleases refined palates, but also anyone who likes good food.
Case in point is the fried chicken served at dinner at the three-meals-a-day restaurant. Each plate holds a breast, leg and thigh, all brined for three days. When it's time for the fryer, Raphael double-breads the meat. The result is a crisp, gloriously spiced marvel that tastes more Louisville than Jeffersonville.
Then there are the mashed potatoes, which taste more of cream, chives and love than of spuds. The tangy, slightly creamy coleslaw is dotted with poppy seeds for an appealing double crunch.
A Massachusetts native, Raphael spent most of his career in Providence, R.I., where he earned prizes for "Best Sandwiches in Rhode Island" and "Best Bar Food" from Rhode Island Monthly Magazine before settling in Vermont in 2005. He worked at resort and country-club kitchens in his new home, then opened the Family Table.
Seven Days checks in with Raphael to learn more about his life, work and hidden gem of a restaurant.
Seven Days: How did your family eat when you were growing up?
John Raphael: My mom was a baker for the school system, and we always had a home-cooked meal. We ate a lot of chicken because we didn't have a lot of money.
My mom used to make this weird pork thing with bacon-soy sauce, corn starch, green beans and water. It's still comforting, and it reminds me of my mom. I make it myself all the time. I feed it to the kids. It always reminds me of home.
SD: Back then, were there any foods you thought were gross?
JR: I'm still not very adventurous — I wouldn't eat sweetbreads or Rocky Mountain oysters. Of course, I'm allergic to fish, so I don't get to eat any of that. Lobster, as a kid, I didn't like at all. My parents loved it, and it was a big-time, special-occasion thing. Now, knowing what I know, it's a very versatile meat. Brussels sprouts I wouldn't eat as a kid. Now, you caramelize 'em, throw some bacon in there with a touch of cream and you're in heaven.
SD: Name three foods that make life worth living.
JR: A good dry-aged ribeye. A good bowl of tomato-basil bisque and grilled cheese. It reminds me of coming in from the snow and stripping my snowsuit off and being in the baby-blue onesie.
Food evokes all your senses and it keeps you alive. It's the most important thing on Earth. It's not as simple as putting gas in your car and going. The gas you're putting in yourself is different textures and flavors. Life's too short for crappy food.
SD: What's the best dish you've made that didn't sell?
JR: Just recently, over the holidays, I made a beautiful oven-roasted mahi mahi with smoked-mussel-saffron cream on it. I only sold one.
It was the off season. I don't think, locally, people are as adventurous as that. I was a little disappointed we didn't sell more.
SD: Describe your best meal ever.
JR: I eat out a lot, so that's really hard. Recently, I had a steak that was phenomenal at Craftsteak at Foxwoods [Resort Casino, in Mashantucket, Ct.]. I had a bone-in ribeye there that was amazing. The flavor was so good. It came with a bone with marrow in it and a little spoon. It was like 60-something bucks, but it was outstanding.
SD: And your worst meal?
JR: One I had to eat alone — because food is all about communication with people. All the worst meals I've eaten were when I had to eat alone.
SD: What's your favorite cookbook?
JR: Any cookbook. I love 'em all. I have a huge collection of books.
They give me inspiration and give me ideas from old trends. I have some from the White House that are very old and some old James Beard books — anything and everything.
As a chef, you want to do ostrich and emu and adventurous stuff, but people eat what they like. You just put a really good twist on it. When they eat it and say, "That's the best fried chicken I've had," it makes your purpose so meaningful. It takes just one person to let you know you're doing it right.
SD: What are your favorite Vermont restaurants?
JR: Hen of the Wood. I try to go there every other week or once a week. The atmosphere, the open kitchen. All the wood and stone downstairs — the rock brings you back to the earth and the food that feeds off of the earth. It's really tasty and consistent. Everything I've had, the attention is right there.
I like Thai House in St. Albans; they do a really good job there. The Blue Paddle [Bistro, in South Hero] is good. I eat at Trattoria Delia, Joyce's Noodle House and Tiny Thai. American Flatbread is good. Mad Taco is really good.
SD: If money were no object, what kind of restaurant would you open?
JR: If money was no object, I would have a beautiful post-and-beam building. I would only have the best of the best. I would dry-age every piece of beef myself. That's what it would be about: the atmosphere and the highest quality.
If I had the labor pool, I would make everything from scratch — bread, butter. It would just be a huge working farm with an indoor greenhouse all winter. It would be crazy, and you could walk around with your glass of wine and see the greenhouses. You'd be able to enjoy the loving feeling of people making the food all from there.
But that would cost a fortune. No one in Lamoille County will pay $200 for dinner.
SD: What's your favorite beverage?
JR: Alcohol would have to be Guinness. I drink a lot of water, but if I'm going to splurge, I'm going to have something I created a long time ago in Rhode Island. I fill a pint glass full of ice, then pour in 93 percent Wyman's [of Maine] blueberry juice and 7 percent Fresca on the top. It's a really delicious, fun beverage. Rookie's Root Beer is awesome, too.
SD: What kind of music do you like to listen to in the kitchen?
JR: In the kitchen, I put up with a lot of crap. These guys have weird taste — anything from dubstep to the Dead to Christmas music.
SD: If you weren't a chef, what would your job be?
JR: My big goal in life after being a restaurateur would be to raise money for charity. I'm also a carpenter, and I fix cars, but I would love to head up a charitable organization to help people.
SD: What are your hobbies?
JR: I love everything with a motor. I've been building and racing cars my whole life. It's one of my favorite things. I love snowmobiling, too, and playing guitar and building furniture.
SD: What's your most embarrassing favorite food?
JR: I love ice cream. I can't sit down without eating the whole pint. My favorite is the blueberry ice cream at Somerset Creamery in Massachusetts. When you're older and your mom doesn't make you eat your cereal anymore, you get your milk from ice cream. At least, that's what I like to think.