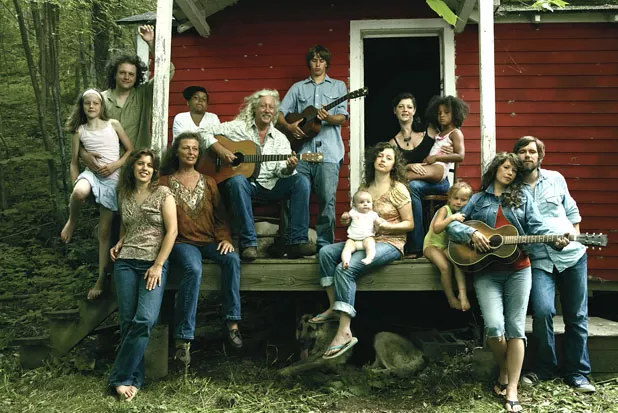 Living up to the legacy of one's parents can be challenging for many of us. But what if your parents (and grandparents) were, like, kind of a big deal?
Sarah Lee Guthrie, 30, is the granddaughter of Woody Guthrie, arguably the single most important figure in the history of modern American songwriting. And her dad, Arlo Guthrie, isn't exactly a slouch himself.
In October, Sarah Lee, along with her husband, Johnny Irion, and their two children, released a new children's album, Go Waggaloo. The record consists of 13 songs, including three written by her illustrious grandfather and recovered from the voluminous Woody Guthrie Archives.
Seven Days recently spoke with Sarah Lee Guthrie by phone, in advance of her performance with, well, her whole freakin' family — Arlo included — at the Flynn MainStage this Thursday.
SEVEN DAYS: When you were growing up, at what point did you become aware of your father's and your grandfather's place in music history?
SARAH LEE GUTHRIE: It was probably more sprung on me than I ever really thought of myself. You know when you learn "This Land Is Your Land" in, like, kindergarten or something? Well, the teacher looked right at me and said, "Sarah, why don't you lead us in this? You must know it." And I think all of us [Guthrie] kids have similar stories, even my dad. We're like, "Oh, man. We don't know it!" Nobody ever told us. We were just kids. And my dad certainly never sat us down and said, "OK. So your grandfather was this." It was never like that. So I kind of learned through school about Woody.
For my dad, there was one moment. Of course, I knew that he played shows. And I remember being on the road with him at certain points in my life, especially early on. I have a vivid 3-year-old memory of this massive crowd and my dad singing and playing piano. Those things kind of stick with you. But I can remember one time being on the road with dad, and I was sitting on the tour-bus steps. And he was talking with everybody and signing autographs, which was kind of normal. I knew that kind of stuff occurred with my dad. But one guy, I will never forget him, he walks up to me — he had a cane. He made an impression on me … he had tears in his eyes and I was probably 7 years old at the time. He said, "You have no idea what your dad has done for me with 'Alice's Restaurant.'"
And now that I look back, that was the moment that I realized that my dad had an emotional impact on people. I kinda thought that was just normal stuff. But when I saw somebody crying and he was obviously a Vietnam vet — I didn't know that at the time, but I know that now. But "Alice's Restaurant" had saved his life, was how he put it to me. And I just kind of went, "Oh, shit." That's big. That was the moment that I understood that my dad was important to people, not just for entertainment … But I think it's never ending, this process of learning who your parents are and what they mean to other people. I'm still learning that.
SD: Had you ever considered another career path, like, maybe accounting?
SLG: Yeah, totally! I didn't know I would do this at all. When I was 18, I was going to register for college in Santa Monica. I wanted to be as normal as possible, because I grew up in this crazy family and everybody looked at us a lot. I just wanted to be regular, have a 9-to-5. I really thought I was cut out for that, and not to be in front of people … But it was sort of out of a lack of a better plan, really. [Laughs] I was out in L.A. and looking for a job, working at a record store part time and getting ready to go to college. But then my mom called and asked if I would rather just go out on the road with Dad. And I thought, Well, that would be a pretty cool "job" for a while. So I found myself on the stage learning songs and realizing it was a pretty cool thing to do.
SD: There's often a stigma attached to the children of famous songwriters. Here I'm thinking about people like Jakob Dylan and John Lennon's children, especially. Is it intimidating to be a working musician playing in the shadow of not just your dad but your grandfather, too?
SLG: I don't think so. And I've talked to other children of famous people who have had horrible experiences. Really horrible experiences, where their families haven't embraced them and haven't supported them. And I think that I'm pretty lucky to have a family that has supported me and allowed me to be on the stage with them and have taught me. If it wasn't for my dad and his lack of ego, his ability to let go of himself and allow me to learn and make mistakes and not worry about his image — and I'm sort of comparing myself to those other folks that you mentioned, because, listening to their stories, I don't know that I would feel any different than they do. There's a lot of bitterness.
I just feel lucky that my dad is easygoing. And a spiritual man. I mean, he really is that and he raised us like that. And he's not afraid to be humiliated, you know? So maybe I walk out onstage and I say the wrong thing, or I'm out of tune. He's just not worried about that and he'll never even say anything. It's up to me to find out. And he's allowed me to have that path. And, believe me, I'm really grateful for that.
We did this thing for the Bravo channel one time, "Singing in the Shadows." [Laughs] I know, it's really awful. And everybody else's stories were sad, I think, with the exception of David Crosby's kid, James Raymond, who plays with him now. But he didn't grow up like that. He was adopted and finally found David. But he has a great sense of humor about it. And, of course, David plays with him, so maybe that's a common denominator.
SD: With Go Waggaloo, it seems you took a similar approach to Billy Bragg and Wilco's Mermaid Avenue sessions, going through the archives and focusing on "lost" songs, or lyrics that didn't have music. What surprised you the most when digging through the archives and into your grandfather's legacy?
SLG: The amount. That's the first thing. I mean, we're just scratching the surface here. That's the most amazing thing: I have not seen all of the lyrics. I have spent two entire days in the archives and I probably should go back soon. But two whole days and I'm still overwhelmed. He [Woody] wrote, I think the exact number is 2996 songs. So it's not just some little archive. It's really a wild adventure to walk into. And because he wrote so much, you can tell where he was almost every day of his life, because he wrote about it. He was visiting Stetson Kennedy in Jacksonville, Fla., for a few months and fighting off the KKK. So you've got 100 songs about racial discrimination and humanitarian ballads that are completely touching. And that's just one thing that he wrote about.
The other amazing thing is the amount of different things he wrote about. And it's kind of awkward, maybe, as his granddaughter. But then, I can't imagine being Nora [Guthrie, Woody's daughter] or my dad and seeing some of the things he wrote about. "Ingrid Bergman" you might be familiar with. You're going, "Oh, my god, that's my grandfather." But you know, he's a man and he's a human. And he put it all on paper and it is so inspiring and liberating to see that one person can take all of these different positions and be up front about them. He just wrote about everything. Never mind his political views and the activism that are at the forefront of his career. I mean, that's what most people know about Woody Guthrie, because they're radical [ideas], especially in those days.
But it's really fun to see all of those things in one room, coming from one man. And they're all good. We're familiar with maybe the 200 songs that he recorded. And those are all good, too. But there are so many more and they're all really good.
So I'm really looking forward to even more projects coming out. And they're not all going to be great. Who knows if this person was supposed to put a melody to that song. And may the best melody win! [Laughs] And there is some discrepancy as to whether this should be done at all. Who has the right to put music to Woody Guthrie's lyrics? Who has the right to give permission to do that?
The answer is that we don't really know. But my Aunt Nora has been bold enough to do this. And I think it's a great thing and that many people are grateful for the new songs. So there are a lot of different ways you could look at this. But I tend to look at it as a positive thing. And I've had a great time with his children's songs — there's another side of him. He was a silly man, too. And he had great plays on words. I mean, Go Waggaloo. What's a "waggaloo"? But it feels great and it felt great to sing it. And it felt great to look down at these words that he typed and see the way that he typed or wrote.
The expressions in his typing are apparent and the melodies just come off the page. You can almost hear him sing it if you read. And I think that's the most incredible thing. The way that he punctuated the intensity of his type, the letters. The way that he spelled was completely phonetic. The first line of the song is, "In this world of spirtulation." You might be wondering what "spirtulation" is? I don't know. But I loved it. And I sang it. It was a lot of fun and a completely natural process for me, and Johnny as well, to put music to these lyrics.
SD: Since you never met him, that must have been a fascinating way of getting to know your grandfather.
SLG: Definitely. And everything that I read about him, and especially the works that he wrote, is another chance for me to get closer to him. So I've definitely taken advantage of that. [Laughs] And people do ask me about him, so I feel an obligation to know a little something. But I feel spiritually close to him and have loved the opportunity to get to know him more, as anybody does, I think. You might even consider him a part of your family if you grew up with his music. I think he's in the hearts of everybody.