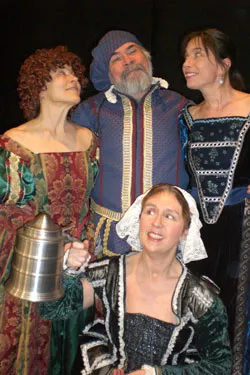 When the Blachly family gets together, it's all hands on stage. For the last several decades, Bill Blachly, now in his mid-eighties, has run Unadilla Theater in a hand-built structure behind his house in Marshfield. His son, Tom, and daughter, Ellie, are frequent faces in Unadilla productions — singing, acting and directing as needed. Even the grandkids perform on cue.
The Blachly clan's summertime community-theater productions of off-Broadway plays and Gilbert & Sullivan musicals are renowned for their reliance on local talent, professionalism and entertainment value. Where else do you get the chance to see your neighbors convincingly portray physicists, poets, English fops and landed gentry?
This fixture of central Vermont shoestring stagecraft has expanded to the off-season. Tom Blachly, with fellow theater buff Peter Young, has created a new tradition designed to lighten the leadenness of mud season: Shakespeare in the Hills. Now in its second year, the theater group is performing The Merry Wives of Windsor under Tom's direction. His wife, Susannah, and their 10-year-old son, Adam, both appear in the play.
The troupe of 30 amateur actors manages to make the bard's bawdiest comedy seem relevant. After all, the themes here are timeless: sex, gluttony, more sex, intrigue, jealousy, true love. Never mind that the setting is Windsor, England, circa 1600.
The farce opens with the old bard himself (played by Statehouse curator David Schutz) explaining that Merry Wives was commissioned by Queen Elizabeth I, who was so taken with the character of Sir John Falstaff that she wanted to see a play in which the old roué falls in love. Shakespeare purportedly whipped up the play in about two weeks.
The actors make the most of the material. Half the time their well-rehearsed lines sound more like hip-hop than 400-year-old Elizabethan English. They may owe their fluency with the arcane lingo to the longer-than-usual rehearsal schedule, beginning last October. "It made a big difference, because the actors were able to live their characters for a while," Tom says.
The playbill contains a synopsis of Merry Wives, an explanation of its place in Shakespeare's oeuvre, and a cost/benefit analysis of living in a small community such as Windsor, where everyone knows everyone else's faults. This ends with a pointed tribute to the vitality of small burgs: "As you watch this play unfold, and you see your neighbors playing out citizens of an Elizabethan town 400 years ago, we hope you think, too, in this season of Town Meeting, about our own community here in Vermont."
Ah, yes, community, in which no one can get away with anything. At least Shakespeare got a few laughs out of all that excessive good will — and so do the Blachlys.