Montréal's Mile Ex, a petite neighborhood that borders Little Italy to the west, doesn't really encourage wandering by eager visitors. Meandering down the streets that define the area's borders — rue Clark, Avenue du Parc, rue Jean-Talon Ouest, and a set of railroad tracks that runs behind a Home Depot and parallel to Avenue Van Horne — you'll see little that invites you to plunge in. Unless, that is, you're particularly keen on back alleys and street art or just like to explore an "emerging" urban hood.
If Mile Ex — officially called the Alexandra-Marconi district — isn't obviously appealing, there's nothing intimidating or frightening about it, either. On one side, it's dominated by residential townhouses sprinkled with commercial enterprises; on the other, by a rail yard bordered by manufacturing businesses. Nothing flashes or sparkles. It's a place where people live, hang out their laundry and wake up in the morning to get ready for work. Simply put, Mile Ex is not touristy — yet.
So why go there? Perhaps you're in need of a hot-towel shave and a haircut accompanied by an espresso, which you can find at the Emporium Barbershop on rue Saint-Zotique Ouest. Once you've been tidied up, you can shop for pomades and blades in the shop's apothecary. A few blocks over, you'll find a club that has bowling lanes and hosts bingo, karaoke and queer movie nights. It's not really a gay bar, but it's also not not a gay bar.
Enjoy photographing urban decay, graffiti and construction? You can do that in Mile Ex, too.
The main reason an outsider might want to visit, though, is the food. The area is home to incredible hidden gems in restaurant categories ranging from casual to fine dining. There's even an eatery called Le Ballpark that specializes in unusual meatballs — such as one based on the Spanish rice dish paella.
Because Mile Ex is a stone's throw from Jean-Talon Market and Little Italy's bakeries and grocery stores, it's a great jumping-off point for a day of culinary exploration. Here's a suggested itinerary for a walking tour centered on eating and drinking options.
Start at Dispatch Coffee
267 rue Saint-Zotique Ouest, 514-437-1327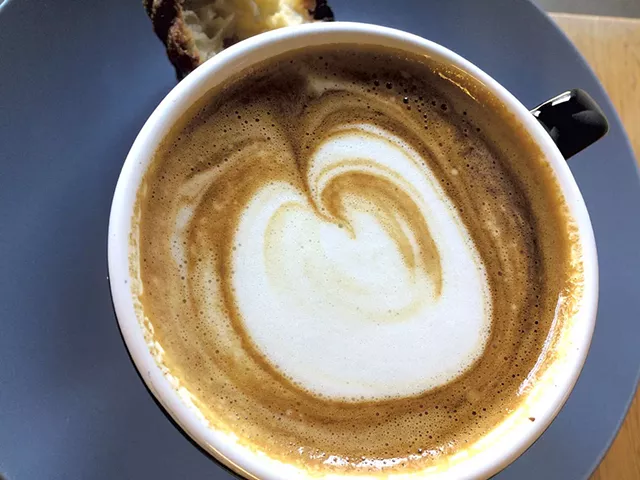 Suzanne Podhaizer
Cappuccino at Dispatch Coffee
Dispatch Coffee began as a roving cold-brew and espresso truck. Eventually, it became so popular that its owner committed to brick-and-mortar, and it has continued to grow. Besides the truck, which is still in operation, the business operates a trio of cafés, the most recent of which opened this month on rue Saint-Laurent.
The Mile Ex roastery and café is located in the garage that used to house Dispatch's truck. It's an excellent place to grab a snack and a cup of lightly roasted Ethiopian Hawa Yember — which, according to its package, has notes of white honey, lime and jasmine.
The space has high ceilings and a distinctly industrial feel: Light streams in through the garage door, and a Probat roaster sits in the back. There's no separation between the seating and the place where the magic happens.
Order a tender canelé pastry — which resembles baked custard with a darkened exterior crust — and a cappuccino made with local cow's milk or housemade almond milk. Need a more filling snack? Try selecting from the toast menu, which features a variety of sweet and savory options, such as avocado, goat cheese, seasonal jams and cinnamon-cardamom butter.
Have Lunch at Dépanneur le Pick Up
7032 rue Waverly, 514-271-8011
Suzanne Podhaizer
Chipotle club sandwich and a cup of tea at Dépanneur le Pick Up
In Québec, a dépanneur is a neighborhood convenience store stocked with household staples such as jarred tomato sauce, toilet paper, Oreo cookies and potato chips. At Dépanneur le Pick Up, you may have to reach around or over people to grab a box of tampons or a bag of maple-bacon popcorn. That's because the cluttered, cozy store doubles as a restaurant. It specializes in takeout but offers seats to those who can't wait to chow down.
At lunchtime, the spot is jammed with people picking up red-and-white boxes containing the kitchen's most famous offerings. Meat eaters love the chipotle club sandwich, stacked high and slathered with spicy mayo, and the barbecued pulled pork. Vegetarians can get theirs with grilled haloumi cheese and mint coleslaw, or a combo of eggplant, roasted red peppers and mozzarella.
The dépanneur has specials, too. During one visit, the soup of the day was a soothing cream of mixed vegetables, and the off-menu sandwich was moist and lemony chicken on focaccia, slathered with olive tapenade and strewn with red cabbage slaw. A green salad, topped with toasted pecans and shredded beet, carrot and apple, was made with lettuce so fresh that it appeared to have been harvested that day.
The staff is another perk. Young, charming and hip, our server took breaks to chat with us whenever he could find a free moment.
On your way out, as you're waiting in line to pay, grab a lemon bar or a cookie for the road.
Dine at Restaurant Manitoba
271 rue Saint-Zotique Ouest, 514-270-8000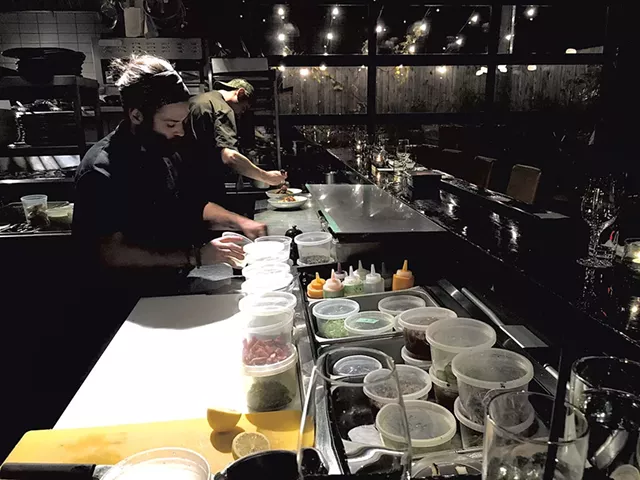 Suzanne Podhaizer
Kitchen staff at Restaurant Manitoba
Two halved beef bones, each nearly as long as my forearm, arrived hot from the oven on a bed of hay. The marrow inside glistened and oozed, topped by a sprinkle of maple sugar and black garlic salt and finished with crispy strips of parsnip. The bread that came on the side was smoked. A bourbon cocktail was garnished with tender corn sprouts, while another, a muddle of vodka and spruce syrup, incorporated strips of seaweed.
And so it went on. Located right beside Dispatch Coffee, Restaurant Manitoba brings the walking tour full circle. On Facebook, the eatery's owners jokingly call it a "wildlife preserve," but they seriously aim to use as much found food as possible. "We want a taste of the forest in our plates ... wood, rock, wind," reads the website.
So it's no surprise when the arctic char crudo is topped with crispy lichen, or when a rich ring of liver pâté is dotted with pickled mustard seeds and bits of sea asparagus.
What's incredible is how well this all works. At some restaurants, a chef's ego — the drive to be quirky — causes missteps in the flavor department. Not so at Manitoba. Although the garnishes are frequently odd, they always fit the dishes perfectly — the taste you've been missing but didn't know you needed.
A seat at the bar offers both a view into the open kitchen and the opportunity to converse with the kitchen staff when they're not in the weeds. During one visit, while waiting between appetizers and entrées, I exchanged recipe ideas and restaurant suggestions with a particularly friendly bearded man who was working the garde-manger station.
After sampling cocoa-rubbed deer with king eryngii mushrooms, and guinea fowl with Indian celery and long pepper, my companion and I ended the meal with buffalo mozzarella mousse dotted with candied cranberries and pieces of ginger cake.
Every bite was as intriguing as it was delicious. For diners who want to explore Canada through its native foods — and step away from the everyday without risking a muddled meal — Manitoba is a perfect choice.
Get Drinks and Late-Night Snacks at Brasserie Harricana
95 rue Jean-Talon Ouest, 514-303-3039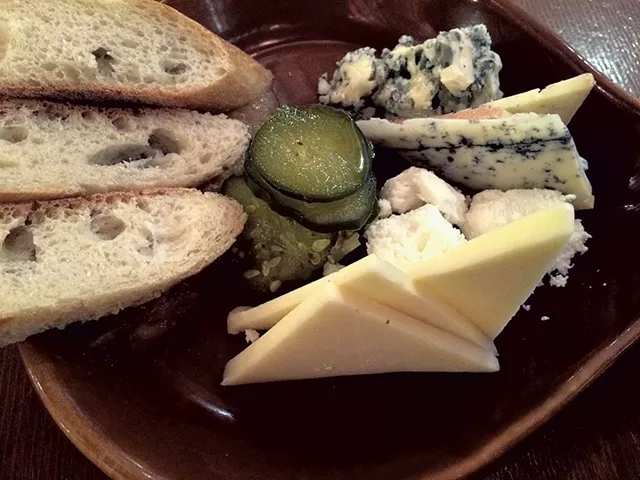 Suzanne Podhaizer
Cheese plate at Brasserie Harricana
At Brasserie Harricana, a spacious microbrewery and restaurant at the edge of Mile Ex, one of the house beers is brewed with goldenrod and carrot. Another, with a hint of sourness, is flavored with red pine and mushrooms. Alongside these experimental offerings, Harricana concocts a solid selection of more typical brews, from blond ale to dubbel to porter.
From the remainder of the brasserie's 40-plus taps flows an equally wide selection from other brewers, as well as a number of ciders from Québec. For nondrinkers, there's elegant housemade kombucha. One variety is flavored with sencha, kaffir lime and ginger; another, with green Taiwanese oolong and rose petals.
The snacks are wild enough to match the beverages. Duck-confit croquettes were crisp and hot, perfectly salted and served with a delicate honey-mustard sauce. Briny oysters came balanced atop cups of dark beer; these are meant to be shot one after the other.
The Harricana Special, a meat-pie platter, came with baked beans, slaw, beets and fruit ketchup. It was homey but not memorable.
The dining room, by contrast, stands out. It sports white brick walls, a white glass-tile floor and a wooden drop ceiling with latticework that adds an enticing accent. With its Québécois libations and fun finger foods, Harricana is a fitting place to conclude a tour of Mile Ex.
One of the best things about exploring new places is discovering foods that may come to rank as staples: pounds of coffee from Dispatch; hunks of Québec-crafted Bleu d'Élizabeth (which made a luscious appearance on a cheese plate); lichen served as a garnish. Equally wonderful is finding spots you love, and where you will inevitably return. In both respects, Mile Ex is a winner.