Jeb Wallace-brodeur
Cider-steamed mussels with grilled bread, smoked bacon and aioli
Steamed mussels have a secure place in my culinary heart. I treasure childhood memories of competing with my siblings and cousins to build the tallest pile of empty shells during beachside vacations in Brittany. Then we'd each use our biggest shell to slurp up all the sea-salty white wine and shallot broth.
During my teenage years, we'd collect wild mussels off the rocky coast of Washington State's Olympic Peninsula, sit on the beach to scrub them clean and steam them over a campfire. No adornments were needed except the mollusks' own liquid, woodsmoke and some melted butter.
In New Zealand, where we lived for seven months a decade ago, I encountered the famous — sometimes disturbingly huge — green-lipped mussels cooked in everything from beer to cream and herbs. Travels in Asia introduced me to mussels steamed with coconut, lemongrass and bright punches of chile.
Even though farmed mussels are among the most accessible, inexpensive and sustainable seafoods you can buy, I don't often make them at home for some reason. I do keep an eye out for them on restaurant menus, though. Since the Kitchen Table Bistro opened in 2003, I've been a devoted fan of one of the Richmond restaurant's evergreen staples: cider-steamed mussels with grilled bread, smoked bacon and aioli.
The bistro had me at "cider-steamed." But the crusty, lightly charred, olive-oil-soaked toasts and perfectly balanced, sweetly acidic broth punctuated with dollops of rich housemade garlic mayonnaise and nuggets of bacon puts this execution over the top. The fact that a hearty and plentiful portion is just $14 is a bonus.
Earlier this year, I ordered cider-steamed mussels at another local restaurant and was sorely disappointed by a big bowl of weakly flavored broth and bivalves. Sometimes it takes an inferior version of a dish to remind you how good another one is.
I had never deeply analyzed the dish, just deeply enjoyed it. So I was a bit surprised when the Kitchen Table Bistro's co-owner and chef Steve Atkins told me the sauce features fresh sweet cider rather than hard cider. It made total sense when I recalled the flavor and body of the broth, but given the traditional use of white wine and beer in classic European versions of steamed mussels, I had assumed it was the lighter, crisper alcoholic beverage.
Ironically, the idea first came to Steve when he was cooking in Napa Valley, where wine is far more common than apple cider. "I guess it just shows my affinity for the apple," said the Shelburne native with a chuckle. He and his wife, Lara Atkins, the bistro's co-owner and pastry chef, met as students at the New England Culinary Institute in Montpelier and traveled together to California for internships. They ended up staying six years, working their way through kitchens, including the tasting room at Clos Pegase Winery in Calistoga, the Model Bakery in Saint Helena and La Toque in Napa.
The couple lived in a tiny Napa Valley apartment while they worked double shifts. On the rare occasions when they were home at the same time, they ate meals off an ottoman. "We were too poor to have a table," Steve explained.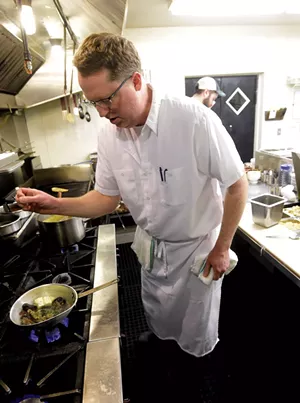 Jeb Wallace-brodeur
Kitchen Table Bistro co-owner and chef Steve Atkins
When they returned to Vermont 16 years ago and decided to open their own restaurant in the historic, checkered brick building visible from Interstate 89, they picked the name partially as a tongue-in-cheek reference to the missing table. For several years, the Atkinses and their young son lived above the bistro.
"It was also like we were inviting people into our home, conveying the personal feel of what we wanted [the bistro] to be," Steve said.
Their son will head off to college next year, but much else has remained constant over the intervening years. The warren of rooms on the first floor is still painted a pale moss green, and the restaurant retains a calm, homey yet elegant vibe. Many guests on a recent evening appeared to be regulars, greeting servers by name and asking about their holidays.
From 2014 through 2016, the couple experimented with owning two venues, buying the former On the Rise Bakery on Volunteers Green in downtown Richmond and opening Parkside Kitchen there. Lara took the lead at the new venture, while Steve stayed at the helm of their original restaurant. When the juggle became too much, they put Kitchen Table Bistro up for sale, although it never closed, despite rumors to the contrary. Eventually, they sold Parkside Kitchen instead. (It's now One Radish Eatery).
Expanding seemed like a good idea at the time, "but we should have seen that it wasn't going to work," Steve reflected. "We work better together, and we just didn't see each other enough." It became clear that the bistro was the business for which they were best suited.
"This is our baby," Steve said. "We know this space. We know the flow. We know how it works here. We came to our senses."
Unlike some chefs who need to periodically reinvent themselves and their menus to stay stimulated, the Atkinses thrive on the consistent execution of unfussy but nicely detailed dishes. Their menu fits on one page and does not require a culinary dictionary to translate. While their farm-to-table commitment does bring a range of seasonally inspired offerings, the couple recognizes the value of cornerstone staples such as the mussels and local steak frites with grilled red onions.
"The cider-steamed mussels were on our opening menu," Steve recalled, "and have been on ever since, except for a couple summers when Chittenden Cider Mill ran out of cider."
The cider, he said, is as much a driving force of the recipe as the mussels: "It is so wonderfully balanced with acid, richness and sweetness." A classic mirepoix of finely diced onion, carrot and celery, along with fresh thyme and marjoram, build layers of flavor under sweet, plump mussels, which are regionally sourced from Maine or Prince Edward Island in Canada.
Appearing in a key supporting role, the North Country Smokehouse bacon from Claremont, N.H., is grilled to add a little char and echo the carbonized stripes on hearty slabs of grilled Red Hen Bakery bread. I have long argued that grilled bread is an underappreciated delight of smoke-kissed crunch that more home cooks should make, especially to use up any slightly stale, country-style bread. "It can transform even pretty basic bread," Steve agreed.
Generous lashings of housemade aioli — whipped garlic, lemon, Dijon mustard, egg yolk and olive oil — crown the dish; it seeps into the mussel shells and melts into the cider broth with blissful results. The goal is to finish the mussels with a little broth left over, "so you can sop it up with the bread," the chef said. "It's just magic."
I couldn't agree more. The Kitchen Table Bistro's cider-steamed mussels are the kind of seemingly simple but deceptively complex sleight of hand performed by the best chefs in their kitchens.