Ap Photo/matt Rourke
Sen. Bernie Sanders and Jane O'Meara Sanders outside a polling place in Manchester, N.H.
New Hampshire, it seems, is still feelin' the Bern.
Four years after he first won the Granite State, Sen. Bernie Sanders (I-Vt.) again claimed the first-in-the-nation presidential primary, cementing his status as the front-runner for the 2020 Democratic nomination.
As he emerged onstage late Tuesday at Southern New Hampshire University in Manchester, Sanders pumped his fist in the air and clapped his hands. "Thank you! Thank you!" he said. "Let me take this opportunity to thank the people of New Hampshire for a great victory tonight."
After congratulating his rivals, Sanders vowed to carry his campaign to the general election and to remove President Donald Trump from the White House.
"We are going to unite together and defeat the most dangerous president in the modern history of this country," he said. "And the reason I believe we are going to win is that we have an unprecedented grassroots movement from coast to coast of millions of people."
Trump wasn't the only opponent on his mind. In a thinly veiled reference to several fellow Democrats, Sanders said that "at this point in the campaign, we are taking on billionaires and we are taking on candidates funded by billionaires."
As Seven Days went to press Tuesday night, Sanders was leading the field with 26 percent of the vote. Former mayor Pete Buttigieg of South Bend, Ind., who tied Sanders in the delegate count at last week's Iowa caucuses, was on track to place a close second with 24.4 percent. Rounding out the top three was Sen. Amy Klobuchar (D-Minn.), who moved toward the front of the pack after a strong debate performance last Friday night. With 94 percent of the vote counted, she was holding on to 19.7 percent of the vote.
Two early front-runners, Sen. Elizabeth Warren (D-Mass.) and former vice president Joe Biden, found themselves trailing the competition, with 9.3 and 8.4 percent, respectively. Clearly anticipating a rout in New Hampshire, Biden fled the state for South Carolina before the polls closed on Tuesday night. Hours later, entrepreneur Andrew Yang and Sen. Michael Bennet (D-Colo.) dropped out of the race. Former Massachusetts governor Deval Patrick was reportedly planning to do the same on Wednesday.
Though Sanders' margin of victory was far slimmer than his 60 to 38 percent showing against former secretary of state Hillary Clinton in the 2016 Democratic primary, it was enough to solidify his standing as the front-runner in a crowded and volatile race.
Supporters at his Manchester victory party appeared more than pleased. They erupted in applause throughout the night as a projector screen showed results trickling in to CNN. They chanted, "Bernie beats Trump!" "No more wars!" and "Not me, us!" When Buttigieg appeared on-screen shortly before 11 p.m., the crowd booed, then chanted, "Wall Street Pete!"
The Democratic nominating contest now moves to a pair of states with far more diverse populations, setting up a key test of the front-runners' ability to expand their coalitions beyond white voters. Nevada, which has a sizable Latino electorate, holds caucuses on February 22. South Carolina, where African Americans comprise roughly 60 percent of the Democratic vote, has a primary a week later.
Sanders nearly won Nevada in 2016 and appears competitive there this year. He was clobbered in South Carolina four years ago, losing the black vote to Clinton 14 to 86 percent, according to exit polls. This time around, Biden is hoping to replicate Clinton's success and reinvigorate his campaign there, but Sanders campaign cochair Nina Turner thinks the former vice president's so-called "firewall" in South Carolina won't hold.
"We're seeing it collapse, basically," she told Seven Days. "We are giving South Carolina the attention that it deserves and want South Carolinians to know that [Sanders is] not taking the black community for granted in thinking that he's owed their vote because of proximity to the first black president, but that he wants to earn their vote."
The real showdown comes on March 3, when 14 states award more than one-third of the pledged delegates to the Democratic National Convention. Sanders has been leading polls in the most critical Super Tuesday state, California, where voters began casting early ballots last week, and he has the financial resources to compete elsewhere.
The senator from Vermont may also be able to count on an assist from an unintended ally. Michael Bloomberg, the billionaire former mayor of New York City, has been plowing mounds of money into Super Tuesday states, which could make it difficult for a Sanders alternative — be it Buttigieg, Biden or Klobuchar — to consolidate the moderate vote well into March. By then, it may be too late to stop him.
"With Joe Biden floundering, you've got the Democratic establishment and the corporate establishment trying to figure out who to get behind," said Charles Chamberlain, executive director of the Burlington-based progressive group Democracy for America. "I think it's exciting, on some level, to see the establishment in a bit of disarray."
Sanders certainly benefits from a divided field, because it takes fewer votes to win a plurality. And as Warren campaign manager Roger Lau argued in a strategy memo to reporters before the polls closed on Tuesday, the Vermonter has yet to demonstrate an ability to expand the base he built in the 2016 primary.
"Senator Sanders starts with a ceiling that's significantly lower than the support he had four years ago," Lau wrote. "And he hasn't yet faced the scrutiny of his record that will surely come with any further rise."
If the field does winnow, Sanders might welcome the opportunity to face off against Bloomberg, a self-funding former Republican, or Buttigieg, an untested moderate with little support from nonwhite voters. In the eight days between Iowa's muddled caucuses and New Hampshire's primary, Sanders focused on the two candidates far more than his other opponents, contrasting his fundraising practices with theirs.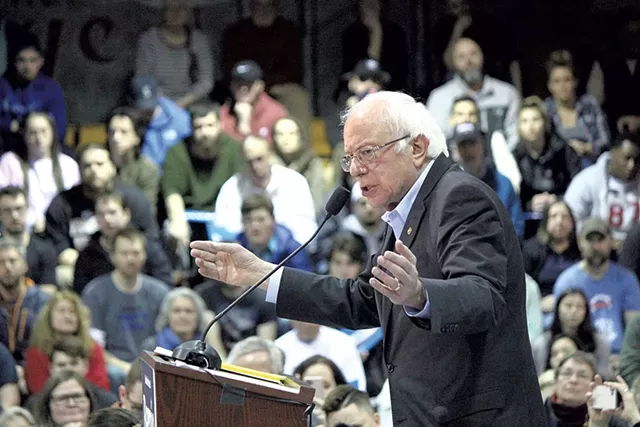 Paul Heintz
Sen. Bernie Sanders
After belatedly declaring a "very strong victory" in the Iowa caucuses last Thursday at a press conference in New Hampshire, Sanders debuted a new hit against Buttigieg on Friday morning.
"I'm reading some headlines from newspapers about Pete Buttigieg," Sanders said at a Politics & Eggs breakfast at Saint Anselm College in Manchester, referring to coverage of the former mayor's wealthy campaign donors. "I like Pete Buttigieg. Nice guy. But we are in a moment where billionaires control not only our economy but our political life." Echoing the labor refrain, he asked a question clearly aimed at the former mayor: "Which side are you on?"
Sanders wasn't the only one to target Buttigieg. At that night's debate in Manchester, Biden and Klobuchar piled on, questioning whether he had the experience to serve as commander in chief. In a digital ad released the next day, Biden mocked Buttigieg's service as the mayor of a small city — an approach that likely did neither candidate any favors.
As he traversed the state on Saturday, Sanders kept up his critique, focusing on campaign finance at every stop. "Billionaires by the dozen are contributing to Pete Buttigieg," he told volunteers at a canvassing launch that morning in Dover. "If you are serious about political change in America, that change is not going to be coming from somebody who gets a lot of money from the CEOs of the pharmaceutical industry."
The message appeared to resonate with Sanders' supporters. As he prepared to speak at the Rochester Opera House on Saturday afternoon, Danielle Goyette said that all of his competitors, particularly Buttigieg, were "owned" by special interests
"I just can't do Pete," the 29-year-old teacher from Hampstead said. "I hope Bernie wins, because he's the real deal to me."
Several Sanders supporters expressed a similar sentiment at events across New Hampshire, suggesting that if their candidate lost, they would not necessarily vote for the Democratic nominee.
Jessica Keefe, a personal trainer from Madbury, said at the opera house that she had backed Sanders in the 2016 primary and had written him in during the general election. "It's my opportunity to vote for who I believe," she said, adding that she would "probably" do so again if Sanders lost.
Keefe's husband, Mike, a small-business owner, said he wasn't sure he would do the same. "It depends on the level of trickery involved in taking this away [from Sanders]," he said, referring to perceptions that the Democratic National Committee conspired against the Vermonter in 2016.
At the New Hampshire Democratic Party's annual fundraising dinner that night at the Southern New Hampshire University Arena in Manchester, raucous Sanders supporters made themselves heard when Buttigieg derided the senator's long-promised "political revolution."
"With a president this divisive, we cannot risk dividing Americans further by saying that you must either be for a revolution or for the status quo," Buttigieg told the crowd.
"Wall Street Pete!" Sanders supporters chanted in response. Later, when the former mayor brought up health care reform, they shouted, "Medicare for all!"
At nearly every appearance in New Hampshire, Sanders went out of his way to pledge support for the eventual Democratic nominee — whether or not it's him. That message appeared to resonate with some, but not all, of his most ardent supporters.
Jane Tracey, a retiree from Jaffrey, voted for Sanders in the 2016 primary and was disappointed when he lost to Clinton. "He got robbed," she said on Monday morning as he prepared to speak at Franklin Pierce University in Rindge. But Tracey eventually came around. In the general election that year, she said, "I didn't want to, but I voted for Hillary — the lesser of two evils."
Tracey's neighbor, Colleen Blais, did not. "I didn't like Hillary. I thought she was a cheater," she said, adding that she had written in Green Party nominee Jill Stein.
This time around, Blais thinks that Buttigieg is a cheater. "He has something to do with the rigged vote in Iowa," she said, repeating a debunked conspiracy theory about his association with the developer of the app used by the Iowa Democratic Party. "At one point, Bernie had over 6,000 more votes than Pete, and they still had him neck and neck. So how could that be?"
Blais said she despises Trump. "He's ruining the Earth. Everything he does is bad." But she does not regret her decision to support Stein. "No, I'm a Bernie-or-bust person," she said, adding that this year, "I might just write Bernie in."
That night, at Sanders' final event before Tuesday's primary, 7,500 people showed up at the University of New Hampshire's Whittemore Center Arena in Durham to hear from Sanders, Rep. Alexandria Ocasio-Cortez (D-N.Y.) and the Strokes. There, the candidate dialed back his criticism of his fellow Democrats and instead trained his fire on Trump, who had held his own rally earlier that evening in Manchester.
One attendee, 29-year-old wastewater operator Andrew Eberly, said he had made the drive from his Rhode Island home four times to volunteer for Sanders. Eberly said he, too, had voted for Stein in 2016 and thought Sanders' current competitors — Buttigieg in particular — offered nothing but "platitudes."
But these days, Eberly regrets his 2016 decision.
"I think I needed to learn how bad Trump was," he said. "I feel foolish."
Even if Sanders loses the nomination, Eberly said, "I'm gonna vote blue no matter what, because I want to get Trump out of office. But I won't be happy about it."