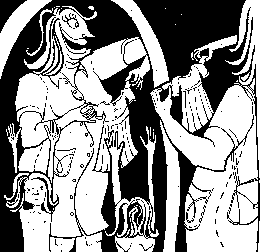 You can take me out, but you can't dress me up. I don't do makeup, except sometimes on Halloween. My idea of the perfect hairdo is one that basically combs itself. Faced with an occasion requiring some fancy get-up, I'll agonize over what to wear. After trying on and discarding half a dozen outfits, I'm likely to commit some horrendous fashion faux pas. I'll wear a shirt I somehow didn't notice had a bright stain directly over one nipple, or pants that fit just fine before dinner but pop a button by the time I reach dessert.
Once, for a Christmas party, I chose what I considered my dressiest dress, only to be greeted by my hostess' cheerful observation, "I see you decided to come casual!" Another time, during services in synagogue, the drawstring waist of my skirt mysteriously untied itself. When I stood up to leave, the whole garment slipped to my knees.
It's not surprising, then, that buying clothes isn't an activity I particularly enjoy. Where's the pleasure in the searching and sizing and selecting, not to mention paying the bills? I know that the duds I take home are destined for destruction or, at best, bound to look nowhere near as nice on me as they do on the mannequin, or even the hanger.
I haven't always been fashion-phobic. Back in the '60s, before I got breasts and girls were allowed to wear pants to school, I loved going clothes shopping with my mother. In those Edenic days, the size and shape of my body didn't matter, and if a blob of toothpaste happened to dribble onto my shirt, I wasn't particularly concerned. Whether something was in style wasn't an issue, either. Garments conveniently come in three easy-to-identify species: indestructible and comfortable "play clothes," delicate and itchy "good clothes" and "school clothes" — somewhere in between.
Some of my happiest clothes- shopping experiences were when my mother took my sister Rachel and me out to replenish this last category: an annual rite of passage that took place on a summer day shortly after the fall line hit Saks New Jersey, a half-hour drive from our home. I don't know what Rachel thought, but for me, it didn't get any better. I basked in the clean, new-clothes smell of the air-conditioned store and thrilled at the illusion of limitless bounty created by the pile of choices Mommy pulled off the rack. Though we would end up buying just one or two outfits each, the number of items she was willing to drape over her arm suggested nearly anything was possible.
The real work took place in the inner sanctum of the dressing room. This was where my mother paid me the greatest attention, so it was also the most satisfying part of the excursion. Obedient as a well-trained pet, I raised my arms to help her slip each garment over my head. Enraptured, I stared at my endlessly multiplied self in the three-way mirror as she did up the zipper and scrutinized the effect over my head. Inevitably, the moment would come when our reflected gazes would meet. And that wordless look would let me know whether the article I was trying on passed muster. "What do you think?" she might ask.
Until I caught her eye, I was never sure. But her silent cue erased all doubt. And when an outfit got the thumbs-down, I never wondered where the fault lay. In my mother's eyes, I had the paradigmatically correct body size, shape and coloring. If a particular dress didn't hang right, the dressmaker had obviously screwed up.
It wasn't usually dresses we were buying on those back-to-school trips, though, but jumpers. My mother was a big believer in their practical tidiness. For fourth grade, she bought me a tomato-red mock turtleneck and a plaid woolen jumper. For fifth, a blue-and-white striped turtleneck and a shiny brown vinyl jumper. In 1968, when I started sixth grade, I got a white blouse with a ruffle down the front, like those worn by Paul Revere and the Raiders, and a knit V-neck miniskirt jumper.
Back home, Rachel and I would dutifully model our purchases, marching up and down the stairs into the living room, where my father — at my mother's prompting — would glance away from the TV long enough to issue a dutiful grunt that my mother translated as his approval.
Whether or not Daddy cared how we looked in our new clothes, my mother, watching from her end of the couch, was never shy about her verdict. Not only had she produced perfectly proportioned progeny, but her judgment in matters sartorial — as in all other things — was infallible.
My mother's clothes encounters with us weren't limited to shopping. Even before we started school, she taught Rachel and me to make paper dolls. Using the cardboard sheets that came home from the dry cleaner's, folded inside my father's shirts, she helped us cut out little-girl shapes. Then she showed us how to trace our dolls' outlines on typing paper and design crayoned kilts and sweaters or puffy party dresses that perfectly fit our two-dimensional models. When she was our age, she told us, dressing paper dolls had been one of her favorite games. It wouldn't be too much of a stretch to suggest that after she passed the age of paper dolls, she derived that same aesthetic satisfaction from dressing us.
With a fancy women's clothing store in her family and a mother who dressed like a page out of a fashion magazine, my mother spent her childhood learning to admire haute couture. But she also remembered sneaking pretzels because her mother told her she was fat — even though photographs, and her hand-me-down clothes, suggest this wasn't so. However, by the time she'd given birth to me, her fourth child, she had grown to fit her mother's description.
Though my mother adored poring over the semi-annual New York Times Magazine fashion supplement, loved fingering fabrics on the rack and was adept at assembling beautifully coordinated outfits, she was a Saks shopper trapped in the body of a Lane Bryant customer. So while she restricted herself to shapeless A-line dresses, she indulged her fashion fantasies vicariously, through her daughters — and eventually her granddaughters. This was the do-as-I-say-not-as-I-do brand of mentoring. While it was understood that we wouldn't want to grow up dressing like her, we were being groomed to dress the way she would if she could.
As "dolls," my sister and I weren't always entirely cooperative. For me, the first crack in my unquestioning acceptance of my mother's clothing appeared in the seventh-grade locker room. Mary Beth Cady sidled up to me, eyed the pull of my Danskin shirt over my barely budding breasts and declared, "You look disgusting."
That evening, I left a note on Mommy's pillow: When do you think it will be time to buy me a bra? A few days later, she took me downtown to Haines Department Store. This outing was nothing like our annual pilgrimage to Saks. There was none of the joy of plucking possibilities off the rack and almost no conversation. There would certainly be no parading up and down the stairs later to model my purchase for my father.
Looking back, it's hard to say which of us was more embarrassed. As a self-absorbed adolescent, however, I read my mother's grim demeanor as a signal that I had done something wrong, as if by reaching adolescence I had violated some unspoken agreement. As the youngest child, my guarantee of staying in her good graces meant staying forever young — or so it seemed to me at the time.
But there was no turning back now. We were squeezing into the dressing room and the prim, gray-haired salesclerk who was wrapping her tape measure around my chest. The number she announced meant nothing to me until, as always, Mommy let me know what to think. With her eyes conspicuously avoiding mine she pronounced, "Pretty small."
The year 1970 didn't just mark my own personal turning point — the time when I first suspected my body might not be perfect after all. It was also the year that local school officials finally bowed to student pressure and liberalized the dress code, allowing girls to wear pants to class. Overnight, the boundary between "play" and "school" clothes disappeared, taking with it my family's annual back-to-school shopping ritual.
After the humiliation of acquiring a bra, by the time I was 14 I'd figured out that it wasn't cool to wear one. Following Rachel's lead, I spent high school in jeans or sporting a more exotic look scrounged up in odd places: a mirrored, floor-length skirt from an Indian import store; the faded red-denim jacket my mother had worn in college; my grandmother's French silk blouses from the '20s; a boyfriend's cowboy shirt with a star-spangled yoke.
To her credit, my mother let us dress pretty much as we pleased. But when the opportunity arose, she still seemed to enjoy buying us clothes. And long after we left home, she continued to dress us long-distance. Though some of these unsolicited selections missed the mark completely — a girly-girl skirt that made me look like Bo-Peep, a multicolored shirt better suited to a clown — her knack for getting it right, both in style and size, was remarkable.
Three and a half years after my mother's death, I'm still relying on her judgment to help me create some semblance of the right look for a business meeting or a bar mitzvah. And if someone compliments what I'm wearing, more often than not I'll say, "My mother picked it out."
Despite her best efforts, however, my mother's confident approach towards dressing did not rub off on me. And though I'm no longer a docile mannequin, there have been times when I've craved the reassurance of those school-clothes days when she was crammed into a dressing room with me.
When I got married, the dress I wore was deliberately selected — but not from a bridal shop. A traditional white gown with a deep V-neck, cap sleeves and a laced-up bodice, it came from my mother's attic, where it had been carefully stored since her own wedding. Like most brides, Mommy and I both had our pictures taken in full regalia.
My mother's was shot in 1949 in a formal New York portrait studio. She wears a three-tiered veil, her bodice fits snugly and her full skirt floats out around her. Everything about her, from the serious set of her mouth to the precise spray of her bouquet, is perfectly put together.
In my picture, which my mother shot with her Instamatic 32 years later in her backyard, a wreath of flowers sits on my head. My bodice bulges unevenly and my skirt hangs limply at my sides. In most of the pictures from my wedding day I'm eating, talking or making a face. But in my formal bridal portrait I'm squinting into the sun and grinning with the goofy glee of a girl caught playing dress-up in her mother's closet.