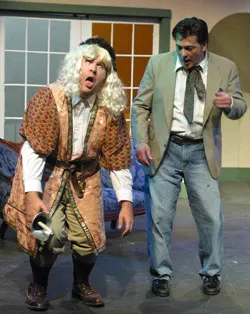 Marcel Freda and James DeRienzo
Farce is one of the theater's oldest and sweetest treats: over-the-top comedy, with absurd plot twists and exaggerated characters. The ancient Greeks yukked it up to Aristophanes' critter-filled capers; Victorians guffawed at Oscar Wilde's drawing-room delights. These farces still engage and entertain today because fast-paced, witty dialogue supports the frivolity. And, despite surface silliness, the plays contain lasting insights into what makes people tick.
Ken Ludwig's Leading Ladies (2004) fails to live up to the genre's lofty standards of levity. In an interview about the play, the lawyer-turned-playwright claims to have been influenced by "the great screwball film comedies of the 1930s and '40s." Rapid-fire repartee makes those scripts sing, but Ludwig only manages the occasional zinger. A few clever lines cannot salvage the tired plot, uninspired characters or plodding pace of his two-and-a-half-hour-long show.
Nonetheless, a giant "E" for effort goes to the Leading Ladies. The energetic cast and crew make the most out of a thin script. The actors gleefully play to the audience without allowing their performances to become hammy. Director George Pierce adds savvy touches for comic emphasis — one character uses a tube of lipstick as a rather effective (and funny) sexual metaphor, for example. Ed Demler's well-designed sets and Catherine Vigne's polished costumes add considerable visual interest as they support the storytelling.
Ludwig sets the play in 1958, in his real-life hometown of York, Penn. Two hack-tacular English actors, Leo Clark (James DeRienzo) and Jack Gable (Hugh Davies), tour the Moose Lodge circuit performing cringeworthy Shakespeare. They learn that a dying wealthy woman, Florence, is searching for her lost nephews, who moved to England as children. Light bulb! The impoverished thespians plan to impersonate the missing men and inherit the millions.
Wrinkle! Actually missing are nieces Maxine and Stephanie. So brawny, hairy-chested Clark and Gable — gratuitous pun! — show up in drag to get the dough. Florence's other niece, Meg, is so happy to meet her long-lost cousins that she doesn't seem to notice bulky calves and bulging Adam's apples. In fact, Meg secretly longs to act. "Maxine" is an actress, and personally knows Meg's fave actor, who is … the famous Leo Clark.
Meg's fussy fiancé, Duncan, suspects fraud. But Meg gets caught up in the excitement of planning a wedding-eve production of Twelfth Night with Leo and Maxine (the actor madly rushes on and off stage to switch costumes). And, of course, she gets emotionally entangled with both Leo and Maxine.
If Leading Ladies had been written and performed 50 years ago, it might have felt fresher. But its themes have already been done much better and become part of mainstream American culture, through major movies such as Some Like It Hot (1959), Tootsie (1982) and even Mrs. Doubtfire (1993).
Meg is the story's central "straight" character, around whom the antics of others revolve. Raquel Aronhime plays her with poise. She shows how Meg gradually gains confidence as her 1950s deference and propriety give way to the demeanor of a smarter, more assertive woman.
As Florence, Ramona Godfrey eagerly embraces the mannerisms of the crotchety aunt who continues to inconvenience others by remaining undead. Her grating voice and hunched gait seem charming only to roller-skating airhead Audrey, played with mixed results by Andrea Pray. Pray effectively captures Ludwig's one-dimensional, somewhat offensive portrait of a bimbo. But she sometimes struggles with adequately projecting her voice and making her speech feel natural.
All five male actors have outstanding moments. Leo and Jack spend a lot of their time in drag. James DeRienzo and Hugh Davies dive into the dress-up, looking remarkably like Alec Baldwin and David Hyde Pierce outfitted for an Academy Awards show skit gone horribly wrong. Davies demonstrates Jack's reluctance and shock with deer-in-the-headlights eyes, while DeRienzo shows Leo's self-possession by his casual aplomb strutting the stage in pumps.
Ludwig gives the best lines — anti-theater inside jokes — to the prissy Reverend Duncan. Michael LeMay digs into them with relish, since snide condescension is just about the only diversion this uptight fuddy-duddy allows himself. Walt Levering, as Doc, bickers wonderfully with his patient who refuses to die, and dispenses hilarious fatherly advice to his son. His bold comedic body language works well, although the volume of his voice sometimes falls short. As Doc's son Butch, Marcel Freda is a delight: lovesick, stage-fright addled and stammering.
Director George Pierce is also the one-man dynamo behind the WFP, now completing its fourth season. A central part of the troupe's mission is to present lesser-known works. Not all obscure plays turn out to be hidden gems. But staging them gives local actors and audiences opportunities they wouldn't otherwise have. And Pierce stands behind every ticket sold with a money-back guarantee — something the producers of Aristophanes and Wilde most likely didn't have the guts to do.