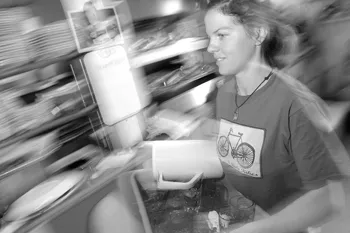 Matthew Thorsen
Rebecca Van Dyke
Breakfast at Penny Cluse has become a Burlington institution. Maybe not on par with having a cone at Ben & Jerry's, but close. Locals and tourists alike pack the Cherry Street restaurant each weekend, waiting an hour or more for biscuits and herb cream gravy. Even celebrities like Molly Ringwald and Ani DiFranco have been known to stop by.
All that activity puts a lot of pressure on the staff -- not just the servers who take the orders and the cooks who prepare them, but also the bussers who are responsible for cleaning it all up. On busy days they're constantly in motion, from the time they arrive at 8:30 a.m. until the restaurant closes at 3 p.m.
Twenty-five-year-old Rebecca Van Dyke doesn't mind the fast pace; she enjoys being a part of what she calls "a finely tuned machine." The Lynchburg, Virginia, native has a B.A. in English Literature from the University of Virginia and, like many Penny Cluse staffers, she's an artist. When she's not clearing tables, Van Dyke dabbles in freelance film production. Right now she's working on a short film about food, and has a gig as camera assistant for a CBS profile of local "Survivor" star Kathy O'Brien. Van Dyke moved to Burlington in 2002 and began working at Penny Cluse last August.
SEVEN DAYS: Did you always want to be a busser, all your life?
REBECCA VAN DYKE: Ever since I ... no, just kidding.
SD: Do you find it interesting?
RVD: I guess it is interesting. Because the work is always the same, I don't have to think a lot. I spend a lot of my time observing people. And then with my co-workers, the conversation is always really interesting.
SD: What do you talk about?
RVD: Music. Books. Customers. We throw out ideas. Like the other day some woman walked in and stole our plunger. She just came in, used the bathroom, took our plunger, stuck it in her bag, and left. We saw her walking, and she darted inside Brooks [Pharmacy] after walking halfway across the parking lot. So I decided that that needs to go in some movie.
SD: Bussers, unlike servers, get to be close to customers but don't have to talk to them; you get to be kind of invisible. Do you eavesdrop on conversations?
RVD: I sometimes do. I try not to eavesdrop too much, and when I do, it's unintentional.
SD: But you do, occasionally?
RVD: Yeah, occasionally. I hear things ... One half of a couple will be in tears. You can't help but wonder what's happening in their life, and why they're still coming in.
I've watched a couple people leave abruptly. Sometimes it seems really traumatic -- it doesn't happen regularly. And, you know, families, where brothers and sisters are fighting, and then the whole family starts fighting, and then it's, like, awkward silence. Those ones I steer clear of, usually.
I like interacting with people, but there's no pressure as a busser. If the underage kid wants to drink, I don't have to deal with it. I just get to laugh at him for trying.
SD: Would you describe it as a pretty physically demanding job?
RVD: Oh, yeah. Carrying heavy bus tubs full of dishes -- those ceramic dishes, those are heavy-duty. And full water glasses. I'm going down flights of stairs with full bus tubs. That's a lot of stress on my feet. By the end of the day, the only thing I want to do is collapse. And I usually have to walk home or ride my bike.
SD: When it's busy there, you have to turn those tables over really quickly. Do you have any systems you've developed to increase efficiency?
RVD: What makes it most efficient is when I'm working with another busser and a hostess, and the three of us can kind of communicate across the restaurant. I also keep a really broad perspective on the restaurant. Even knowing who's paying, who has checks, who's just hanging out. Once you see some kind of motion, you communicate with the other busser and the hostess, and you all kind of attack at once. So it's a strategy.
SD: How do you communicate? It's happening so fast. You don't have time to say, "Hey, come here, let's talk about the table."
RVD: It's like sign language. We have made-up signs. Like "table," making a T sign with your hand, then the number of the table, you hold up that many fingers. And then if they need a high chair -- Abby, when she was there, she would make fists with her hands, and hold them up over her head, then bring them back down to the side of her body. And then there's the baby sign [pretends to hold a baby].
But really, all I have to do is look at them. If I'm waiting, kind of looking at the hostess, that means, "How many people are sitting at this table?"
SD: What are the things you wish diners would do?
RVD: Not leave their used tissues on the table. I wish people would drink their water, because I really hate when all this water goes to waste, and I have to carry it away from the table again.
Sometimes, if I don't think about it, it's fine, but if I think about it, it's like, I must handle I don't know how many napkin wads a day. Hundreds, probably. And I just hope -- probably I do it unconsciously -- that I wash my hands before I eat and don't touch my mouth. But I probably don't every time.
SD: Do you take pride in your work?
RVD: Yeah, I guess so. I don't know if I would feel the same working at another restaurant, but being a busser at Penny Cluse, I feel really important. In order to achieve the desired pace -- which is fast -- I've gotta do my part.
I guess I also take pride in neatness. Having the table wiped properly. And not having maple syrup and sticky stuff all over the place. Having the condiments arranged. This sounds really stupid, but having the condiments all kind of arranged with the maple syrup and the cream on either side, and the salt and peppers in front -- I like to have it look nice. And especially at the counter. It's important to me to have symmetry, because I just like it. When it looks nice, and when it's clean, that means I've succeeded.