My baby days are over. I have relished my children's births and infancy, inhaled their sweet baby breath, swayed them to sleep in my arms and whispered loving lullabies. For the last five years I've been either nursing orchanging their diapers.
But those sweet baby boys are now a rowdy toddler and wild preschooler. My diaper freedom is on the horizon —and it looks glorious. Doors are opening into "big-kid land," and it's awesome. We're finally at that place where they are old enough to do cool stuff
and
enjoy it
and
its either free or super cheap for them to participate.
My big boys and I recently jumped (literally — they jump a lot) at the opportunity for a railroad adventure to Bellows Falls to stay with our friends for the night. They have both been train enthusiasts from the first "choo-choo." We've watched the "Thomas and Friends" movies hundreds of times.
The diaper bag and gear are lighter now, and the trip by rail is
only slightly longer than the drive would have been (three hours). At $54 each way, riding the train cost more than we would have spent on gas, but traveling this way allowed the boys to move about the cabin safely, while I checked out the amazing October foliage. And, better yet, when you're on a train there's no need to pull over to let off steam, grab a snack, change a diaper, take a potty break, deal with an itchy carseat or stretch your legs.
My husband dropped us off at the Essex Junction train station on a Sunday morning. Our bags packed, we hugged and kissed goodbye from the platform, like in the movies, with tears in our eyes.
The kindly engineer promptly showed us the best seat. My safety-conscience preschooler immediately scoured the pamphlet on emergencies he found in the seat pocket and pointed out the exits. We waved ferociously at daddy while the train pulled away from the station and our adventure began!
I had packed some lunch and snacks but had some cash for a treat from the café car if we "went off the rails," so to speak. Beginning with the first stop in Waterbury, we watched as new passengers joined, welcoming them to our car and saying goodbye as they departed. Most were happy to see my excited pair of greeters.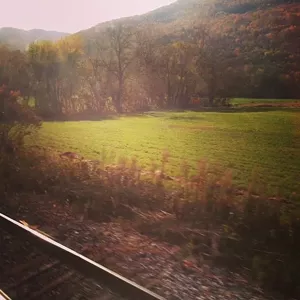 When the train started moving again I happily answered the boys' million specific questions about what we were passing by. Rolling through the scenic Vermont countryside — on what turned out to be peak leaf-peeping weekend — was near perfect with one boy on my lap and one on my knees.
Our friends greeted us just after lunch at the Bellows Falls station, which is a historical depot complete with a train table. We loaded into their minivan, with borrowed carseats, and headed to a local corn maze before going back to their house for the night.
After a pilgrimage to Target the following afternoon to purchase some special books and markers for our return trip, we said our goodbyes to our friends and boarded the train home. The only thing that derailed our trip was a mild case of croup for my little guy. But for the most part he was in great spirits and chugged along despite feeling a little under the weather. The sun was setting to our west and we snuggled in, watching the darkening landscape pass by.
Click here for info on Amtrak's Vermonter train.
Kids tickets are half price; those 2 and under ride free. Buy tickets online ahead of time as they are not available for purchase at the Essex Junction station.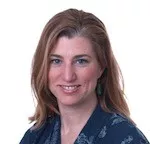 Brooke Bousquet is the lead designer of Kids VT. She lives in Winooski with her husband and two sons.