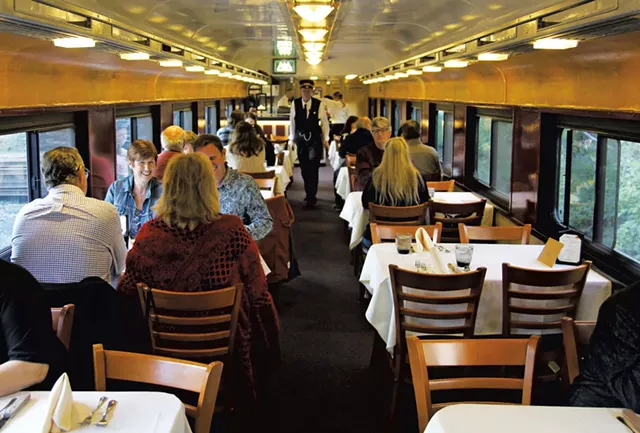 Courtesy Of The Champlain Valley Dinner Train
Passengers on the Champlain Valley Dinner Train
There are plenty of restaurants between Burlington and Middlebury, but none that spans the distance. That will change next month with the launch of the Champlain Valley Dinner Train, a restaurant on rails operated by Green Mountain Railroad.
Starting May 11, the train will depart from 1 Main Street in Burlington at 5:30 p.m. on Fridays and Saturdays. During the three-hour trip from Burlington to Middlebury and back, passengers will be served a three-course meal.
"It's really cool, because people kind of lose track of time on there," said Nicole Wulfson, who handles passenger marketing and customer service for the Green Mountain Railroad. "We stretch out the duration of the trip to make it more of an experience for our guests."
Dinner will be prepared in the train's 90-foot kitchen car by chef Paul Seal, who also works at the Chophouse in Ludlow. After a first course of salad, diners will choose among several main courses, including baked stuffed chicken, Asian barbecue short ribs, maple-bourbon glazed salmon and vegetarian lasagna. Cocktails, beer and wine will be available.
The train can accommodate 150 diners per trip, with tickets available in "gold" ($100) and "silver" ($85) price ranges. A gold ticket, available to 18 diners per excursion, entitles passengers to a complimentary drink and seating in big leather chairs. The Champlain Valley Dinner Train will offer special brunch trips on Mother's Day and Father's Day.
For the past two years, the railroad has operated a fall foliage dinner train out of Chester. That trip will resume after the Lake Champlain excursions end for the season, on September 1. The southern Vermont train ride will take diners up Okemo Mountain.
Reservations are recommended, available at trainridesvt.com.