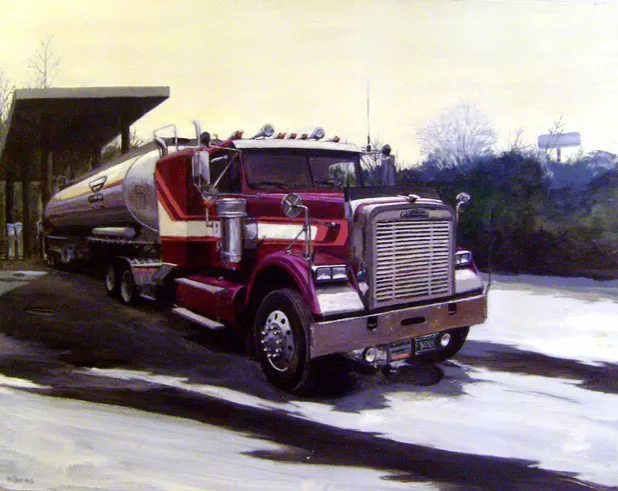 "Gasoline" by Benjamin Barnes
Art's Alive is the Energizer bunny of Vermont's fine-arts festivals. It's been going and going every spring for 25 years, placing artwork in downtown Burlington shop windows and producing a large, juried group show at Union Station. The artist-run event continues to be well curated and diverse, and provides a glimpse into an active local art scene. For the 2011 installment, six awards were distributed among 40 pieces.
First prize went to Benjamin Barnes for his acrylic painting on canvas called "Gasoline." The nearly photorealistic image of a parked diesel tanker, in perfect two-point perspective, seems poised to break out of the picture plane and into the viewer's space. Barnes' truck is chrome and crimson, while the landscape behind the gas station is a scruffy gray, with leafless trees rising from the horizon.
Stephen Mease took second place for his photograph "Spring Sunset." Its empyrean sky occupies the top three-quarters of the image and presents amazing hues ranging from coral to purple. They're almost fluorescent against the stand of dark trees at the bottom of the piece. There's also subtle movement in Mease's composition, as the clouds seem to drift downward while the trees rise slightly at lower right.
A blue-green mixed-media work on canvas by Kristen L'Espérance won third prize. "The Imposing Grid: Gowanus Corridor" is based on the cartography of a region in Brooklyn. The viewer looks down on the map, where sinewy lines representing roads cross the flat plane, while hard-edged docks are outlined at the lower left. It's an intriguing image that requires some scrutiny to recognize.
Brooke Monte earned the Roberto Fitzgerald Award — named for a longtime former board chair — for "Blue Bird Levee." The large square painting is a hybrid of abstraction and a figurative element — a blue bird with wings spread at the upper right. A series of white concentric circles curves into the orange-and-rust-colored background. Monte weaves dark and light areas into a unified whole beneath the fine white circles. A curiously hovering bright-blue sphere at lower left balances the blue bird.
Maggie Neale submitted a strong piece of hand-painted silk with a loosely similar, albeit fully abstract, composition, titled "Seismic Segment." Here rust-red squares within squares are layered on a pale-blue and purple mélange of textures built from wax and oil. Broad, jagged lines that resemble broken bedrock appear in the background.
"Hoarse," by a 26-year-old artist dubbed simply Cricket, won the Moulton Steele Emerging Artist Award (courtesy of Main Street Landing owners Melinda Moulton and Lisa Steele). It's a large-scale, somewhat whimsical drawing, in pen-and-ink and pastel, of a golden-yellow horse, its head bent low to graze. No explanation for the spelling of the title. Perhaps the old critter has a cold?
Photography is a particularly strong genre in this year's Art's Alive juried show; there are several highly competent entries in addition to Mease's award-winning image. Among them is John Churchman's "The Peaceful Evening," with a gaggle of white geese in a darkened farmyard and orange foliage blazing in late-afternoon sunlight beyond. Also noteworthy are Ashley Gillespie's blurred, almost ghostly self-portrait, in which she's seated at a table eating from a bowl; and the stark, black-and-white "Basketball Hoop at Night" by Curran Broderick.
Art's Alive descended from the Women's Caucus for Art open-studio events of the early 1980s; it continues to be unique in placing art in store windows on the Church Street Marketplace. The festival kicks off a busy summer season for the visual arts in Burlington that concludes with its larger and more boisterous cousin, September's South End Art Hop. Now, if only the weather could be as fine.