Matthew Thorsen
Alice & the Magician's culinary fragrances
This week, guests at Radio Bean's new Light Club Lamp Shop restaurant will be invited to try Bessie's Boudoir. It's a girly-girl drink — a gin martini composed of London dry gin, Lillet, triple sec and elderflower-flavored St. Germain. But Bessie is not so innocent.
The ingredient that provides a racy edge isn't poured but, rather, sprayed: One spritz of wild orchid perfume and the drink comes alive.
Bartender Rachel McQueeney conceived of the cocktail that reflects a new Burlington trend: edible fragrances. At her request, Aaron Wisniewski, 32, designed the intense floral fragrance specifically for the Light Club's cocktail.
Although Wisniewski incorporated his culinary fragrance company, Alice & the Magician, two years ago, he only began "selling aggressively" earlier this year. And the fragrances are catching on. Vermont bartenders have taken a shine to the new olfactory concept in drink mixing.
A certified sommelier and longtime bartender and bar manager — his CV includes New York's Tribeca Grill and Vermont cocktail hot spots such as the Inn at Shelburne Farms and E.B. Strong's Prime Steakhouse — Wisniewski says he was in search of a new way to accentuate different tastes.
"It's all about maximum flavor — how can you get things to taste the best? Among other things, the answer is aroma," he says.
As much of 95 percent of what we taste can actually be attributed to smell, Wisniewski explains. Remember those fourth-grade experiments tasting apples, onions and potatoes with your nostrils pinched shut? Eliminating the sense of smell can greatly change how food tastes. By adding fragrance to drinks and food — Alice & the Magician also creates food fragrances — the perfumes can not only accentuate specific flavors in a dish but completely transform them.
At his cubicle packed with bottles in Burlington's Generator maker space, the fragrance maven mixes ultra-concentrated essential oils to create his fragrances. He demonstrates how they can transform a drink by pouring a few sips each of Nantucket Nectars lemonade and soda water into a glass. He instructs this reporter to try the mixture as is. Then he hits the glass with two sprays of cilantro fragrance. The already summery drink practically glows with flavor. On my second try, I inhale through my nose while I drink, and it's as if leaves of the bright herb are floating in my glass.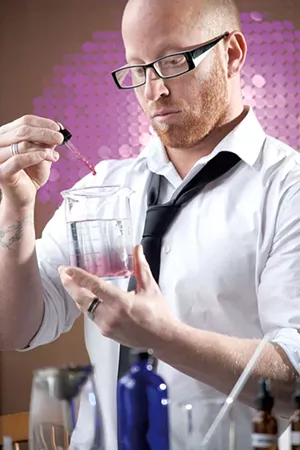 Matthew Thorsen
Aaron Wisniewski
In a new glass, he repeats the trick but, rather than cilantro, he adds a couple sprays of ginger. Instantly, the lemon mixture takes on a hint of spice. By contrast, a spritz of winter rosemary and orange-blossom honey on Del's tangerine-orange juice enhances the cheap, orange-like flavor of the drink with a citrusy whisper of honey and piney rosemary.
It's enough to make you feel like you're actually consuming those flavors. Wisniewski elucidates that his fragrances' base — neutral grain spirits — diffuse so quickly that there's almost nothing left to ingest by the time the bartender passes off the drink.
How, then, does the spray so completely transform a sip? Chemically, the scents are almost identical to the real thing. What the taster experiences is truly a distillation of the moment a cake emerges from the oven, or a grapefruit squirts under the cut of a knife. "You do a get a little bit of the post-olfactory aroma," Wisniewski clarifies. "Your brain tells you you're about to drink or eat these things."
One of his fragrances, called Forager's Feast, blends truffle, butter, wild mushrooms and herbs. Wisniewski sprays it over pasta for an added flavor that could otherwise only be obtained by adding a stick of butter and $100 worth of shaved black truffles. "When I'm eating, I'll do it kind of like wine," he reveals. "When I have pasta, I'll do a spray every few bites."
Turns out that olfactory tricks may be good for more than just culinary pleasure: It could help dieters lose weight. In Wisniewski's Chocolate Birthday Cake, he's distilled the vanilla-enhanced essence of Mom's chocolate cake. Sprayed on a banana, the soft, sweet fruit replicates the texture and sweetness of a slice of cake, while the cocoa scent hits all the sensory cues of a childhood birthday party. In place of fat and calories, potassium and vitamins fill each bite. While it's not a virtual-reality machine for flavor, a spray of cake can scratch the chocolate itch far better than a banana alone.
The supremacy of smell over taste isn't the only thing that makes the fragrances work. Scent is emotional. It's the only sense directly connected to the brain's limbic system, the seat of emotion. Thus, the smell alone of chocolate cake can make people happy — even if they don't get a bite.
Many of Alice's blends are based on Wisniewski's personal scent memories. Andalucia's Garden is the perfumer's ode to a neighbor's garden that he would pass when working at an olive farm in the mountains of Majorca. The cilantro-dominated blend of herbs also includes coriander and tomato leaves.
A scent called Hiking the Long Trail in Vermont retraces Wisniewski's steps on an upward climb through the woods. The layered scents progress, mirroring his journey. Mossy, green smells give way to balsam and coniferous trees. At the top of the climb, about an hour after the fragrance is sprayed, the trip ends with what Wisniewski calls "the smell of cold rocks and air and a mountain breeze."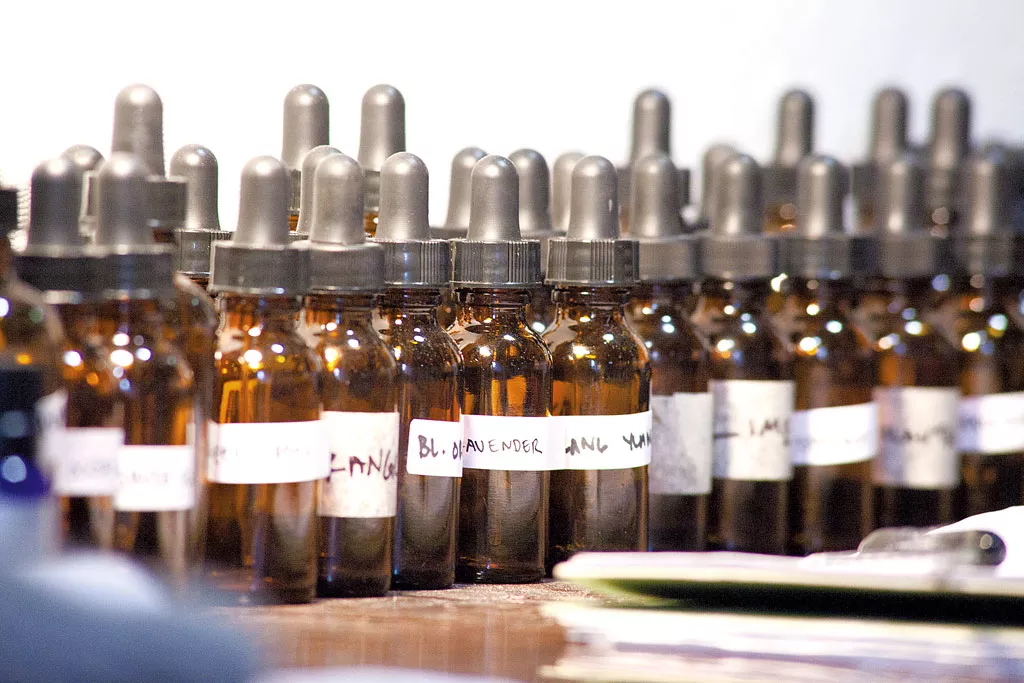 How does the perfumer get his wares to smell so much like the real thing? Carefully sourced ingredients are key. A friend at Generator is helping Wisniewski find affordable ways to extract his own fragrances using produce from local farmers and wildcrafters. "Some people here are working on some methods and technologies to really be able to control the entire farm-to-bottle idea," he adds. "Instead of getting my sage or rosemary from a farm in Oregon or overseas, we have so much good produce here. Not to sound corny, but the value-added thing is a fringe benefit to quality."
A 30-milliliter bottle, sold on his website and at Generator, retails for $42.50 and is good for about 300 sprays.
One of Wisniewski's favorite things is mixing fragrances to a customer's specifications ($100) — which aren't always for consumption. For one client, he's currently working on decoding a very specific aroma: blood. Wisniewski says he hasn't turned down a request yet, no matter how strange.
Not all clients know what they want. It took a session of chatting and smelling single scents for one woman to define her desire. She recently commissioned Wisniewski to create an ode to riding her motorcycle, complete with notes of leather, freshly cut grass, pavement, metal, fresh air and the natural musk of biking in a hot leather jacket.
But Wisniewski's primary focus is making farm-to-bottle bouquets that pair perfectly with local liquor. Several local bartenders are using Alice's preexisting blends and working with Wisniewski on tailoring scents to their cocktails.
"There are so many up-and-coming restaurants in Burlington," says McQueeney of the Light Club. "This is something really unique that sets the bar higher."
Bartender Woody Wright-Moore's Fortune Teller cocktail (see recipe on page 53) is a hit at the Daily Planet. "Because bartending can be so much about showmanship, I usually take out the perfume bottle just before I serve [the drink], and it ignites an interest in 'What is that?'" he explains.
Wright-Moore recently visited Wisniewski's lab to begin smell testing for drinks on his upcoming menu. Alice & the Magician created a custom juniper scent for Hotel Vermont's Juniper bar, but manager Cam Keitel says the fragrance hasn't made it onto the regular menu yet. "We've really just been playing around with them," he says of the several varieties his team keeps by the bar. "The cilantro, especially, is super cool."
Some of Wisniewski's former local haunts are using his sprays. And, thanks to a connection with a former coworker from his New York City days, a less truffle-heavy version of Forager's Feast is available in a drink at that city's Italian temple Maialino.
For Wisniewski, the next step is to flood not only the Vermont market but big restaurants in regional cities including New York and Boston. "I want to focus more closely on developing signature scents for them — their brand and their signature," he says.
As Wright-Moore puts it, "I think it's a really cool, trendy local product that could really take off." When it does, Vermonters can say they were among the first to smell the magic.
Cocktail Recipe With a Citrus Blossom
The earthy, Amaro-like flavor of Fernet-Branca brings a rich flavor to the citrusy cocktail that Woody Wright-Moore serves at the Daily Planet. But Aaron Wisniewski's aromatic citrus blossom spritz gives the drink its true character.
.75 ounces ginger liqueur
.5 ounces Fernet-Branca
.5 ounces Lillet
.5 ounces Pimm's
2 ounces grapefruit juice
3 mists of Alice & the Magician Citrus Blossom Harvest fragrance
Combine all ingredients but perfume in cocktail shaker with ice. Stir until chilled, then pour over fresh ice. Spray the glass with perfume three times, making sure to cover rim of glass.
INFO
Sample the fragrances with cocktails at Generator's Third Thursday Social every month. The next Social, with a "wearable technology" theme, is December 18 at 5:30 p.m.
The original print version of this article was headlined "Sensory Satisfaction"