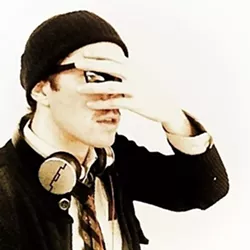 (Self-released, digital download)
Alexis Savino is a jack-of-all-trades. The multidisciplinary creator grew up in Vermont's Northeast Kingdom, first pursuing creative exploits with Bread and Puppet Theater and starring in a couple of Jay Craven films. In fact, his teenage visage is prominently featured on the poster for Craven's 1999 film In Jest. Savino's website boasts an impressive and eclectic array of pursuits: He's performed with the Blue Man Group and in various off-Broadway productions; he makes leather satchels and purses; he directs. And, of course, he makes music. He currently splits his time between Vermont and New York City.
With a background this diverse, it only makes sense that Savino's latest album, Full Throttle, would be varied stylistically. On his Bandcamp page, he tags his album with the following genre descriptors: R&B, acoustic, blues, folk, funk, hip-hop, jazz, rock and soul. All of these, and more, can be applied singularly and in various combinations throughout the tracks.
A few songs are bound to fade into the background on an album as flush with material as this one — it weighs in at 23 tracks. Fortunately, many cuts prove Savino to be a master groovesman. Vocally, he dwells in the dark and gritty places that Tom Waits and the National's Matt Berninger tend to reside.
"Depaneur" sounds like the product of an industrial electro-pop factory. It conjures the feeling of an assembly line with its systematic blips and synth fizzes. In his throaty drawl, Savino repeatedly croons, "What I mean / Perplex the machine." A jagged, bluesy electric guitar solo fills out the song's middle stretch.
Savino combines a reggaeton beat with dub-like organ pops on the bubbly "Ahh-ree-elle." Once again, he lets his axe do the talking between his own snarling, gravelly exclamations.
"Claire" recalls the glory of alternative music's late 1990s heyday. A simple hip-hop drum loop carries the song's two metallic chords as Savino coos and gushes over the eponymous Claire: "Hey Claire / With the hair / So fair ... you're taking me there."
Savino frequently speak-sings, or raps, on tracks such as "Don't Hate Me (or Anybody Else)." Its soft, jazzy organ, trip-hop flow and quivering background vocal samples are reminiscent of Thievery Corporation, but his guttural exclamations upset that influence.
"A Simple Plan" is a bleary, grungy rock number with existential lyrics. Over a blazing, distorted guitar riff and an equally sizzling lead, Savino sings, "You've got to be real with yourself, man / So feel yourself, man / You've got to be a little surreal with yourself."
If Savino's strength lies in his ability to bottle a mood, his weakness might be his disregard for typical pop structure. His songs frequently feel like a stream of consciousness rather than the familiar verse-chorus-verse-chorus construct. Even so, his hooks tend to be memorable, and the album's variety is refreshingly effervescent.
Full Throttle by Alexis is available at alexissavino.com.