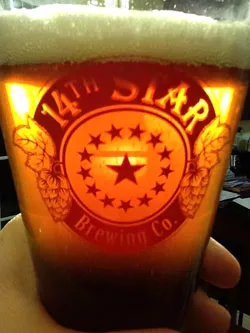 During his last tour in Afghanistan, 16-year Army veteran Steve Gagner began wondering what he would do in retirement. It slowly dawned on him: Why not turn his passion for home brewing into a business?
Once back home in St. Albans, Gagner decided to partner with an Army buddy, Matt Kehaya, and seek funding. He cobbled together a brewing system from new, repurposed and self-fabricated equipment, circulated samples of home-brewed ales to friends and family for feedback, and applied for his federal brewer's permit. "We're being creative and imaginative to fit our needs and our budget," says Gagner.
Now he expects the one-barrel 14th Star Brewing Company on Lower Newton Street to be up and running by July. Because it's so small, the brewery will only sell growlers, at least at first. Growlers of…?
"We'll let the community decide," says Gagner. So far, the "big three" potential brews are a pale ale, a red ale and a Belgian white. "We're really just about sharing the craft and the passion," says Gagner. "There's a lot of love in our beer."