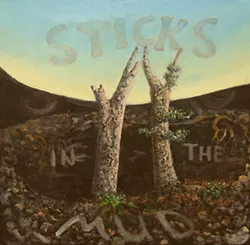 (Self-released, CD, digital download)
Back when Aleck Woogmaster was terrorizing open mics here in Vermont, he was capable of completely silencing a crowd. That is not necessarily a compliment. In the predominantly progressive Green Mountains, his gut-level rants and brutal imagery would often leave the audience looking like someone had just announced a bomb threat. Shock rap has a very short shelf life, though, and, inevitably, Woogmaster has matured since moving to Portland, Ore., and meeting his current collaborator, singer-songwriter Ivy Estelle.
The duo's debut offering, Sticks in the Mud, is a seven-song EP with a lot of heart, vision and promise, embodied by an organic dynamic that was clearly honed at live shows — a lot of live shows. Woogmaster and Estelle don't trade verses so much as weave around each other, counterpoint and commentary blending in with harmonies and responses. Even when it doesn't work, it's pretty charming stuff.
The EP opens on the title cut, which begins with a mournful a cappella intro from Estelle. As the song builds and beats and samples coalesce, Woogmaster proves he is still a man on fire, launching an impassioned indictment of school systems designed to medicate problems and marginalize original thinkers. This launches into a remarkably cohesive three-song set, all of which was produced by local hip-hop mystic Face-One. The second of these is the stoner funk of "Cold Soul," an urgently sad song that dispatches postcards from a relationship strained past the breaking point.
Woog's new musical recipe works best on the third track, "Medicine," an upbeat burner that traces a litany of working-class stress before finding redemption: "There's no better medicine than making music." The chemistry between Woog and Estelle is most effective at moments such as this, when both performers are clearly having fun in the booth. When they try to add more gravity to the mix, results vary.
"Missty Blue," a third-person narrative about being changed by the big city, is a prime example. Despite solid composition and a great beat, the story is ultimately too rote, too predictable, to sustain the earnestness of the duo's delivery. It's a sharp contrast to "Lilacs," Woog's personal story about his mother and his tattoos, which manages to convey so much more impact with a single short verse. "Lilacs" also features the best beat on the album, courtesy of Face-One again.
Woogmaster himself produced the closing tracks and, unfortunately, it shows. Both "Happily Ever After" and "The Cycle" lack the punch, space and musicality of the first five songs, despite a withering guitar outro courtesy of Portland polymath Billy Mickelson. While the project could have been stronger without them, these tracks offer a more experimental side of the duo and make it clear they won't be running out of ideas anytime soon.
Sticks in the Mud showcases a very different incarnation from the Woogmaster that Vermont once knew. He's just as blunt, just as proud of his scars, but the musical growth and newfound wisdom demonstrated here set this EP miles apart from his previous work.
Sticks in the Mud by Aleck Woogmaster and Ivy Estelle is available at aleckwoog.bandcamp.com. The duo performs at Weirdo Fest in Plainfield this Saturday, July 18.