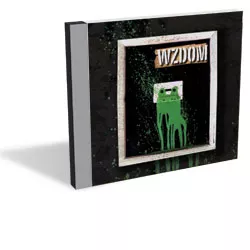 (Rurally Urban Records, CD, digital download)
With his 2010 full-length, The Woogmatic LP, local MC Aleck Woog offered a promising, if inconsistent, debut. While a technically gifted rapper, he seemed to struggle with a crisis of identity, as if caught between two opposing personalities. At his best, Woog presented unflinching, emotionally charged ruminations on his life in Vermont and his battles with personal demons. In other instances, he fell prey to disingenuous chest thumping, a common failing in hip-hop. The title of Woog's latest effort, WzdoM, suggests the MC has taken a turn for higher ground, investing in the honesty and enlightenment that elevated the finer moments of his debut above cliché braggadocio. However, a closer listen reveals Woog still has a way to go.
The record opens on a low note with "Still Mister." Over a clever reggae beat from producer Zach Crawford — whose creative work is a highlight throughout — Woog unleashes an unhinged rant that doesn't just cross the line into misogyny, it urinates all over it. At first listen, Woog is so over the top it seems he must be satirizing hardcore rap. How else to explain lines about killing cops and gratuitous use of the word "cunt"? But later verses veer into an off-kilter declaration of faith, or perhaps anti-faith, that frames the entire song in a bizarrely personal light. It's as though he's rolled the competing personalities from his debut into a single song. It's confusing, to say the least.
The rapper does a complete about- face on the following tune, "DIY." Over an aggressive, guitar-fueled beat, he revisits the qualities that highlighted his debut. Woog rhymes confidently and intensely, delivering fiery lines about social injustice that suggest there's more to him than false bravado.
The title track continues the theme, and is a clever, punchy standout. Woog is by turns self-aggrandizing and self-deprecating. It's a fine balance to strike, but he does so skillfully, offering a tantalizing glimpse at what he's truly capable of as a wordsmith.
The remainder of the record hits more than it misses. Tracks such as "Modern Stalker" and "Steven Deviant" showcase Woog's lighter, humorous side. Meanwhile, "Flash" and "Onward," both of which feature guest vocalist Liz Graham, delve into more serious topics and make good on the depth of character hinted at on Woog's debut.
Aleck Woog clearly has an abundance of talent. And when he allows himself to, well, be himself, he goes a long way toward realizing his full potential.
WzdoM by Aleck Woog is available at woogmaster.com. Woog is donating half of the proceeds from his record to the Vermont Emergency Food Bank.