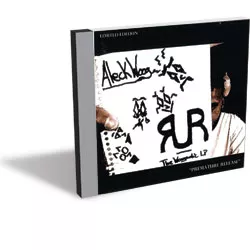 (Rurally-Urban Records, digital download)
When any Tom, Dick or Harry with a Mac and a microphone can put out an album — not to mention start his own label — the music world becomes awash with tripe not fit to be heard by even the dirtiest shower curtain. Fortunately for Burlington MC Aleck Woog, his recently released The Woogmatic LP does not fall into that category. The recording is a promising start for Woog — who also goes by, you guessed it, "Woogmatic." Though lacking in cohesiveness and slowed by some fairly infantile interludes, this digital-download debut introduces a clever lyricist with a willingness to bare all for his audience.
Maybe it's a Burlington hip-hop thing, but Woog, like others in the local scene, is more inclined to rap about the realities of his life — no money, stable job or a place in the world — than weave cliché, materialistic lies about what he'd like us to believe he has: money, hot cars and a VIP booth at Red Square. In fact, it is because of his honesty that the MC rises above mediocrity.
Woog sets a strange tone from the outset on the catchy "Privately Public"— technically, the second track. And it's one that carries through the 20 cuts. "Privately a genius, publicly a fool / another dumb trick to leave you utterly confused," he raps, striking an oxymoronic pose that is at once self-deprecating and narcissistic. Were it not for the multiple references to suicide and the obvious fact that he has yet to "find himself," listeners might be turned off by Woog's seeming overconfidence. As it stands, the fledgling MC's apparent duality makes him real.
Still, Woog has a way to go before his work can truly be called "genius." For one, he needs to be a little more selective about his album's final cut. "Babygirl" cops the done-to-death misogyny too typical of inauthentic artists within the genre. And the aforementioned interludes — including an atonal a cappella number sung over rainfall — threaten to drag the artist down into the "can't be taken seriously" circle of hip-hop hell.
I also question why the standout "Introducing Tonight (the Hardest Artists)" was buried so deeply in the album. With arrangement, performance and production by drop-in producer Zach Crawford (formerly of Burlington outfit Somewhere in the Solution) and accompanied by guests Mertz (who pops up all over the album), Habit, Alyx Blaze, Anthem and Face-One, it's easily one of the LP's best tracks. It deserved a higher place on the totem pole.
Overall, The Woogmatic LP is a solid debut, well worth a listen for anyone who can't get enough of the burgeoning Burlington hip-hop scene.
The Woogmatic LP is available for digital download on iTunes, Amazon and MySpace Music.