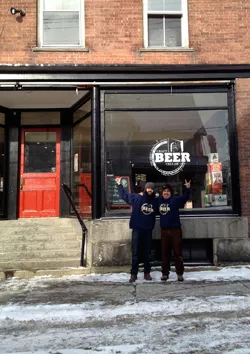 Fresh on the heels of the news that they're planning a new brewery, the peeps at the Alchemist made their fans very happy earlier this week when they announced a forthcoming canned IPA called Focal Banger.
"[Co-owner] John [Kimmich] has been playing with the recipe and getting hops contracts in line, so that this will be our second canned label," writes Jen Kimmich in an email. "Once our new brewery is built, this will be brewed and canned all the time."
Since the Kimmiches shuttered their Waterbury Center retail store in November, John Kimmich has expanded the distribution of their signature Heady Topper and released a few draft beers — including a dark IPA called El Jefe — to local bars and restaurants. "In a couple weeks, we will be releasing the first batch of Focal Banger, an American IPA first brewed at the pub back in the day," writes Kimmich on the Alchemist blog.
The beer draws on Mosaic and Citra hops, "and we are working on fine-tuning the malt bill," he adds. The Kimmiches aren't planning a big reveal; rather, Focal Banger may "pop up for sale in cans as an experimental run very soon."
Meanwhile, those who want to try their hands at home brewing — or just sample beers from far-flung places — have two new retail sources to check out. Waterbury's Craft Beer Cellar opened just before Christmas at 3 Elm Street with a stock of nearly 300 bottled beers, as well as home-brewing equipment ranging from carboys and Cornelius kegs to hops, yeasts and malt. The staff has installed a 10-gallon brewing system around which to hold future classes, according to co-owner Victor Osinaga.
In Chittenden County, Brian Frary opened the Beer Palate in Williston's Maple Tree Place (at 188 Boxwood Street) around Thanksgiving. The store carries 500 bottled beers from near and far — including brews from Belgium, Japan and Norway — as well as stocking gluten-free beers and a five-tap growler bar.