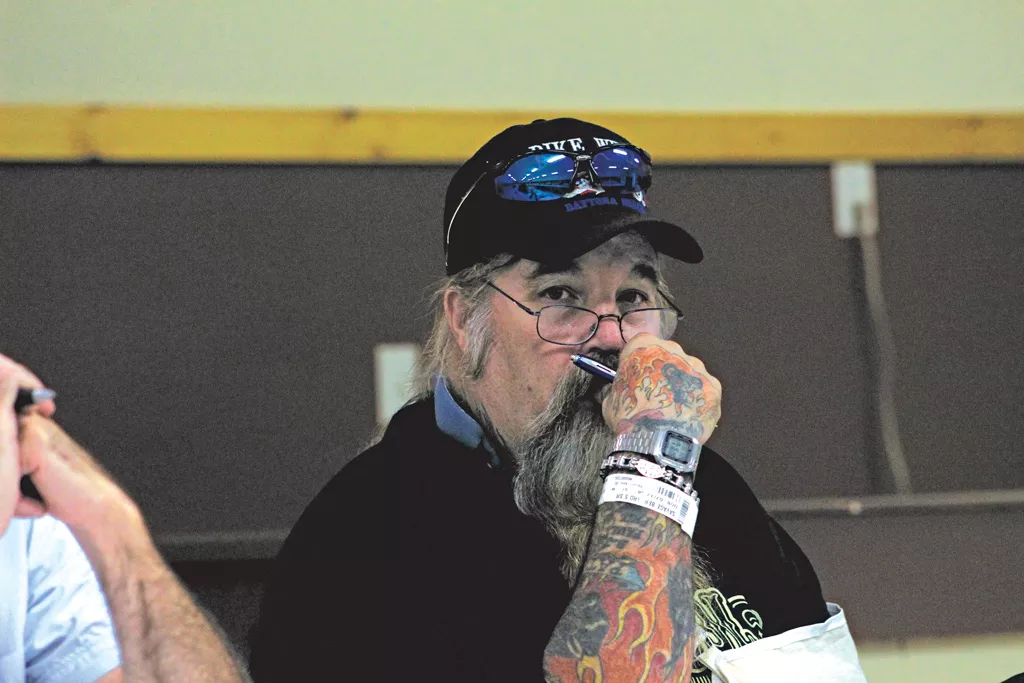 Courtesy of Elodie Reed/St. Albans Messenger
Bernard Savage
Alburgh Selectman Bernard Savage was among the first to arrive in town hall for the board's bimonthly meeting on Tuesday, September 22. He settled into a chair at the corner of the long table, handed over a Diet Coke that he had brought for Town Clerk Donna Bohannon, and chatted genially with members of the public as they trickled into the conference room.
"How are you doing? That's good," Savage said to one. "Hi, sweetie," he remarked to another.
But his mood changed when Elodie Reed, a reporter from the St. Albans Messenger, began taking photos of him as the session was about to begin.
"Fucking bullshit," Savage grumbled loudly.
"No more camera," he told Reed, before turning to his wife in the audience. "I'm sick of this bullshit."
Other selectboard members sat silently as Savage spoke. On his right, chair Steve Aubin pushed back in his seat, as if trying to shrink himself.
"It's a public meeting," Reed explained from the crowd.
"I don't care. I will leave," Savage said, pointing his finger at her. "You pick that camera up one more time, I'm leaving." Neither of them did.
It's not surprising that Savage has grown weary of publicity.
On July 1, federal agents descended on Savage's home and attached auto garage on Route 2. They confiscated 103 firearms, $25,000 in cash, 3.9 grams of cocaine, 60 prescription opiate pills, 67 grams of marijuana and equipment for a meth lab, according to court documents.
Federal prosecutors say that Savage, whose nickname is "Joker," is head of a local motorcycle club called the Devils Jesters, which is involved in drug dealing. The U.S. Drug Enforcement Administration and Federal Bureau of Investigation had been investigating Savage for two years.
"I've been in this shit my whole life," Savage told an informant working for the authorities, according to a federal court affidavit. "I mean ... I deal coke, I deal pills, I deal pot, I do all that shit. I got everything you want. I'm like a walking drug store."
One week after the raid, federal prosecutors convinced a judge to temporarily seal all records of the investigation. They said that Savage had provided them information about the Devils Jesters and other motorcycle clubs in Vermont and Massachusetts, including the Hells Angels, and that he "feared for his life."
Savage told investigators that, after the raid, members of a rival motorcycle club had beaten him with a hammer, injuring his skull, "because he allegedly disrespected" them, according to court documents. Later, in mid-August, Savage suffered a gunshot wound to his left hand. He told federal prosecutors that he had accidentally shot himself.
Savage pleaded not guilty in U.S. District Court on September 16 to seven charges, including conspiracy to distribute cocaine and oxycodone. He was released pending his trial.
In the meantime, Savage decided to keep his spot on the five-member Alburgh selectboard. At the next scheduled meeting, Aubin, on behalf of the rest of the board, asked him to resign.
Savage quietly declined, saying several residents had asked him to finish the remaining two years of his term. As the meeting drew to a close, witnesses said, shouting broke out after someone in the crowd criticized the board members for asking Savage to quit.
"Why badger Bernard?" Alburgh resident Joseph Deyo said, according to an account in the Messenger.
"I don't know if he's guilty or not, but everybody is innocent until proven guilty," longtime town Tax Collector Terry Tatro said in an interview with Seven Days. "He's elected by the people, and if he doesn't want to resign, he doesn't have to."
Since then, Savage and the rest of the board have slipped into an awkward balance. Savage, who cannot legally be removed from office, keeps showing up for meetings, and the board hasn't made any more attempts to oust him. At its most recent meeting, the board discussed allowing a resident to expand his driveway, increasing fees at the dump and fundraising for the fire department.
Savage, 57, cuts an intimidating figure. He is heavyset, and thick tattoos cover his neck and forearms — designs of spider webs and skeletons meld into each other, making it impossible to discern where one stops and the next begins. He has a long beard that is just beginning to whiten, and usually wears dark jeans, a black jacket and a black biker hat.
Still, Savage can be a warm and approachable guy. On the afternoon of Friday, September 18, he welcomed a Seven Days reporter who dropped by his garage unannounced.
He did not want to discuss the charges against him.
"It's a mess, it's a mess," he said. "We're fighting it."
He said that his garage, B.P. Autoworks — named for Bernard and his wife, Patricia — hasn't seen any decline in business since his arrest hit the papers. On that particular day, his employees were working on a couple of cars inside the garage, while two more customers pulled up to wait their turn.
The selectman supervises a team of two, including his adult son. Savage can't do much hands-on work himself at this point, he said, because his back has been ruined by decades of work as a mechanic and trucker.
Savage spent most of the afternoon taking phone calls and filling out paperwork. He does everything, including scheduling and invoices, by hand. He chatted privately with the occasional visitor who stopped by and asked for a minute of his time.
The garage, attached to Savage's house, is dim and crammed with gear. Posters of scantily clad women line the walls. One reads: "Sexual Harassment Will Not Be Tolerated, It Will Be Graded."
Savage said he prides himself on running an honest shop. He charges people fair prices for towing, he said, and will give an elderly customer a break if he or she can't afford a repair.
"If I work on it, I treat it like it's my own," Savage said. "Everybody knows us that way. They know I'm not going to do [repairs] they don't need done."
Savage said that even as a small business owner, he barely paid attention to town politics for most of his life. He proudly described his recent interest in Alburgh, a struggling town of 2,000 on Lake Champlain near the Canadian border.
Savage has lived there for three decades. Last year, in his first run for office, the father of three won a selectboard seat. Savage said that he had no specific platform but pledged to represent the town's blue-collar element, which he said sometimes feels powerless.
The bank and two gas stations in Alburgh closed long ago — grass is growing through the pavement near abandoned gas pumps. Several homes have been shuttered, and some that are occupied have peeling paint and sagging porches. The Alburgh Beverage Mart doubles as the only grocery store and restaurant in town.
While Savage said he didn't have all the answers to the town's problems, he wanted to pitch in.
"As you get older, you get to the point where you know it makes a difference," Savage said. "I'm not sorry I did it. Votes count. People that don't vote, what can you say to that? I used to not give a shit. Now I do give a shit."
Other officials in Alburgh say they respect Savage's work in town hall.
Bohannon, the town clerk, said the selectman has taken his duties seriously. A tenant recently called, complaining that his landlord had ignored a sewage leak, Bohannon said. Savage, who is also the town's health officer, quickly headed over to investigate. "He's lived up to it," Bohannon said. "He tries really hard to answer to all the calls, all of the complaints."
Savage told Seven Days that he considered resigning in the days after his arrest: He didn't want to embarrass the town, and he assumed — rightly — that he was attracting media attention because he holds public office. Ultimately, he said, he saw no need to quit on the voters who elected him.
"Everybody clapped when I didn't resign," Savage said. "I had so many people ask me not to do it. There's a lot of people behind me. I do a good job. I try to help a lot of people. I care for the town. I try to do the best I can. We have a good town here. It's a pleasure. People here know who I really am."
Savage said that he holds no grudge — he gets why his fellow board members feel uncomfortable having him around.
"Everybody on the board is good people," he said.
Savage might face trial next year on charges that could send him to prison for the rest of his life.
But for now, Alburgh officials have made their peace with the situation. And Savage will have another thing to keep him occupied: Just a couple of weeks after he declined to resign, fellow selectboard members needed to fill a vacant seat on the town's planning commission. Their choice? Savage.