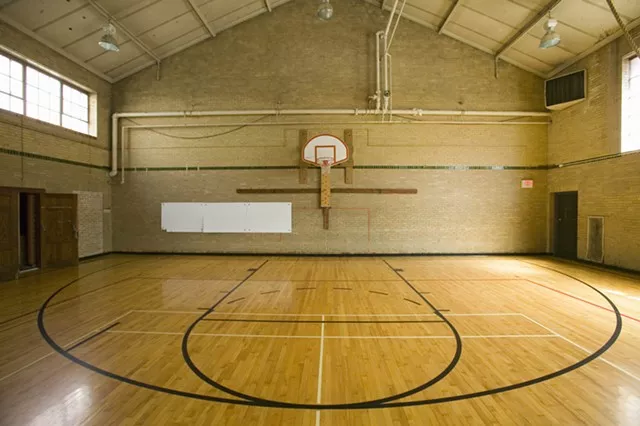 JOE SOHM | DREAMSTIME.COM
Vermont State Police are investigating the death of an Alburgh man who was
involved in a brawl that broke out during a Tuesday night basketball game at Alburgh Community Education Center. The man, 60-year-old Russell Giroux, sought medical attention after leaving the game and was pronounced dead at the hospital later that night.
The altercation occurred during a boys' seventh and eighth grade basketball game between Alburgh and St. Albans City School. Just before 7 p.m., state police were called to "a large fight involving multiple spectators," the agency said in a press release. When troopers arrived, the fight had ended and some of those involved, including Giroux, had already left the school.
Giroux subsequently sought medical attention and was transported by ambulance to Northwestern Medical Center in St. Albans, where he was pronounced dead. The chief medical examiner's office in Burlington will conduct on autopsy on Giroux to determine his cause and manner of death, according to the press release.
Seven Days
obtained a 25-second video that captured some of the fight. It showed more than 10 spectators — men and women — and at least one student athlete throwing punches and pushing each other on the basketball court. A group of people appear to tackle a man to the ground and hit him, while a referee repeatedly blows a whistle and spectators scream. The video also shows two men engaging in a fistfight that several people attempt to break up.
In a community letter released on Wednesday, Grand Isle Supervisory Union superintendent Michael Clark wrote that, in the wake of the incident, "our immediate goal is to remind and educate our students and families that our school culture is one of family, community, and kindness.

"We need our students and community to commit to the positive culture that our school community expects and deserves," Clark wrote. He commended coaches, players and staff from both Alburgh and St. Albans City for supporting students during the fight and said the supervisory union had arranged for additional support for students and staff who needed it.


In a press release on Wednesday, Maple Run Unified School District superintendent Bill Kimball — whose school district includes St. Albans City School — extended condolences to Giroux's family and friends.
"Since our students observed the altercation, we are working in the next days to support our students and families in dealing with the consequences of the altercation and Mr. Giroux's death," Kimball wrote. "The tragic events that preceded Mr. Giroux's death have caused our schools to evaluate school programs and community involvement."
In an email to Seven Days, Kimball said St. Albans City School's middle school basketball game scheduled against Missisquoi Valley Union on Wednesday evening would be postponed to allow students who attended last night's game time to process what happened.
In his press release, Kimball also expressed concern about "the recent spate of spectator misconduct at school sporting events throughout Vermont" and called on the Agency of Education and the Vermont Principals' Association "to give consideration as to how best to respond to misbehavior by spectators and to act decisively to limit the harm that can be caused to students or other attendees."
BFA-Fairfax
— part of the Franklin West Supervisory Union — decided to ban fans from high school basketball games while it investigated allegations that a spectator directed the N-word toward one or several Milton High School athletes.
High school players
at multiple schools have also opted out of games with other teams due to racist behavior.
In an email on Wednesday, Vermont Principals' Association executive director Jay Nichols, whose organization governs interscholastic sports in the state, declined to comment specifically on the Alburgh-St. Albans incident.
"We would like to once again emphasize that middle and high school sports are educational and are for the benefit of the student-athletes," Nichols wrote. "Spectators that cannot behave appropriately can be barred from events and can face criminal charges. We ask all attendees at these events to please behave in an appropriate manner."

State police are asking anyone with information about the fight to contact
Det. Trooper Michael Mattuchio at the St. Albans Barracks at 802-524-5993 or leave an anonymous tip here.