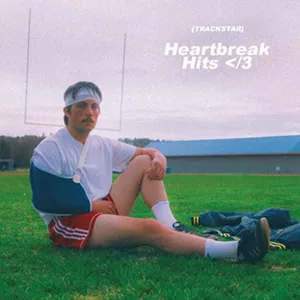 (Self-released, digital download)
When songwriters assume characters, I often wonder how thin the veneer is. Is a character in a song a tool, a prism through which to shine a story? Or is it a mask, a way for the songwriter to find a comfortable enough distance to tell their story? On his debut solo EP Heartbreak Hits, Burlington's Trackstar, aka Adam Turner, seems to do a little of both — though the specific tactic used often depends on the, um, track. (OK, I just got the pun.)
"I Wish (I Was Over You)" opens the four-song set of lovelorn indie rock with an almost floating sound. After a brief swell of synths, an unhurried but steady beat sets in. Once the notes start falling like raindrops from Turner's guitar, it's clear where this is all going, emotionally.
Turner describes his character, Trackstar, as having "a comical amount of confidence in the face of self-doubt." He sits on the grass of his home field on the EP's cover, an athlete past his prime, arm in a sling and bandage-wrapped head looking rather worse for wear. The halcyon days are gone, but fuck if he's going to let that stop him. I'm not sure Turner is fooling anyone, though — his chin may be up, but these are generally songs of lament.
"Space" finds Trackstar and his backing band humming along with an almost late-'70s Genesis swagger. Turner brought in all sorts of Burlington talent for the record, including drummer Ezra Oklan (Dwight & Nicole, Matthew Mercury) and several of the Dead Shakers — most notably Kevin Bloom, who also recorded and mixed Heartbreak Hits. It's a hell of a lineup, and each member does his part to take Turner's songs to all sorts of interesting places.
Turner's character, however, is less tidily constructed than the band. The songwriter can't don too thick a mask; he's made a heart-on-sleeve collection of songs that necessarily relegate his alter ego to the back seat. That's not a bad thing, though. Turner's tender, almost confused glances at emotional pain come across better for the authenticity.
Still, Turner has expressed an interest in using characters to continue playing out — and, as he puts it, "leaning in" to — his anxieties and inner workings. Those could be fascinating experiments, and he has the songwriting chops to pull it off. But Heartbreak Hits is a more intimate kind of work.
"I.D.K." finds our hero grappling with how to regard the woman who broke his heart, pondering a simple question over a jangly riff. "Sleepin'" brings the record to a contemplative yet sweet note. He studies his love sleeping next to him, perhaps in a flashback, and ponders how well he knows her and how well she knows what she wants. Is it him? All we know at the end is that no matter the answer, Trackstar is going to keep his bruised chin up.
Trackstar opens for Texas lo-fi project Dead Sullivan this Sunday, June 16, at the Monkey House in Winooski — and Turner has promised to be in full character. Heartbreak Hits is available now on Spotify.