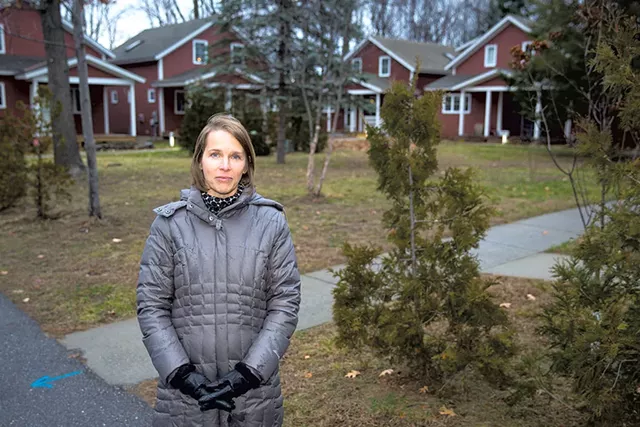 James Buck
City Councilor Meaghan Emery on Lily Lane
Kevin Pearo has watched his neighbors depart in a slow, steady exodus from North Henry Court in South Burlington. Seven homes that once lined the street are gone, leaving his yellow duplex a solitary sentinel between suburbia and a growing grassy expanse within walking distance of Burlington International Airport.
"It's like living on a five- or 10-acre park," he told Seven Days, standing on his porch last month.
Now Pearo is also leaving; he plans to relocate with his family to Colchester early next year. His property and those on his street are among the 139 houses the airport has bought since 1997 because aircraft traffic made it too loud to live there. Once Pearo's family is gone, their old house will be, too.
Residents were just getting used to the new shape of what is known as the Chamberlin neighborhood, between Williston Road and the airport. Then, in September, BTV airport officials announced the receipt of a federal grant that would give 39 additional homeowners a chance to sell their houses to the airport.
Many were surprised to learn the sound map had been updated last year, and they were now living in spots considered uninhabitable because of noise levels in excess of 73 decibels.
This latest round of buyouts, like the previous ones, is optional. But airport officials expect most, but not all, of the newly eligible homeowners will say yes.
While some in the affordable neighborhood decry its decimation, others see the buyouts as a free ticket to quieter pastures.
Pearo falls into the latter category: Though the noise of the Vermont Air National Guard's F-16s sometimes keeps his young son up at night, he doesn't see himself as a victim of airport overreach. In fact, Pearo, who is a real estate agent, bought his home seven years ago in anticipation of this opportunity. Knowing the airport would be a "guaranteed buyer," he described the purchase as an investment.
Meanwhile, over on Elizabeth Street, Carmine Sargent compared the buyouts to a metastasizing cancer: "It feels like we're reacting to noise by removing parts of our community ... more and more," she said.
Sargent, 73, has lived in her small ranch for 44 years. She doesn't qualify for a buyout, but even if she did, she declared, she'd never leave. She has equipped her home with a long ramp so her adult daughter, Kara Paige, can navigate the house in a wheelchair.
Sargent said that the prospect of buyouts caused some homeowners to let their properties fall into disrepair, making the area appear decrepit. In some cases, vagrants took up residence in the purchased homes before they were torn down.
"I keep hoping this will be the end," Sargent said.
So did the airport, according to director of aviation Gene Richards. Nobody — not the neighbors or the airport or Burlington officials — wanted to lose additional housing around BTV, he said. In fact, when Burlington Mayor Miro Weinberger appointed Richards to his post in 2013, he gave him a mandate to end the buyout program and instead work on noise mitigation — providing insulation and soundproofing to neighbors.
That's still Richards' aim, he said. But in order to start noise-mitigation measures, BTV first needs to complete the buyout program, per U.S. Federal Aviation Administration rules. That hasn't happened, he said, because there wasn't enough federal funding to purchase all of the eligible homes.
On September 7, Richards received news from the FAA that a big chunk of new money was available — nearly $14.5 million — for the buyout program and a noise-mitigation study. He quickly got the go-ahead from Weinberger, alerted South Burlington City Manager Kevin Dorn and sealed the deal with the FAA.
No one notified the affected homeowners directly; Richards announced the news at a meeting near the airport. Consequently, Jonathan Hart learned from an article in South Burlington's Other Paper that his home fell within the noise lines that qualify him for a buyout. The 63-year-old photographer lives with his partner on Lily Lane — off Kirby Road — in one of seven red condos grouped around a tidy lawn. Built just six years ago, the energy-efficient buildings have 10-inch-thick walls to block out engine noise from airliners and the F-16s. When the windows are closed, Hart hardly notices their takeoffs and landings.
When he first saw the story, Hart said, he panicked — worried about where he'd live, concerned about selling the condo and angry that he'd heard the news from a third-party source. "It's hard to catch your breath — it was a complete shock," he said, speaking with Seven Days in his living room.
Later, Hart discovered the perks of the deal — and took it.
"This is a gift to us," Hart said repeatedly. Unlike some neighbors, he doesn't have deep roots in the 'hood or young children to complicate the moving process. Airport officials, he said, were generous and accommodating in negotiations. They will make an offer in early December and have promised to help with moving and closing costs.
"I'm just ready to sell and get out of here," he added, throwing up his hands. "Get out while the getting is good."
In the end, all seven of the homeowners on Lily Lane decided to accept the buyouts. Airport officials predict that 30 of the 39 newly eligible homeowners will eventually agree to the deal. The City of Burlington will take ownership of the properties, and, by next summer, Richards said, the buildings will be torn down or moved. The area will become a parklike vacant expanse dotted with trees — part of the growing noise-buffer zone.
Just down the street, Ashley Rainville and her husband, Devin, discovered the noise line now cuts through a corner of their backyard — meaning they just miss the option for a buyout. Rainville is petitioning the airport and the FAA in hopes that they might qualify for one. She worries that staying put could decrease the value of their home and make it difficult to sell to someone else.
If she had known this would happen, Rainville added, "We never would have bought the house in a million years."
The South Burlington City Council picked up on that sentiment. "The community felt blindsided," said Councilor Tom Chittenden, and that motivated the council to call a special meeting to address questions surrounding the impending buyouts.
On November 14, Richards and members of the Jones Payne Group, the consulting firm contracted to implement the process, came to South Burlington City Hall to face a standing-room-only crowd that included members of the city council.
Tensions over what some called a lack of information escalated during the nearly three-hour meeting. At one point, the crowd booed Richard, who seemed exasperated. "It's hard when you meet with people and they don't hear anything you're saying," he told the council.
The buyouts mark the latest rift in a relationship fraught with discord. The airport, owned by Burlington but located in South Burlington, has long inspired contention between the municipalities. The cities spent four years in court arguing over the airport's property tax bill before finally settling the dispute last summer.
Diane Carter, vice president of the Jones Payne Group, did her best to assure meeting attendees that the buyout program, which is scheduled to be complete within 24 months, is the first step in smoothing over relations with the community.
This month, she said, the airport will start planning the next phase: sound mitigation for homes with an average noise level of 65 decibels or higher. The city council and the airport will meet with community members to determine which initiatives to pursue: soundproofing and insulation or programs to help people sell their homes. Airport officials expect that home improvements won't begin for two years — the time required for the planning process and FAA approval, Carter said.
This will be the last round of buyouts, Richards later promised Seven Days — as long as he has any say in the matter. "I can't tell you forever we'll never buy another house. During this administration, we'll never do it," he said of Weinberger's leadership.
His carefully worded response likely anticipates Vermont Air National Guard plans to base F-35 fighter jets at the airport. Eighteen jets are scheduled to arrive in 2019, replacing the F-16s. City council members and neighbors worry that could once again change noise contours and force more buyouts.
Councilor Meaghan Emery lives in the neighborhood, and she's watched it buckling under the weight of the uncertainty and the federal and municipal powers that be.
She sees the government "gobbling up" houses "without any end in sight, without any ... sincere empathetic dialogue from the airport side," she said. "It's quite clear that we have no say," she said.
Still, Sargent sees determination and joie de vivre in the stalwarts who remain. She participated on a neighborhood planning committee that recommended neighborhood improvements: installing crosswalks, better lighting, building pocket parks and expanding the bike path.
City officials will be looking to implement those changes, said Emery, who got to know Sargent through her committee work — an example, she said, of how the situation has drawn some neighbors closer.
"It makes them dig their heels in deeper," Emery said. "I know what a gem of a place this is. It's not a sinking ship that people are jumping from."