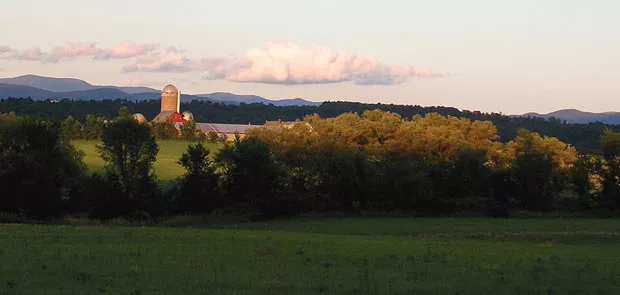 From above, Vermont's fields can resemble a quilt of greens, at least at certain times of the year. A closer look reveals many of those patches to be working farms, the backbone of Vermont's robust farm-to-table culture.
Vermonters have long stopped at local farms to pick up eggs or veggies, yet few outsiders have had that experience. Enter Chris Howell, who founded Vermont Farm Tours in 2009 after an epiphany he had while traveling in Italy. "I noticed that tourism there was built around food, place and farms. You'd visit a region and learn about it by tasting what the farmers grew," he observes. "In Vermont, we have the same number of food producers as in Piedmont and Tuscany. I thought, Gosh, wouldn't it be cool to set something up to share the story of Vermont food and farms?"
Over the next year, Howell reached out to farmers and built itineraries. For a full-day tour, he picks up guests in his Subaru for an eight-hour excursion to three farms south of Burlington, stopping for a picnic lunch. Guests get to meet farmers, hear their stories — whether it's how they make a block of cheddar or how they tend cows — and sometimes even try their hand at milking a goat or pulling up a beet.
The jaunts have proved so popular that Howell has added tours of cheese makers, wineries and the "urban farms" of Burlington's Intervale. He also created an annual bike tour on the Champlain Islands with stops at art studios, farm stands and vineyards.
"At every farm, I try to do a tasting so that you create long-lasting memories of that place by engaging all of your senses. To me, the most powerful senses are taste and smell," says Howell.
Vermont Farm Tours
What: These curated tours include lunch, and the founder will pick you up and drop you off at your hotel. Destinations include Champlain Valley Creamery and local organic farms. The annual Heart of the Islands Bike Tour happens on July 14 this year, but is also offered privately by appointment.
When: Daily through November, by appointment.
Cost: Half-day farm tours (two farms), $75 per person; full-day tours (three farms), $125 per person. The cost of cheese, wine, urban farm and island bike tours varies by group size and length of time, from $75 to $400 per person. Children go for half price.
Info: 802-922-7346, vermontfarmtours.com
L'agrotourisme offre un aperçu de la culture alimentaire du Vermont
Vu du ciel, les champs du Vermont ressemblent à une courtepointe de carrés verts, du moins à certaines périodes de l'année. Une vue plus proche révèle que ces carrés sont des fermes fonctionnelles, le point d'appui de la culture robuste de la ferme-à-la-table du Vermont.
Les Vermontois se sont longtemps servis des fermes locales pour acheter leurs œufs et légumes, mais peu d'étrangers ont eu la même expérience, jusqu'à l'arrivée de Chris Howell, qui a établi les Vermont Farm Tours en 2009, après avoir subi une épiphanie en Italie. « J'ai remarqué que le tourisme là-bas gravite autour de la nourriture, de la provenance des aliments et des fermes. Tu visite une région et tu en fait l'expérience en goûtant aux produits des fermiers, » observe-t-il. « Au Vermont, nous avons le même nombre d'agriculteurs qu'au Piedmont et la Toscane. J'ai pensé que ça serait intéressant de créer quelque chose qui partagerait l'histoire des fermes et des aliments du Vermont. »
Au cours de l'année suivante, Howell est entré en contact avec plusieurs fermiers et a commencé à forger un itinéraire. Pour une visite d'un jour, il ramasse les invités dans sa Subaru pour une excursion de 8 heures qui se rend à trois fermes au sud de Burlington et qui s'arrête pour un pique-nique. Les visiteurs peuvent rencontrer les fermiers, écouter leurs histoires, sur comment ils font un bloc de cheddar ou élèvent les vaches, et parfois, même faire la traite d'une chèvre ou tirer une betterave du sol.
Les promenades sont devenues tellement populaires que Howell a ajouté des visites des fabricants de fromage, des vignobles et des fermes urbaines de l'Intervale de Burlington. Il a aussi créé une tournée anuelle en vélo aux îles du Lac Champlain avec des arrêts aux studios d'artistes,  aux kiosques agricoles et aux vignobles.
« À chaque ferme, j'essaie de faire une dégustation qui crée des souvenirs durables de cet endroit en éveillant tous vos sens. Pour moi, les sens les plus puissants sont le goût et l'odorat, » dit Howell.
Vermont Farm Tours
Quoi : Ces tournées organisées incluent un repas, et le fondateur va vous ramasser de votre hôtel et vous dépose à la fin. Les destinations incluent le Champlain Valley Creamery et des fermes organiques d'ici. L'annuel « Island Bike Tour » est le 14 juillet cette année, mais est aussi offert en privé par rendez-vous.
Quand : Quotidiennement jusqu'en novembre, ou par rendez-vous.
Prix : Une visite d'une demi-journée (deux fermes), $75 par personne ; une visite d'un jour (trois fermes), $125 par personne. Le prix des tournées de fromage, vin, ferme urbaine et de visite des îles en bicyclette varie selon le nombre de personnes dans un groupe et la durée de chaque visite, de $75 à $400 par personne. La moitié du prix pour les enfants.
Infos: 802-922-7346, vermontfarmtours.com
The original print version of this article was headlined "Down on the Farm"