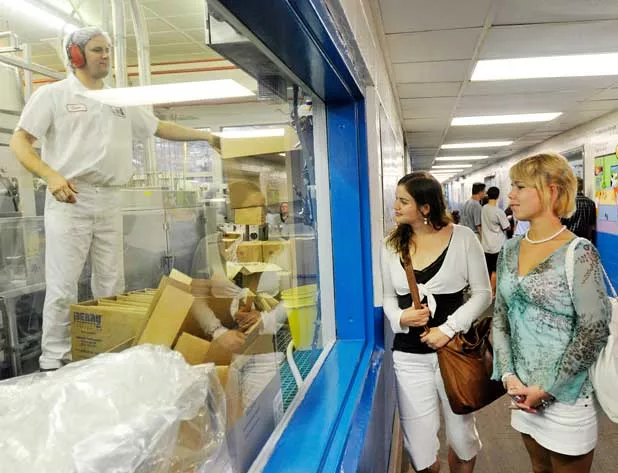 Inside the Cabot Facility
Cabot Creamery has asked the state for permission to increase the amount of dairy waste it spreads on farm fields throughout central Vermont. But the company is facing stiff opposition from a small but vocal group of Cabot residents who contend that the program is environmentally unsound and should be stopped.
In May, Agri-Mark, Inc., the farmer-owned cooperative that runs the creamery, applied for an Act 250 permit to increase the quantity of cheese-manufacturing waste it sprays on farmers' fields — a process known as "land application"— from the current limit of 100,000 gallons a day to 150,000 gallons.
Agri-Mark officials contend that the higher volume is needed to allow the company to grow and "add value" for its 1500 farmer-owners in Vermont, New York, Maine, Massachusetts and Connecticut.
Vermont's cheese and ice-cream makers have been land-applying their waste for years, though none do so as extensively as Cabot, the state's largest cheese manufacturer. Right now, the company is allowed to spray the waste on about 5700 acres in a 31-town area.
Agri-Mark claims that its dairy waste contains nothing but wash water, milk proteins and cleaning-agent residue from storage tanks, pipes and processing equipment. Each day, the liquid byproduct is loaded into tanker trucks, hauled throughout central Vermont and sprayed on fields, most of which are used for growing hay.
Jim Pratt, Agri-Mark's senior vice president of operations, asserted that the "vast majority" of the material is water and other compounds beneficial to farmers, such as nitrogen and phosphorus. He said the waste poses no threat to humans or the environment, and that under Agri-Mark's permit it must be tested periodically for toxic chemicals by an outside firm and the results reported to the state.
John Akielaszek, chief of the Vermont Agency of Natural Resources' indirect discharge permit section, said the state considers land application to be an improvement to the land. "The way we look at it, this is a mechanism for returning some of the nutrients that are taken from the farm back to the farm," Akielaszek says.
He notes that the state caps the amount of dairy waste that can be sprayed on fields each year at 27,154 gallons per acre. ANR puts other conditions on land-applied fields in order to prevent runoff from contaminating lakes, streams and groundwater. Nutrient runoff can contribute to algae blooms in Lake Champlain and threaten aquatic species.
But opponents of the land-application program allege that Agri-Mark's dairy waste isn't as benign as the company claims. They accuse Agri-Mark of being less than forthcoming about the nature and quantity of chemicals it uses. They also argue that little is known about the long-term impact on soil, groundwater and human health. Moreover, they contend, ANR's oversight of the land-application program is little more than perfunctory, since Agri-Mark, in effect, is allowed to police itself.
Jessica Miller is an activist who's been fighting the creamery over this issue ever since she moved to Cabot from California in 1989. Miller first got involved when a field adjacent to her property was sprayed with dairy waste by a Cabot Creamery tanker. When Miller called the company to complain, she was told that the material being spread was whey, an organic byproduct of cheese making.
"It's a horrendous smell," Miller recalled. "It's like a combination of sulfur and a 48-hour-old dead body."
As Miller began investigating the process, she discovered that land-applied "whey" from industrial cheese making can also contain antibiotics and hormones that are given to dairy cows and chemical detergents and surfactants that are used to clean the creamery's equipment. Miller points out that certified-organic farms aren't allowed to accept Agri-Mark's dairy waste due to those chemicals. Some farmers also report that their animals won't eat hay that's been grown on land-applied fields.
Cabot resident Bernie Greenberg is a physical chemist who's spent more than 25 years working on sewage treatment, industrial waste management and resource recovery. He said he's reviewed Agri-Mark's material safety data on the chemicals, and he's concerned that the compounds are being discharged directly into the environment without being treated.
"If you believe the law of conservation of matter, you know you can't destroy these chemicals. You can transform them into something else, but [Agri-Mark] isn't doing that," Greenberg said. "These are not naturally occurring materials, and if they are naturally occurring, [they're releasing them] in unnatural quantities. They're land-applying these materials with unforeseen consequences."
Of particular concern, Greenberg said, are "benzene-related compounds," which do not break down easily in nature. "We've actually picked up degradation products of these compounds in the water [near Cabot]," he added, "and they're mildly toxic."
Greenberg, whose own environmental firm, Electrolytic Wastewater Systems, does extensive work throughout the Northeast on industrial manufacturing, said he's "perplexed" that ANR allows Agri-Mark to spray the chemicals on farmland. If the creamery were located in another northeastern state, such as New York, New Jersey or Connecticut, Greenberg claimed, the waste would have to be sent to a sewage treatment plant.
Greenberg is also troubled by waste that Agri-Mark stores in lagoons on its own property and then uses to irrigate its fields.
"We don't know which of their waste streams are going into these lagoons," Greenberg added. "It would take a PhD thesis to describe what's going on in there, but [Agri-Mark] is not forthcoming with anything . . . It's like pulling teeth to get information out of them."
Agri-Mark's Pratt dismissed Greenberg's allegation that the storage lagoons contain anything but inert wastewater. "It's been tested and tested and tested, and nothing has ever shown up in it," Pratt said. "It's literally the water that is separated from the milk proteins in the cheese-manufacturing process."
Pratt wouldn't respond to Greenberg's other allegations, saying only that Agri-Mark has hired its own chemist to rebut his testimony to the District 5 Environmental Commission, which is considering the company's permit application. Pratt wouldn't say whether his chemist will be available for cross-examination.
"I'd rather have our response stand on its own two feet, because that response will be comprehensive and technically accurate," he added. "I will say that we've got a program that is managed with the principles of good stewardship of the land, and it's managed effectively."
The current fight over Agri-Mark's Act 250 permit is not the first time that Cabot's waste-disposal processes have come under the microscope. In 1986, when the creamery was undergoing a major expansion, the state told the company it must build a sewage treatment plant by 1991, since many of the fields it uses for land application are in the headwaters of the Lamoille, Connecticut and Winooski rivers.
The creamery even received a federal grant from the U.S. Department of Housing and Urban Development to build the plant in Cabot. But, for various reasons, the plant was never built and the funds were diverted to other uses. A few years later, the legislature changed the legal definition of dairy waste so it no longer qualified as "sewage," eliminating the need for the treatment plant.
ANR's Akielaszek said that, these days, there's no reason to treat Agri-Mark's waste, because all the "toxic scans" done on the land-applied fields have come back clean. That said, one state employee who's familiar with the land-application program but not authorized to speak to the press claimed that ANR is so short-staffed it only does a "paper review" of a select number of fields that Agri-Mark sprays.
Moreover, the firm that collects those samples, the Johnson Company, is hired and paid by Agri-Mark itself. The Johnson Company was founded by the father of Karl Johnson, who chairs the District 5 Commission. Ed Stanak, a staffer and spokesman for the District 5 Commission, noted that Karl Johnson no longer works for the Johnson Company and hasn't had any financial connection to the firm for many years.
It should also be noted that commission members have disclosed any potential conflicts of interest in the case, and all claim they have no financial stake in the outcome of the permit proceedings.
Nevertheless, Miller remains skeptical that the commission will thoroughly scrutinize Agri-Mark's application. She pointed out that several of its members have worked for the creamery in the past or were themselves once dairy farmers who supplied the creamery with milk.
In Miller's view, the permit hearings are "something out of a banana republic."