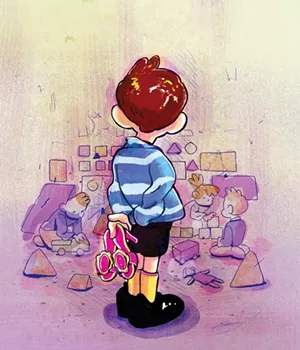 Last March, a group of gender-creative kids, their parents and staff from
Outright VT
met with Vermont's secretary of education Rebecca Holcombe to talk about the experience and needs of transgender and gender non-conforming youth in Vermont schools. It was the first of many hours of meetings and conversations, that the Agency of Education synthesized into a new report released last month entitled
Best Practices for Schools Regarding Transgender and Gender Nonconforming Students
.
The AOE says that over the past few years they have received an increasing number of questions from administrators and teachers about how to best accommodate and serve the needs of gender nonconforming kids. Although the report clearly states that every situation is unique, the AOE has established a series of practices and protocols which aim to protect the rights of transgender students and create a culture of inclusivity.
"My experience with schools was that they needed guidance because it's something they don't understand really well," explained "James," who was part of the team that wrote the report. James is a teacher, and a parent of a trans child who was featured in our
February cover story
about transgender kids and their families. Teachers and educators "want to do the right thing but they worry about implications, that person in the back row of town meeting that wants to make a stink about this… and that paralyzes people," he said.
This document provides administrators with unambiguous guidelines which protect schools from community blowback. The report delineates clear protocols for student record-keeping, and clarifies that students have a right to be addressed by their preferred pronoun, join sports teams which match their preferred gender and even keep their gender private from their parents if they so desire.
"As teachers we're trained initially to tell parents what we know," James explained. "But this is a very different thing and if you tell the wrong parent that you suspect their child is transgender or that their kid is transitioning… that exposes them to considerable safety issues."
The report indicates that for bathrooms and locker rooms, guidelines must take into account multiple factors including transgender student preferences and privacy, the student's age, and maximizing the integration of transgender students. All factors are geared toward ensuring the equal opportunity and safety for all students, and minimizing stigmatization of transgender and gender nonconforming students.
The report clearly states that "a transgender student should not be required to use a locker room or restroom that conflicts with the student's gender identity," but particulars need to be worked out on a case-by-case basis.
Though the report recognizes "there are limitations in the built environment," it suggests that schools undergoing new construction invest in gender-neutral bathrooms, and describes a number of ways to create private spaces within public locker rooms.
Although schools will still need to muddle through the particulars, Dana Kaplan, Outright VT's director of education, thinks this is a great start.
"I'm really excited that we have something rolled out from the Agency of Education that folks can look to statewide," Kaplan said.
The report has already made life easier for James' family. He's been trying to change his transgender daughter Willow's school records for years to reflect her chosen gender, but the administration was unclear about how to proceed.
"Literally this gave our school a structure by which to handle our student records," he explained. "Up until that point, we went in even with a birth certificate [that reflects Willow's chosen gender] and they were like 'I don't know if I can do that.'"
Now there are two sets of records – a public one that reflects Willow's preferred gender, and another sealed set that only the principal can access, which identifies her by her gender assigned at birth. Because Willow's school records have been changed, she won't run the risk of being humiliated by a substitute teacher calling her by the wrong name or pronoun, or have to explain her identity at the beginning of each school year.
Kaplan thinks the document will need to be modified as times change, but he believes that it sends "a strong, consistent message of inclusion and accommodation for some of our most vulnerable and scrutinized youth."