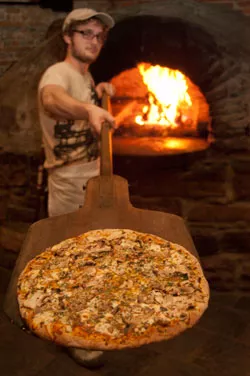 gluten-free pizza at American Flatbread
Not too long ago, people who discovered they were allergic to gluten — the protein found in wheat, rye and other grains — faced a culinary life devoid of doughy pleasures such as cookies, pasta, bread, cakes and pizza. But, as more and more people swear off wheat, food purveyors and restaurants have responded with a virtual avalanche of gluten-free goods. The most miraculous among them: gluten-free pizza.
Most gluten-shunning peeps would rather not be reminded they're eating a substitute. So, in solidarity with gluten-free pizza lovers throughout Vermont — including those on our staff — we decided to taste test a few local pies and zero in on which most resembled the real thing, and why.
Our Seven Days panel contained only one bona fide gluten-free devotee: account manager Jessica Piccirilli, who suggested the survey to us a few weeks ago. Our other tasters — designer Diane Sullivan, web editor Tyler Machado, arts writer Megan James and co-owner and editor Pamela Polston — fell into one of two camps: They were either passionate about pizza, or simply hungry on a deadline day. Food writers Corin Hirsch and Alice Levitt just like to sample everything in sight.
For the sake of simplicity, and so we could sample pies before they petrified into cold, hard masses, we selected pizzerias within striking distance of central Burlington. This meant we had to exclude favorite haunts such as Stowe's Pie in the Sky and Piecasso, not to mention pizzerias even farther afield. From each establishment in the survey, we ordered a plain cheese pie with red sauce.
During our marathon blind testing session, we kept in mind that making gluten-free pizza crust is no easy task. Gluten is what gives dough its elasticity; without it, a crust can become more biscuity than breadlike.
Even so, some pies garnered immediate fans, while others reminded us of the grade school cafeteria.
*****
Junior's Downtown
176 Main Street, Burlington, 862-1234
Both the flagship Junior's Italian in Colchester and the more recent addition, Junior's Downtown, use gluten-free crusts produced by a Connecticut supplier called Still Riding Pizza. The dough combines bean, rice and tapioca flours and starch, bound by xanthan gum. Small pies (the only size available; $12.73) are baked on their own sheets to shield them from wheat gluten, and they can be ordered with any toppings, says a young counterperson at the Colchester location.
— A.L.
Jess: The cheese-and-sauce combo looked appealing, but not mouth-wateringly inviting. The pizza felt crisp and smelled like pizza should, but the first bite was disappointing. The gritty texture was a reminder that this was no "real" pizza — it was, in fact, a subpar gluten-free substitute. The sauce and cheese were tasty but lacked any real robustness in flavor. The redeeming element of this pie was the last two bites of the crust, which had a good, nongritty crunch that left me feeling satisfied.
Alice: When I opened the box, this pie had a giant, white blob of barely melted mozzarella resting in the middle. Not an auspicious start, but by the time we ate it, the cheese had blended better and lent the pie most of its greasy, salty flavor. I'm not usually a crust eater, but the crisp, cracker-like one on this pizza was my favorite part of it. Had the whole slice had that texture, it coulda been a contender.
Corin: Despite a nondescript sauce (which can be OK on pizza) and ample melted cheese, the chalky, bland crust overpowered each bite. The entire thing was discordant and a little bit sullen, as if the elements were trying to run away from each other. I wondered if this pie had done freezer time before it did oven time.
Tyler: Reminds me of the pizza they serve at minor-league hockey games. Make of that what you will.
Diane: Floppy crust and watery sauce. Very school lunch-y.
Pamela: This crust was bland, too early-health-food-y. It tasted like rice flour.
Megan: Crust was a little soggy, almost spongy. Tasted like school lunch. The sauce was like unadorned tomato paste, and there was too much of it.
*****
Leonardo's Pizza
83 Pearl Street, Burlington, 862-7700
"We always try to do things other places can't do or don't do or won't do," says Leonardo's director of operations Kelly Byers. He says the company's early attempts to make the dough on its own failed. "It's a completely different animal than regular doughs."
So the small chain, with outlets in South Burlington, Burlington and Portland, Maine, found a supplier. A year and a half ago, it began selling rice-and-tapioca-based crusts made by Tasti-Grain in Utica, N.Y. The pies are available only in size medium ($12.95), but all the regular toppings can be added. Byers warns that, while he cooks his gluten-free pizzas on special screens, Leonardo's kitchens are not gluten free.
— A.L.
Jess: This pie looked delightful. The cheese was abundant and heated perfectly so that it was a little brown and bubbly — just the way I like it! As an added touch, it was speckled with fresh green herbs that perfectly complemented the sweet, well-seasoned sauce. The crust tasted wonderful, and while eating it I didn't feel like I was being deprived of gluten at all. I felt like I was just another gal eating just another delicious pizza.
Alice: When I was a kid, my shih tzu, Bubbeleh, refused to eat anything but vegan dog food. He had a good reason: The stuff was pretty tasty, and I munched on it like tiny crackers for years. This crust gave me a powerful Proustian memory rush back to that vegan dog food. The only major difference was the bready texture of this slice, far different from Bubbeleh's crunchy grub.
So it wasn't exactly what I look for in a pizza — but it didn't taste bad. In fact, the herbaceous, tangy sauce was one of the most flavorful, and the cheese on top was speckled with lovely dots of brown. One of the best, though it made me miss my dog.
Corin: I'm a fan of all things slightly burnt, and so I was excited to tuck into this pie's slightly charred cheese. Underneath lay all kinds of goodness: The sauce was appealingly sweet, the crust flirted with crispness, and all of the elements blended together in that sloppy way that makes decent pizza. Still, this was clearly a gluten-free crust, with its hard-to-mask powdery mouthfeel.
Tyler: Yeah, the sauce was really good. But I think I liked this slice because it was cooked to perfection. It could please doughy-crust lovers and crispy-crust lovers equally.
Diane: Looks good. The cheese and sauce are good. The crust was rather like cardboard and had a slight dog-biscuit aftertaste.
Pamela: This one was pretty good — sauce was tasty, and it didn't scream "gluten free."
Megan: Mmmmmm ... much better! The crust had a great crispy texture. It held its own. The sauce had some nice herby flavors. I liked that, in one bite, I could taste all the individual components separately, as opposed to the first pizza, which was like slurping down one sloppy mass.
*****
Healthy Living Market
222 Dorset Street, South Burlington, 863-2569
Healthy Living Market is a mecca of sorts for gluten-free baked goods. Besides its fresh gluten-free pizza, which was introduced in the café 18 months ago, the bakery turns out a range of fruit breads that could double for the real thing. The market also has an entire aisle devoted to gluten-free crackers, pastas and other morsels.
For their gluten-free pizza crust, the bakers here use a blend of brown-rice, soy, tapioca and white-rice flours. This was easily the largest of the pies, but also the most expensive, ringing up at $17.
— C.H.
Tyler: I liked the crust on this one a lot, and the parsley was a tasty touch. It just needed more cheese and sauce to offset the thick, bready texture of the crust. Balance the proportions, and this would have been a slice of perfection.
Corin: I loved the gritty cornmeal on the bottom of the pie, a traditional touch that adds texture. But the herbaceous sauce and melted cheeses were both drowned out by the hard, monolithic crust. Pizza makers shouldn't be afraid to make a pie where the toppings slide around a bit — with a flatter crust, this one would shine.
Megan: This one looked really nice. Pretty, green herbs sprinkled on top. My first thought was, It takes a lot of chewing. It was more of a cheese bread than a pizza. The cheese was more flavorful than the other pizzas' — kind of tasted like Swiss?
Alice: This crumbly cornmeal crust scraped my throat as I swallowed each bite. Not pleasant. There was a ton of the thick dough, too. It was less like a pizza and more like a hard, greasy, gluten-free cake covered in a thick layer of cheese. I could see a sheer layer of herb-laden sauce at the corners not blanketed with mozzarella, but I couldn't taste a trace of it. I think I detected a hint of cheddar, as the slice reminded me somewhat of Goldfish Crackers. Points added for that and for a pretty dusting of parsley on top.
Pamela: Really thick, stiff crust. Bready — almost cakey. I didn't like it. The parsley sauce was not that good.
Jess: This pizza seemed to be the biggest of the bunch, and I liked that it was cut into perfect-for-sharing squares. The parsley speckled on top was a great touch. The texture was dense, and it took a lot of chewing to get through each bite, but overall the flavor was nice. Though flavorful and comforting, this pie was the least pizza-esque of the bunch. It might not be my first choice if I was craving pizza, but if I wanted a nice, dense bread topped with cheesy goodness, this might hit the mark.
*****
Upper Crust Pizza
118 Pearl Street, Essex Junction, 871-5647
Upper Crust Pizza rolled out a gluten-free version of its pies about five months ago. "We knew a lot of people around here are allergic to gluten," says head cook Jason Gibbs. Staff sampled a range of gluten-free doughs from various purveyors before settling on a round crust from French Meadow Bakery. The Georgia-based company makes its dough with a blend of tapioca, rice and potato flours. The cooks at Upper Crust now go through at least a case of gluten-free crusts a week — or enough to make 24 pies. They take a little longer to bake, says Gibbs, but have proved so popular (at $11.50) that Upper Crust's gluten-free line doesn't stop at pizza anymore: Staff reserves one fryer for gluten-free chicken tenders and French fries.
— C.H.
Alice: I haven't had a Mama Celeste pizza in more than a decade, but this kind of made me want to try one again. The classic cardboard-textured crust and ketchup-like sauce brought back memories of that aprés-elementary-school classic. After the other tasters were done groaning over this one, I ate the last slice. So bad it was good.
Megan: Gross. I had one bite and then couldn't go on. It tasted like cleaning products.
Tyler: I thought the crust was pretty good, but the cheese and the sauce were poor quality. Unless you're in a high school cafeteria, cheese is definitely not supposed to be this shiny.
Corin: This pie smelled enticing in the car, but when we opened the box, it looked sort of like a cheese quilt, or a faux version of the real thing. The entire pie was drowning in cheese, with only the vaguest hint of sharp tomato sauce. The chalky, snow-white crust was cooked well, but it still dominated each bite. An aftertaste of pine resin rounded out the strange flavor profile.
Jess: There was something off about the sauce atop this pie. The crust was perfect, but the strong vinegary taste of the sauce overwhelmed the pie. This crust with some better-tasting sauce and some higher-quality cheese has the potential to be a winner.
Pamela: Ack! The sauce was weird and chemically. I hated it so much I didn't even write any notes about the crust.
Diane: I took a bite and said, "Oh, my God, I hate it!"
*****
American Flatbread — Burlington Hearth
115 St. Paul Street, Burlington, 861-2999
The hands-down favorite of our tasters was the gluten-free pie at American Flatbread — Burlington Hearth ($11.75). That's also the establishment in our survey that has been offering the option the longest, for the past two years. Says chef Jon Morin, "There's that need out there, and there are a lot of people going toward gluten free for health reasons. There's some celiac, but I think doctors in general are prescribing people to cut down on gluten."
To help their customers achieve that goal, the folks at Flatbread partnered with Essex's West Meadow Farm Bakery to make the perfect crust. It includes an exclusive blend of tapioca starch, white-rice flour, xanthan gum and oregano. Morin makes sure to use a special gluten-free pepperoni on the pies, and he lets customers know whether specialty pizzas can be made safely without gluten.
— A.L.
Jess: This is the pie that I would like to eat all day, every day. It was perfectly satisfying, and, though [Leonardo's] was a close second, in my opinion this was the clear winner in taste, texture and quality! The crust tasted like pizza crust should. Though not flimsy, it wasn't overly crisp. The slightly burnt grill marks on the bottom of the pie added a bit of bitterness that complemented the acidity and saltiness of the tomato sauce. The cheese was clearly high quality, and the sauce was perfectly seasoned. When I took the last bite, I didn't want it to be over. I wanted more and still do. Is it time for lunch yet?
Alice: In my mind, there are three acceptable varieties of pizza crust: Sicilian, New York style and what I call "matzo pizza." This crisp, flavorful dough falls into the last category, in the same school as the regular pies at Three Tomatoes Trattoria. The tangy sauce, with just a hint of spice, added a great flavor to the already nicely seasoned crust. Salty, bubbly cheese and a sprinkling of mixed parsley, oregano and marjoram took this one over the top to make it worth a try even for wheat lovers.
Corin: Yum. The bits of dark char on both bottom and top screamed, "I just emerged from a brick oven." The pizza maker laced the top with salt, too, so that the zingy sauce and slivers of fresh basil were amped and powerful. The crust was rolled out so thin before baking that it crisped up to an almost wafer-like consistency. These people give good pie.
Tyler: This was my favorite slice. The crust was less dry, thick and cornmeal-y compared to other gluten-free crusts, and the sauce was amazing. All cheese pizzas, gluten free or not, should have a healthy dose of herbs on top.
Diane: I think this was my favorite. Reminds me of [Leonardo's] — with no dog-biscuit flavor.
Pamela: Tasty, snappy sauce, herbed and addictive. Good crust — the most like "normal" ones — and had more salt, which is surely what helped it taste better. But the consistency was right, too.
Megan: This one was beautiful and delicious. It looked so fresh, with so many appealing colors: The cheese was browned a little, dotted with green herbs. The sauce was perfectly tangy. The crust was crisp. The cheese was soft and not as gummy as the others. I couldn't tell until the very end, when I gobbled down my crust, that it was gluten free.