Matthew Thorsen
Imam Islam Hassan
Imam Islam Hassan gripped the sides of the wooden minbar, or pulpit, as he delivered a sermon during last Friday's midday prayer at the Islamic Society of Vermont's mosque in Colchester.
"How many people have hijacked this faith and say they're acting in the name of Islam?" he asked an attentive, 250-strong, multiethnic congregation. "Brothers and sisters, there's no way that Islam would allow the bloodshed of innocent people."
At one point during his sermon, Hassan, who wore a black thobe — an ankle-length, sleeved tunic — and a rimless kufi cap, likened having been granted a visa to having signed a "peace treaty." The visa is a symbol of mutual trust between the new arrival and the host country, he said, adding, "If you have a peace treaty with someone, it is haram [forbidden] for you to break it."
A week earlier, on November 13, terrorists carried out a series of coordinated suicide bombings and mass shootings in Paris, killing at least 130 people and injuring hundreds more. Most of the ISIS-affiliated attackers have been identified as Belgian and French citizens. A Syrian passport recovered near the body of one suspect has stoked concern around the world about accepting refugees from the war-torn country.
In the United States, more than 30 governors have called for a halt to processing Syrian refugees, arguing that the vetting process, which typically takes between 18 and 24 months, may be inadequate.
It didn't take long for the debate to reach Vermont. Three days after the attacks, Gov. Peter Shumlin told reporters that he'd welcome Syrian refugees. "It's the spirit of all Vermonters to ensure that when you have folks who are drowning, who are dying in pursuit of freedom, that Vermont does its part," he said.
Thursday, Shumlin acknowledged during an interview that his remarks had met some pushback. "I think there are plenty of Vermonters who disagree with me, and there's a lot of fear out there, not just in Vermont, but across the country," he said.
Both Republican candidates for governor disagreed with his approach. Lt. Gov. Phil Scott and Bruce Lisman said, respectively, that Vermont should "pause" and "take a step back" before opening its doors to people fleeing Syria. (Scott has since sought to temper his stance, noting that the "pause" could last a matter of days.)
More than 4 million people have fled Syria, and, according to the U.S. Agency for International Development, another 6.5 million are displaced within the country.
The United States has admitted more than 1,800 Syrian refugees since October 2014, according to the New York Times — and none have been placed in Vermont. But President Barack Obama has committed to accepting 10,000 within the next year, and, according to Shumlin, seven or eight are slotted to come here.
Vermont is already home to a few Syrians who settled in the state years ago.
Ashraf Alamatouri said he came to Vermont as a Fulbright scholar in 2011 to study at Saint Michael's College. It took him about two years, he told Seven Days, to clear the security checks. "This process is three times harder for a refugee," said Alamatouri. He now works at the Vermont Refugee Resettlement Program as the English language coordinator and lives in Colchester with his family.
Anwar Diab Agha, 75, moved from the Syrian capital, Damascus, to the U.S. in 2008. He didn't want to discuss with Seven Days the political and social strife in his native country, where he was a famed musician and composer. The master oud and violin player, who now lives in Winooski, said he only wanted to talk about music.
But Youla Hana, 55, and her daughter, Maha Akkeh, 23, from Boston, Mass., are vocal critics of the backlash against Syrian refugees. Earlier this month, before the attacks, they were among the panelists at an event in Shelburne organized by the VRRP to discuss the culture and people of Syria. Akkeh graduated from the University of Vermont last May and was an intern at VRRP.
Hana, who was born and raised in Damascus, came to the U.S. in 1988. She told Seven Days that her husband applied in 2004 for his brothers and their families to join them in the U.S. under a reunification program. Though they've cleared federal security checks, "They're waiting for their turn," Hana said, partly due to annual limits based on the country of origin.
Akkeh urged more compassion for all refugees. "People need to see that we're all humans. They're coming here because they're fleeing violence and persecution." Referring specifically to Syrians, she added, "They're escaping all of that, and they're seeing all this hatred. It's horrible."
Jeb Wallace-Brodeur
Judy Copa listening to speakers in support of Syrian refugees
Under blue skies last Friday, a crowd of nearly 50 people on the Statehouse lawn made a similar point in starker terms, chanting, "Refugees are welcome; racists are not!" When activists from the Vermont Workers' Center, Rights & Democracy and other groups heard about a two-day rally on Friday and Saturday to oppose allowing Syrian refugees into Vermont, they quickly organized a counterprotest. The activists easily outnumbered the group of seven who stood quietly in the shade, roughly 25 feet away. Both groups were conspicuously white.
The pro-refugee crowd cheered when Crystal Zevon of Barnet told them she was offering her house to Syrian refugees.
A man with a megaphone railed against the smaller, rival group, calling them "hopeless xenophobes, nativists and racists."
"Liberals be damned!" a man on the other side shouted back.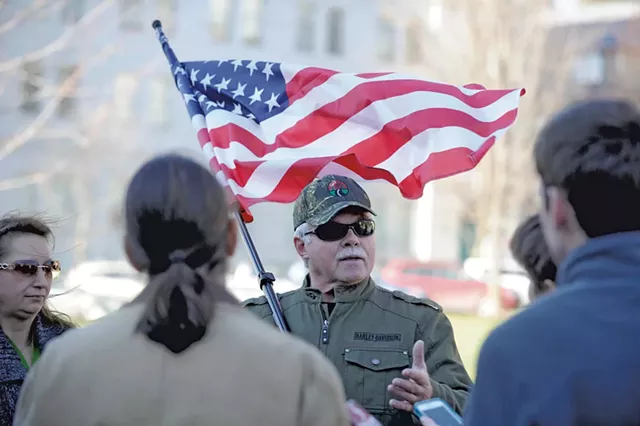 Jeb Wallace-Brodeur
Rick Lawrence demonstrates against allowing Syrian refugees into Vermont
H. Brooke Paige, who organized the original rally, repeatedly insisted he wasn't "anti-refugee." Paige has unsuccessfully run for offices including governor and U.S. senator, and sued Obama and the State of Vermont, claiming that the president was not a "natural-born citizen." He held a laminated sign that showed the Grim Reaper, with the phrase "Certain those Refugees are Trustworthy?"
Dressed top to bottom in Carhartt attire, Sen. David Zuckerman (P/D-Chittenden), an organic farmer who's running for lieutenant governor, attempted to make peace with those opposing the arrival of Syrian refugees. "I'm hopeful that we can also recognize that the folks who are refugees from these countries are people just like us. They're farmers, truck drivers," he told them.
"Yeah, but we don't want to kill them; some of them want to kill us," Rodney Chayer of Duxbury interjected.
Reporters milled about. Wilson Ring of the Associated Press quietly asked Bronwyn Fryer, a Montpelier resident who came out in support of refugees, "Do you know if there are any refugees actually here?"
Although so far they've stayed out of the political fray, members of Vermont's New American community are concerned that the Paris attacks will amplify intolerance toward refugees — in particular, Muslims.
Among those bracing for a backlash: Fatuma Bulle, 36, from Winooski. She's a Somali Bantu woman who moved from a refugee camp in Kenya to Vermont a decade ago. "I was afraid because whenever those things happened, we'd be stereotyped," she said, adding, "The look they give you now, and the look they give you before, it's just different."
"I wish people don't judge [what] they see some Muslims do, and they think that's Islam," she said.
Hassan, the imam, has tried to make that distinction clear. He told his congregation that they didn't have to worry, because they had nothing to do with what happened in Paris. But he also pointed out during an interview, "There are haters out there," and that they didn't have to "wait for any terrorist attack to take place in order to show their animosity." Hassan, who became the mosque's worship leader five years ago, said he's received hate emails over the years, and more.
"People sometimes call, and they express their anger. They curse. 'Leave the country. Don't come here anymore.' It happens," the imam said. But he stressed that he wasn't too perturbed.
After the Friday prayer, Hasija Zulfic, 53, from Colchester, said she wanted to do more by starting a drive for clothes and household items for Syrian refugees. The former Bosnian refugee, who arrived in Vermont about 20 years ago, felt sympathetic toward the Syrians. "They're just looking for a safe place," she said.
Amila Merdzanovic is the field director of the VRRP. Since the Paris attacks, she said, "We have gotten calls from concerned citizens asking questions about what the [vetting] process is." She added: "We have not received negative calls, which is a great thing." Merdzanovic noted that she's also heard from Vermonters asking how they can help.
Farhad Khan, president of the Islamic Society of Vermont, also pointed out the state's openness. "In general, I still think people are very, very welcoming here," he said. "Much nicer than what we hear from the rest of the country."
That's the message that Shumlin sought to drive home Tuesday morning when he met with adult refugees from Bhutan, Burma and Congo in Burlington's Ohavi Zedek Synagogue, where they attend an English language class organized by VRRP.
"I wanted to come as your governor, at a time when I know refugees all over America are wondering whether or not they're welcome, to say 'Happy Thanksgiving,'" Shumlin told them. "We're thankful that you're Vermonters, and look forward to welcoming more refugees."
Correction 11/25/15: An earlier version of this story misspelled H. Brooke Paige's name.