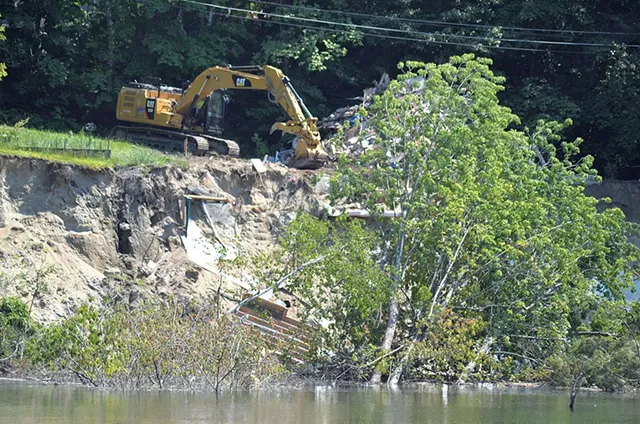 Sasha Goldstein
The Plattsburg Avenue demolition
David Goode remembers when he and his neighbors first noticed cracks in the parking lot behind their condominiums, which are perched high above Burlington's Intervale.
They assumed the problem was minor — but they were wrong. The parking lot of the Manhattan Drive complex at the intersection of Oak Street is slowly sinking, and so is the retaining wall holding it in. "The more we find out about it, the more we find that we have major issues," Goode said glumly as he gazed at the sloping cement lot between the condo complex and land's end.
The condo association has been involved in a lengthy and expensive lawsuit with the builders who erected the complex in 2007 above the city's old landfill. Repairing the problems would be expensive.
"We just want it fixed," said Goode, president of the condo association. "That's all we want."
The Manhattan Drive parking lot isn't the only Burlington property teetering on the edge.
In a crowded, hilly city with lakeside cliffs and miles of riverbank, building in tight, steep spots is inevitable. A swath of downtown Burlington is constructed on a deep ravine. The hazards of hillside building manifest themselves periodically, including what officials call "slope failure."
In 1998, the city successfully pushed for the demolition of Tri City Glass, a business at 471 Riverside Avenue, because it was at risk of sliding down an embankment toward the Winooski River.
In 2014, city officials realized the shoulder and part of one lane had fallen away where Manhattan Drive intersects with Route 127, probably as a result of a big storm the previous year. Road reconstruction and slope stabilization are expected to wind up this summer.
Molly Walsh
David Goode
On Monday, work crews began deconstructing a house at 292 Plattsburg Avenue in Burlington's New North End. For more than a decade, its occupants enjoyed the Winooski River view. But water gradually scoured the bank, and, on May 22, a hunk of earth and trees collapsed into the river, nearly taking the house along with it.
City engineer Norm Baldwin, who approved the demolition plan, said there's little that city officials or anyone else could have done to prevent the situation. "Time has marched on, and nature has done its thing with the river, and, unfortunately, it's impacted this structure," he said.
It's not the city's job to go beyond enforcing zoning and codes, said Baldwin. "If someone has a piece of land, they have to hire professionals to use good judgments to make good decisions on whether or not it's a safe investment on the property," he said, adding: "It's really on the property owner."
As Burlington grows, it could see more buildings perched precipitously — not just because they afford some of the city's most dramatic views. City zoning discourages development on slopes with a greater than 30 percent grade in low- and medium-density residential zones. In high-density residential or commercial zones, building on steep slopes is more permissible, although it typically requires more complicated engineering and extra permits.
"As there's less buildable land in Vermont, there's more pressure to build on land that would have been considered unsuitable a decade or so ago," said William Towle, an attorney with South Burlington-based Ward & Babb who is representing the condo owners on Manhattan Drive.
Despite what happened to Tri City, the owners of four lots on the north side of Riverside Avenue have asked the city to rezone them to increase allowable density and permit more construction. It's currently limited because of the threat of further Winooski River erosion.
The Burlington Planning Commission considered the matter last month but decided to delay any decision until fall.
Plans for similarly difficult developments in other parts of the city are also on the drawing board. Redstone is proposing a 56-unit apartment complex that would be built into the bluff overlooking Lake Champlain at the south end of Lakeview Terrace. A "for sale" sign recently popped up on pedestrian-only Depot Street, which plunges from North Avenue to the Burlington waterfront steeply enough that it's been used as a downhill ski run for a fundraiser. Cynthia Smith is offering the 0.10-acre house lot on the road's wooded eastern slope for $229,000.
A former Burlington resident who now lives in Massachusetts, Smith said the parcel is a remnant of land that once belonged to her ancestor Frederick Smith, one of the owners of the Champlain Glass Company that operated near the foot of Pearl Street from about 1827 to 1850. Smith said a house on her Depot Street lot would represent exactly the sort of infill development that the city encourages.
The construction could be done using sheet pilings to create a firm, flat surface, most likely with the house sitting atop a garage, she said. "It would be expensive, but the lot is so unique and nice and well located, and several different engineering firms have said it's doable."
Smith's had several nibbles on the lot but no buyers — yet.
Assuming the design got though the development review process, "The real prohibition to building on a slope is ultimately how much money you've got," said David White, Burlington director of planning and zoning. "It just gets really expensive to do it correctly."
And the price only increases if problems arise later. Over on Manhattan Drive, where the 10-year-old engineering work is still being debated, Goode is hoping the parking lot problem will soon be resolved.
The condo association filed suit three years ago against builder Dennis Rouille and his subcontractors, alleging that they did not properly construct the parking lot for the two-building, 15-unit complex in 2007.
Not so, said Rouille's attorney, John Franco: "We're denying that, and the matter is in litigation."
Rouille, now a South Burlington resident, grew up in the Old North End. In a deposition for the lawsuit, he reminisced about playing in the old city dump as a child. "I used to bow-and-arrow hunt frogs down there, rats and muskrats and stuff like that," Rouille said.
Today, the landfill is grassy and surprisingly parklike, but vestiges of its past use as a gigantic trash receptacle are evident just below the surface.
A rusting automobile and garbage were unearthed during construction of the condo complex and should have highlighted the potential soil instability on the property, the lawsuit contends. The parking lot and a retaining wall were improperly built on a man-made shelf of moldering landfill trash, new fill and disturbed soil that has now settled and caused the land to shift, the lawsuit says.
Monthly condo fees for Goode and the other condo owners have jumped from $170 to $350 to pay the legal tab. Goode and his wife had a baby and moved to a bigger place in the New North End a few years ago. They rent their Manhattan Drive condo in what Goode said is a break-even arrangement. Many of the owners feel it would be difficult to sell their condos with the lawsuit and parking lot issue hanging over the property, Goode said.
To prevent similar problems in the future, White said it might be time to revisit the city's rules about building on slopes. They haven't changed since 2008, when regs in some parts of the city became more restrictive. "Increasingly, we see development in more and more marginal areas, if you will, and I think it's something we have to come back around to," he said.
Until then, on warm, clear nights, residents and neighbors at 354 Manhattan Drive gather to watch the sun set as the Winooski River meanders in lazy beauty through the floodplain, parkland and the micro-farms of the Intervale below. The upside, according to Goode: "It's a great view."