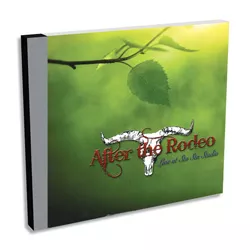 (Self-released, CD, digital download)
Terms such as "all-star band" and "supergroup" are thrown around — probably too often — by music-crit types when describing new bands composed of elite players from other groups. Based solely on its pedigree, local, post-jazzicana trio After the Rodeo qualifies for either descriptor. But both terms are ill-fitting. ATR's Matt Schrag (Big Spike), D Davis (Red Hot Juba) and Pat Melvin (Zack duPont Band) share all-star-caliber chops. Yet, as the band's debut, Live at Stu Stu Studio, reveals, they also share a humble, collaborative spirit that defies such ego-stroking superlatives.
The album begins with Schrag's "Exodus of Leo." Given the wealth of twangy picking that follows, the hot-house-jazz-inflected tune is a curious opener. But Schrag's meandering guitar melody, propelled by Davis' cruising guitar groove and Melvin's insistent bass thump, sets a pleasant tone that aligns with friendly fare to come.
That acoustic jam gives way to sing-in-the-can close harmonies on the Davis-penned "Back in the Coal Mine." It's an old-timey number in theme and feel, tinged with a hint of acoustic jazz softened by Davis' easy croon. As vocalist, Davis is understated. But his warm, grinning tone is inviting.
"Baby Says She Does" is a loping little ditty highlighted by a wily back and forth between Schrag's playful mandolin and Davis' grounded guitar lines.
Schrag takes the lead-vocal reins on "Away to the Hills." Of the three vocalists, he is perhaps the most accomplished and boasts a reedy timber that harks to the heyday of classic bluegrass. Schrag's performance on the ballad "A World We Once Knew" is particularly sweet, backed by swooning, high-lonesome harmonies.
The album, which was recorded live, has a casual appeal akin to a back-porch pickin' session. With no overdubs or other studio chicanery, performance blemishes are left intact. But rather than distracting from the otherwise exceptional performances found within, occasional sour vocal notes or instrumental clams add a human character. Though it's tempting to wonder what the band could accomplish taking full advantage of a studio setting, Live at Stu Stu Studio is a living, breathing work. The record succeeds as both a snapshot of a talented group in the midst of an evolving musical relationship and, more importantly, as an undeniably likable listen.
After the Rodeo open for Darol Anger, Grant Gordy, Karl Doty and Joe Walsh this Sunday, November 25, at the Richmond Free Library.