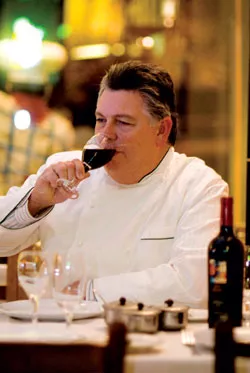 Andy Duback
Chef Kelly Dietrich of Souza's
Almost exactly a year ago, when Souza's Brazilian Steakhouse of Burlington moved from their old Main Street location — now occupied by Big Fatty's BBQ — to the corner of Main and St. Paul streets, their soft opening was marred by a hard reality: The hood in the kitchen couldn't handle the byproducts produced by their traditional cooking techniques. The restaurant filled with smoke, the fire department made an appearance, and the restaurant was closed down until updated equipment could be installed.
On March 10, the restaurant was shuttered by a colder, wetter natural disaster. After the ice storm knocked out power, a carbon monoxide scare brought red engines screaming to the location, and in the aftermath a window in one of the upstairs condos remained ajar. The pipes froze and burst, flooding the restaurant below.
"We're going to be closed for the drying-out process and to make repairs to the restaurant," explains Manager Richard Faul. "There was significant water damage." He particularly laments the harm to the dining room's "ornate ceiling." The resto has to restock and get recertified by the health department before reopening. At the moment, he hopes that they'll be able to start sizzling again sometime in May.
Faul also reports that What Ale's You, in the basement of the same building, was damaged by the flood, and is also closed for repairs. What's next . . . locusts?