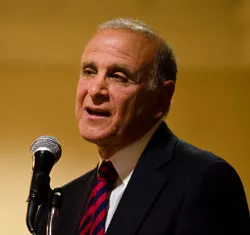 Feb 29: Retired Wall Street executive Bruce Lisman raised eyebrows in Montpelier when he started blanketing the airwaves with ads for Campaign for Vermont, the fiscally conservative "policy campaign" that he founded in late 2011. Lisman said the group was nonpartisan and would focus on common-sense solutions to spread economic prosperity to all Vermonters.
But many Democrats had their doubts, wondering aloud whether Lisman was laying the groundwork to run for statewide office as a Republican. Lisman repeatedly said he was not and that his nonprofit group wouldn't take sides in political campaigns, even as he criticized the Democratic governor and legislature. In February, Vermont Democratic Party chair Jake Perkinson asked the attorney general to investigate Lisman's group for campaign finance law violations over an ad that mentioned Gov. Peter Shumlin by name, but the Democratic AG rejected the charge.
Shumlin's reelection campaign, meanwhile, called radio stations to find out how much Lisman's group was spending on ads. No matter how many times Lisman insisted otherwise, some Dems couldn't shake the feeling that he would emerge as another Rich Tarrant, the wealthy Vermont businessman who used his personal fortune to run for Senate against Bernie Sanders. Or that he would become the Green Mountain State's Sheldon Adelson, a conservative sugar daddy who has spent millions to influence elections.
Update: As promised, Campaign for Vermont went dormant during election season — a deliberate move, Lisman says, to avoid being dragged into partisan battles. Lisman himself stayed on the sidelines; neither he nor Campaign for Vermont publicly endorsed any candidates.
In April, CFV's first lobbying disclosure report revealed that Lisman had spent a whopping $212,343 to get his message out; Lisman wouldn't reveal where that figure stands now. And with the election over, Lisman says CFV is gearing up for another policy push. In December, his group unveiled an education reform proposal that will be promoted by the public relations firm run by Jason Gibbs, who was press secretary to former Republican governor Jim Douglas. Lisman says CFV has signed up 6000 email subscribers and has 300 "partners" — people who've said they "believe in the direction [we're] taking," he says.
Lisman says the economy is still CFV's primary focus but adds, "We think education is the way to get there." Lisman says he and CFV's cofounders will be writing op-eds on education, energy and the economy in 2013, but he hasn't decided whether he'll spend more money on paid media. Asked whether he has changed his mind about running for office, Lisman replies, "No. Sorry."
Ironically, a wealthy conservative did make trouble for Vermont Democrats this election season, but it wasn't Lisman. The biggest threat to Democratic candidates came from a different millionaire: a publicity-shy Burlington resident named Lenore Broughton.