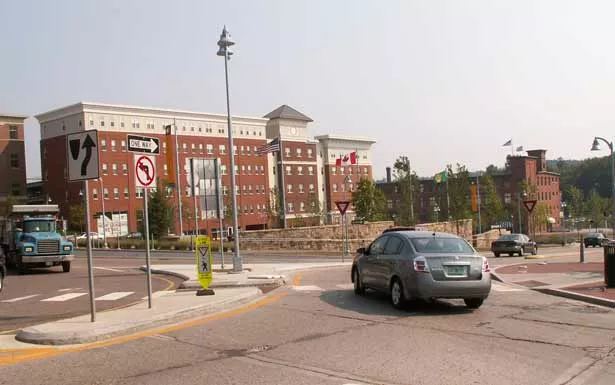 WINOOSKI - When the City of Winooski worked out a deal with the state to pour $174 million into its downtown infrastructure, local officials promised taxpayers they wouldn't have their pockets pilfered to help pay for the improvements. Even Governor James Douglas offered his support, repeatedly touting the effort as a model for smart urban growth. The downtown revitalization project was the largest ever attempted in Vermont and, at the time of its approval in 2004, was the largest state-guaranteed project in the country. But now, with the tax impact of the project fixing to land squarely on the shoulders of local homeowners, city officials are scrambling to keep their no-tax vow.
"It's frustrating to see that they built this great big downtown and half of it is not filled [with tenants], and the ones that are down there are mooching off all of us poor homeowners who are paying the taxes," says Eileen Fraga, a Winooski homeowner whose tax bill jumped $1000 as a result of a state mandated citywide reappraisal in April. Fraga is one of many Winooski residents whose jaws dropped when they opened up last month's quarterly tax bills. Some found their property values had doubled and their taxes had spiked as much as 20 percent. The shock is still reverberating through this already economically fragile locale.
"People are living in Burlington for less money and send their kids to, probably, a better school district," complains Ann Atkins, a 16-year resident who grew up in the Onion City. "I mean, let's face it, the Winooski School District is not the best."
When she got this year's tax bill, asking for an additional $1600, it was the last straw. Atkins promptly planted a "For Sale" sign on her front lawn. She says she's noticed others in the community doing the same. "How long are we going to be stuck?" she wonders.
State and local officials attribute the drastic increase in taxes to the city's unique situation, each pointing to different aspects of taxation procedures. All mention the impact of the downtown revitalization and the establishment of a tax income finance (TIF) district that encompasses the rebuilt area. For many Winooskiites, that's a touchy subject.
"I'm not getting into this," says Rep. Clem Bissonnette (D-Winooski), when asked to discuss the recent reappraisal and establishment of the TIF district. Bissonnette was mayor of Winooski during much of the redevelopment project's initial stages and has been lauded by state officials for his role in it. "I'm not ready to have a conversation with the press about the TIF," Bissonnette reiterates.
The TIF district was approved by Winooski voters in 2000 and first came into play in 2005, says City Assessor James Trzepacz, explaining that state legislation surrounding the district is unique and extremely complicated. "I think it's new for all of us, and that there's a learning curve and we can't just conduct business . . . because that's the way we did it in the past," Trzepacz says. "It's a whole new dynamic because of the Winooski project."
City Mayor Mike O'Brien said he was as surprised as anyone when he opened his tax bill. "I fully expected there was probably going to be some sort of shift in the burden of taxes from commercial to residential, but I didn't think it was going to be as significant as it was," he says.
The downtown revitalization, which is funded with a combination of local, state and federal loans, includes the rotary, parking garage, commercial and retail development, public infrastructure and the new home of the Vermont Student Assistance Corporation - the city's largest employer. As part of the state loan agreement, some TIF properties are tax-exempt.
"What I think has happened is that there were taxable properties in the [TIF] district that were replaced with tax-free properties," says Susan Mesner, a state tax economist. She explains that municipal development projects can at times be a double-edged sword. The revitalization project "may be great for redevelopment in one sense, but there is this problem that it's non-taxable," she says. "[The money] has to be made up for in some way." For now, at least, that difference appears to be coming out of homeowners' wallets.
Terry Zigmund has lived in Winooski for eight years and is facing an $1100 increase in her tax bill. "You do the math," she says. "I don't know how many people have that extra money sitting around to pay taxes. I am self-employed, so I just have to hustle more." A glass artist, Zigmund also shares a studio in Burlington's South End.
But local officials have not forgotten their promise. "When we started to talk about downtown redevelopment, we told folks that the downtown redevelopment wasn't going to cost the taxpayers extra money," says O'Brien. "We feel that's a moral obligation on our part." The mayor explained that city and school officials have already met with state tax representatives to challenge the latter's handling of the TIF district. "We're trying to figure out, how did the state treat the TIF district, and is that how it is supposed to be treated?" he says.
The city assessor is currently re-evaluating numbers sent to the state and suggests there should be an 8- to 9-cent reduction in the city's municipal and education tax rates, which would mark a substantial decrease in homeowners' tax bills. More meetings with state officials and local public meetings on the matter are expected within coming weeks. "I think we have a good argument," O'Brien says, "but it's an argument we have to make to the state."
Susan Mesner of the state tax department says her office has not yet been presented with any information that would change their calculations. It "would have to be a pretty compelling argument," she said. "But we are still in discussions with them."
"I feel strongly about fighting," declares O'Brien. "How far we go is a decision that will be made by myself, the city council, the school board and the citizens. We'll go as far as we have to go until we get an answer that is satisfactory."