Courtesy Of Krystal Woodward
Protesters in Johnson
Chancellor Jeb Spaulding said he will resign from the Vermont State Colleges System at a board of trustees meeting on Wednesday, April 29, after his failed attempt to close three campuses catapulted the ailing schools into a state of uncertainty.
Spaulding, who has led the system for the last five years, declared his intentions in a press release Tuesday morning, saying he will step down with a "heavy heart" but "firm resolve."
"I realize that a fresh perspective and new leadership is necessary to move the VSCS forward in its mission," Spaulding said in the release. "I will continue to do all I can to provide support in the transition and champion the System's leaders as they work through the challenges ahead."
Spaulding's announcement bookmarks a tumultuous two-week period that began when he proposed closing down three of the college system's five campuses to address financial losses brought on by the coronavirus pandemic. Spaulding withdrew his proposal after hitting immediate resistance last week. But by then, he'd already lost the confidence of his faculty and provoked a growing chorus of calls for his resignation.
Spaulding's departure may please critics, but some fear that his decision to broadcast the system's instability to the world could turn the colleges' demise into a self-fulfilling prophecy, since potential students may view the system as a sinking ship.
"We've got some serious damage control to do," Dan Daley, a mathematics and computer science associate professor who leads the faculty assembly at Northern Vermont University in Lyndon, said after Spaulding withdrew his proposal last week.
Spaulding's proposal would have closed NVU's campuses in Lyndon and Johnson, shifting some programs to Castleton University. It also would have closed the Vermont Technical College campus in Randolph Center, moving operations to that school's Williston premises. About 500 people would have lost their jobs.
"Most of our students are still with us, but there are current students who are saying, 'I don't know if I want to come back. How long is Lyndon going to be there? A year? Five years?'" Daley said.
Science professor Joan Richmond-Hall, who leads the technical college faculty assembly, said news of Spaulding's proposal dropped while she was teaching an organic chemistry class, prompting students to ask her whether their agriculture program was going to close. "We are very concerned that we're going to lose students that we already have," she said.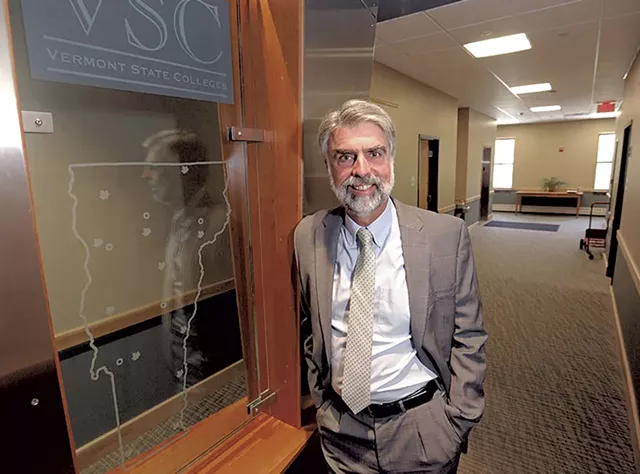 File: Jeb Wallace-brodeur
Jeb Spaulding in 2016
Some students are already considering their options. Taylor Charland, a 20-year-old early education major who transferred from the Community College of Vermont to NVU-Johnson last fall, had planned to finish her degree there. But she has since applied to Champlain College and the University of Vermont out of concern that the Johnson campus might not survive the next six months.
"It's a worrying factor that I'm not confident in my school to stay open," she said. "I don't really want to be a senior next year and be closed out of the school."
Professors have started reaching out to students with this issue in mind. NVU faculty members, for example, have written a letter and produced a video meant to assure students that they remain committed to the campuses. "We're not going anywhere," said Tyrone Shaw, a writing and literature professor who heads up the Johnson campus' faculty assembly. "We're going to be here for our students."
That may have been a hard message to send with Spaulding still calling the shots. Even after withdrawing his proposal, the chancellor continued to insist that the system needs a "disruptive" restructuring if it expects to address a deficit that could easily top $28 million this year.
"The current configuration of the Vermont State Colleges is not sustainable," Spaulding said in a press release last week. "It cannot continue for long."
Faculty of the affected schools, meantime, maintained that the system would be better off without Spaulding. On Tuesday, they applauded his decision to step down.
"I think it was the right thing to do," Daley said. "Faculty and staff in the system felt that we didn't have any faith in him anymore."
Richmond-Hall agreed, saying new leadership is "welcome." But she feared that the damage was already done. "Chancellor Spaulding's departure adds to the pandemonium," Richmond-Hall wrote in an email. "I worry that Vermont won't have the time, focus or money to take a holistic look" at the system.
It's unclear what finally forced Spaulding's hand. Through his assistant, he declined an interview request on Tuesday. But speaking to Seven Days on Sunday, Spaulding asserted that he had no plans to quit and would stay on as long as he could be "effective."
"I can't put a timeline on that. Things are progressing day by day," he said. "If I become more of a liability than an asset, that will be the time for me to step down."
Not everyone agrees that Spaulding has damaged the college system's prospects. Board of trustees chair J. Churchill Hindes, one of the chancellor's allies, told Seven Days last week that he had no intention of asking Spaulding to leave. In fact, Hindes praised the chancellor for having the guts to propose the closures, knowing they were a potential powder keg.
"I don't want a shy and retiring leader who disappears when times are tough," Hindes said last week. "I want a leader who steps up."
Hindes then argued that Spaulding succeeded in alerting the public to the state college system's plight, a necessary first step if its financial problems are ever to be resolved. So while the proposal may have been difficult to hear, Spaulding's actions will eventually pay off, Hindes said.
The chair stood by those comments on Tuesday and said he had nothing to do with Spaulding's decision to quit. "This is Jeb's business," Hindes said. "This is his decision, and I respect that."
Mike Smith, Vermont's Agency of Human Services secretary, agreed that Spaulding's SOS could prove useful in the long run. Among Smith's previous jobs was the interim presidency of financially ailing Burlington College in 2015. Although the school ultimately closed after Smith's tenure ended, he said making the college's money problems public provided breathing space to at least try a rescue plan.
"Once people understand the situation, and if you're very public with some of the solutions that you're doing, I think it works the best for you," Smith said last week. Where Spaulding went wrong in Smith's eyes was taking too firm a stance. Instead of laying out "a plan that could be altered if there was a better alternative," the chancellor was adamant his proposal was the best path forward.
Still, Smith didn't fault Spaulding for advocating drastic action, calling it a "double-edged sword." Sure, discussion of closing campuses may make the system less attractive to students in the short run. But it also makes it easier to come to a consensus on a plan, Smith said, because more people recognize that the situation is dire.
Hindes, the trustees chair, had the same read. "I'm sure when we look back at this a year from now, we might say, 'Couldn't this have been done a little more elegantly?'" he said last week. "But that'll be then, and this is now."
It's true that proposing to close three campuses may result in a temporary financial bailout by state government. With the system quickly running out of money, lawmakers who opposed Spaulding's plan are cobbling together a life raft, signaling last week that the legislature might appropriate $25 million from Vermont's federal stimulus package to get the colleges through the next academic year. Spaulding has said that lawmakers must clarify their intentions in the "coming days" to give students confidence that the campuses will be there in the fall. Prolonging the uncertainty is "not helpful at all," he said on Sunday.
But students aren't the only ones wondering whether they would be better off elsewhere in the wake of Spaulding's proposal, with two college presidents considering moves.
NVU president Elaine Collins announced in an email to both campuses on Monday that she is in the running to become the next president at a community college in Lansing, Mich. Collins wrote that she was approached about the post in late February, before the pandemic had tightened its grip, and said she remains "fully committed" to NVU while she awaits a decision.
At the same time, Castleton University may need to search for a new leader.
Karen Scolforo, who has led that school for three years, told Seven Days that the last few weeks have left her unsure about her future at the university. Informed on April 14 that she was effectively "out of a job" as Spaulding prepared to go public with his proposal, Scolforo said she was swiftly removed from email lists and excluded from meetings of the college presidents.
"I was devastated," she said. "I literally put my heart and soul into Castleton University. I've lived and breathed it since I got here."
The college has appeared to do well under her leadership. It has posted rising enrollment for three straight years, in part by accepting students from three private colleges in southern Vermont that closed. Scolforo submitted two balanced budgets and expected to deliver a third before the coronavirus hit — a notable achievement at a time when many small colleges are struggling.
Spaulding confirmed with Seven Days that he had planned to replace Scolforo with NVU's Collins if his proposal had been accepted. Though he praised Scolforo's performance, he said Collins was the right choice because she had seniority and experience overseeing a campus in transition.
But when his campus-closure plan ran into a wall, Spaulding changed his mind. Two days after the proposal went public, he asked Scolforo to stay on. She accepted, hoping that she would be able to move on from the near-firing.
A week later, she said she's still reeling. "I feel like I'm going through the stages of grief," she said. "That's how I've been. Even after the shift back, it was just traumatic for me."
Asked whether she planned to stay after being shown that the chancellor considered her expendable, she struggled for an answer.
Finally, she said, "I don't know if I can."