Courtesy Of Uvm Medical Center/ryan Mercer
Preparing doses of the Pfizer COVID-19 vaccine at a University of Vermont Health Network vaccination clinic at the Champlain Valley Exposition
As the first shipments of COVID-19 vaccine arrived in Vermont a month ago, police officers figured they would be among the first to receive it. "We're responding into uncontrolled environments for emergency situations," Rutland City Officer Kevin Blongy reasoned. "You don't have control over the people, or where you're responding to, or what precautions anyone's taking."
The state's initial vaccination plan — as well as a federal advisory group — seemed to acknowledge as much: Both put frontline essential workers in the second-highest priority group, following health care workers and residents of hard-hit eldercare homes.
Then, just before the New Year, Gov. Phil Scott's administration decided to switch gears, announcing that it would give priority to the 125,000 Vermonters who are 65 and older before offering vaccines to essential workers. The change meant that police officers and firefighters likely would have had to wait until at least April for their turn.
During an interview on January 7, Blongy, president of the Vermont Police Association, said that the move jeopardized public safety. "I'm strongly hoping they will reconsider," he said.
Unbeknownst to him, the state already had reconsidered, following pressure from police and fire chiefs. Three days earlier, on January 4, the state had moved police and firefighters to the top of the vaccine priority list, meaning they were eligible for doses after all. But word of the change still hadn't made it to Blongy, whose organization represents sworn officers.
The back-and-forth over emergency responders underscored how, despite months of planning, the biggest immunization drive in history has gotten off to a rickety start. All states, including Vermont, are receiving fewer doses each week than the federal government had projected and only learn of their allocations a week in advance. Storage limitations have made it tricky to ensure that these limited doses reach the people of most concern.
Meanwhile, the feds added two new wrinkles on Tuesday. The Trump administration announced it would release all doses of available vaccine rather than hold a second dose for those in early phases. And officials changed their guidelines on who should get inoculated, urging states to begin offering doses to Americans 65 and older.
In Vermont, the state's shifting priorities, coupled with lingering uncertainty about the vaccination timeline and rising COVID-19 infections, has already frustrated some residents.
Against this backdrop, the Vermont Department of Health will begin administering vaccine to elderly Vermonters as soon as next week using a new network of state-run clinics, the details of which are still being ironed out.
Limited available data suggest the state's initial rollout has moved at a relatively fast clip. Just under 25,000 people had received doses as of January 12, the equivalent of about 4.3 percent of the state's adult population. That gives Vermont one of the highest vaccination rates in the country. The state had used 40 percent of the 64,925 doses shipped by the same date, according to the U.S. Centers for Disease Control and Prevention — among the higher proportions nationwide.
The large gap between the number of doses shipped and doses administered is likely due in part to inconsistencies in the data; shipment volumes tend to be logged more quickly than vaccination figures.
As of January 11, the University of Vermont Medical Center — the state's largest vaccine administrator during the initial phase — had given first shots to more than 9,600 employees and community health care workers and both doses to 1,260 people, according to president and chief operating officer Dr. Stephen Leffler. Roughly 15,000 hospital employees and community health care workers in its service area are eligible.
"We are using almost all of the doses that are allocated to us every week," Leffler said, despite little notice of how many doses to expect.
The UVM Medical Center has accomplished this by taking a pragmatic approach to administering shots. All employees who work inside buildings where patients enter were deemed eligible to get inoculated in the first phase, even those who don't directly interact with patients. If, at the end of a day, the hospital has unused doses that have already been thawed, program managers have searched for others to get vaccinated in order to prevent the doses from spoiling.
On one recent afternoon, Leffler said, the hospital received extra, already-thawed doses from a Walgreens in Barre and managed to put them to use. So far, the UVM Medical Center has let only four doses expire, a spokesperson said, following a mix-up at the hospital-run clinic at the Champlain Valley Exposition in Essex Junction.
Some vaccine recipients have been perplexed by how and why their names were called. State Rep. Tanya Vyhovsky (P/D-Essex) got her first dose on January 4 at the Essex Junction site. A school social worker, she got an unexpected call from a doctor she didn't know and was able to go in the same day. Vyhovsky works only part time at a school in Charlotte, but she's contracted through the Howard Center social service agency, which is how she suspects the hospital got her name as an eligible health care worker. "I did not expect to be in such a tier," she said.
Vyhovsky said she had misgivings about getting the shot before others at the school.
"The reality of it is, I can do a lot of my work from home. Our teachers can't," she said.
It is partly to avoid this sort of nuanced parsing that the Scott administration decided to conduct the next phase of vaccinations according to age. In announcing the switch on December 29, Human Services Secretary Mike Smith referenced the "confusion" and "unnecessary divisiveness" that structuring the next round of vaccines by occupation would cause.
The age-based second phase will begin with the 59,000 Vermonters who are 75 or older, moving next to those 70 and older, then to 65 and older. State leaders contend that the revised approach will save the most lives. Just eight out of the 158 people who have died in Vermont from COVID-19 were under age 60, according to state health department data.
Death certificates show that many of those younger Vermonters who did succumb to the infection also had preexisting health conditions. The state will include individuals with certain serious health conditions in the second phase, though the list of ailments was still being assembled at press time.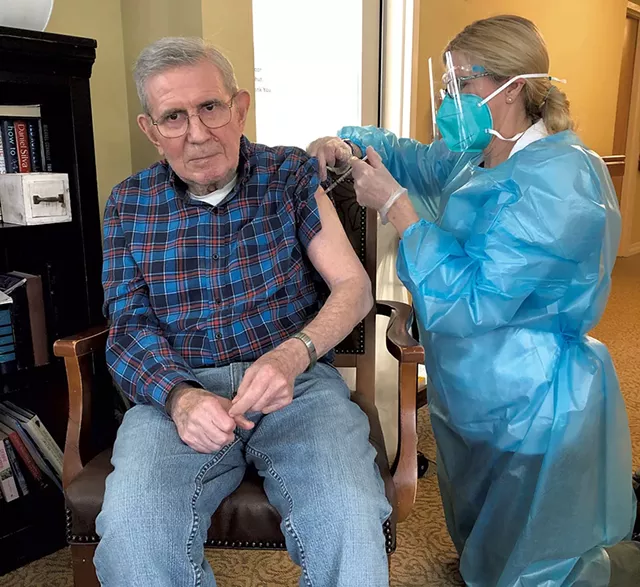 Courtesy Of The Arbors At Shelburne
The Arbors at Shelburne resident Ron Renaud gets vaccinated on January 8
COVID-19's heightened risk to older Vermonters has been known for months, making the recent switch to an age-based system a surprise. But state officials have also emphasized that the change means the phase will be simpler — and hopefully faster — to implement.
"It's easy to identify those people. It's easy to reach them," Deputy Health Commissioner Kelly Dougherty said in an interview.
In a similar spirit, some other states have already begun offering vaccines to seniors as young as 65 years old. Long lines and a dysfunctional scheduling system, however, have marred the process in Florida, the New York Times reported this week.
Dougherty is confident the health department will be able to pull it off in Vermont. Officials have identified at least a dozen sites around the state where they plan to open community clinics in the coming weeks. They'll be run by trained health department staff.
"This is something that we know how to do," Dougherty said.
Seniors will be required to register for an appointment ahead of time to avoid long lines and efficiently manage doses, Dougherty said. Individuals must be monitored for 15 to 30 minutes after receiving their shots in case of a rare, serious reaction, which complicates the logistics.
Registration will be by phone and on the web, but Dougherty acknowledged that the online appointment system, similar to the one used to schedule a COVID-19 test, was still being built and might not be ready until the week of January 25.
The health department is nonetheless aiming to be able to launch the clinics as early as the week of January 18, possibly using a phone-only scheduling process until the online system is completed, Dougherty said. She added that the timing depends on how much vaccine is available and how quickly the first phase wraps up. As phase two proceeds, the state may use pharmacies, primary care physicians, hospitals and the Vermont National Guard to expand its vaccination capabilities, officials have said.
Gov. Phil Scott said Tuesday that his administration would announce more details about phase two at a January 15 press conference.
Vermont is still receiving just 8,875 new doses per week from the federal government. At that pace, vaccinating seniors and those with high-risk health conditions could take up to 15 weeks. State officials are hoping the weekly shipments increase soon, so phase two would require closer to 10 weeks to complete.
The timeline "is so dependent upon how much vaccine we get," Dougherty said.
Vermont educators have been most vocal in their frustrations with the revised priority list. The state teachers' union, the Vermont-NEA, put out a statement last week demanding "clarity" from the Scott administration about when teachers will begin to get their COVID-19 vaccines. The press release also blasted state officials for including ski patrollers — many of whom are certified EMTs — in the first phase, ahead of other frontline workers.
In an interview, however, Vermont-NEA president Don Tinney played down teachers' beef with ski patrollers, and he did not criticize the state's decision to put older Vermonters ahead of essential workers. But he said frustrated educators, many of whom are already teaching some classes in person, deserve to know when it will be their turn, given that Gov. Scott is pushing for a full return to classrooms sometime in April.
"It's one of the issues that needs to be resolved as we move back to in-person learning," he said.
As the health department prepares to launch the next phase, state leaders are still trying to complete the first one. State officials are pressuring private pharmacies that are running clinics in long-term-care homes to move more quickly. Most nursing homes have already had their initial vaccine clinics, and the program has moved to less intensive facilities known as residential care and assisted living homes.
Though the pharmacies' contracts are with the federal government, Dougherty said officials from the governor's office and the Agency of Human Services have asked them to finish the first round of clinics by January 15. The state is considering using hospitals to take over the work at homes whose dates can't be moved up, she said.
The Arbors at Shelburne, a memory care facility, had its first clinic on January 8. Executive director Wendy Brodie was ecstatic that the home had secured consent forms from 95 percent of its residents and staff. The home unfurled a literal red carpet for the occasion, and staff could be heard popping balloons behind Brodie as she described the day's events by phone.
"There's a lot of excitement out there," she said.
Other homes, however, were still waiting as of early this week. Walgreens is scheduled to host the first clinic at Holiday House, a residential care home in St. Albans, on February 3, owner and administrator Coleen Condon Kohaut said in an email.
The eldercare facility, like 11 others in Vermont, is the site of an active COVID-19 outbreak. The home has recorded 22 cases as of January 7, according to health department data, up from 10 infections the week before.