On a rainy Friday night in September 2014, a small crowd of hipsters and aging intellectuals gathered in the lakeside home of a retired law professor in Madison, Wis. They were there to hear Sen. Bernie Sanders (I-Vt.), who was scheduled to travel to Wisconsin and Iowa that weekend to explore a run for president.
But the senator had been delayed, so he spoke to them by speakerphone.
"Change does not take place overnight," Sanders said as he described his vision for the nation. "Struggle does not result in immediate victory."
Half an hour into his sermon, one attendee asked what the others were surely thinking: "So, are you gonna run for president?"
"Yeahhh!" the crowd murmured in unison.
Sanders noted that he was on his way to Iowa for a series of town hall meetings, but he cautioned that running for president would be "no small undertaking."
"Unless I felt that we could mount a very, very serious and winning campaign, I wouldn't do it," he said. "And we cannot mount a serious and winning campaign unless we bring about what I call a 'political revolution' in this country, in which we really engage millions and millions of people in the political process."
Over the next two years, Sanders would do just that. Though few saw it coming, he would go on to win some 12 million votes, 22 primaries and caucuses, and more than 45 percent of pledged delegates to the Democratic National Convention.
"He started with almost no name ID around the country, with zero support in the polls. And he was able to take the former first lady and former secretary of state to the brink, right?" said Ben Tulchin, who served as Sanders' pollster. "You might as well be running against the sitting vice president, for crying out loud."
So how did he do it?
In interviews with nearly a dozen current and former campaign staffers, the word that came up most was "authenticity." The very qualities skeptics thought would sink Sanders — his unpolished appearance, unmovable message and unwillingness to compromise — endeared him to voters who were looking for something real.
"Look, Bernie Sanders was a phenomenal candidate," said campaign manager Jeff Weaver. "People recognized his authenticity — that he was saying what he believed and what they believed."
From the start, those closest to Sanders saw an opening for him in an era of economic uncertainty and frustration with the political establishment.
"The issues he's been talking about for many years ... are becoming the front-and-center issues in American politics today," Democratic operative Tad Devine told Seven Days in December 2014, months before he became Sanders' top strategist. "So I think the times have caught up with him."
Sanders also got lucky. Rival Hillary Clinton appeared formidable enough, at first, to keep other potential candidates on the sidelines, including Vice President Joe Biden and Sen. Elizabeth Warren (D-Mass.). But Clinton struggled to connect with many primary voters, who found her untrustworthy, calculating and beholden to Wall Street. When former Maryland governor Martin O'Malley failed to distinguish himself — and dropped out after Iowa — the senator from Vermont proved the sole alternative.
Sanders was hardly a perfect candidate — and his was hardly a perfect campaign. As Clinton marches toward the nomination, postmortems have proliferated, asking and answering the obvious question: What could Sanders have done differently?
Plenty, no doubt.
But a better question is: How did a 74-year-old democratic socialist electrify a generation born after the fall of the Berlin Wall? And how did a politician who refuses to dial for dollars wind up with $229 million in the bank?
Most important of all: Was the Sanders campaign a flash in the pan? Or did it signal the start of a political revolution?
When Sanders takes the stage next week at the Democratic National Convention, he'll surely maintain that it's the latter. But as he himself has long argued, it's easier to wage a campaign that it is to sustain a movement.
The Candidate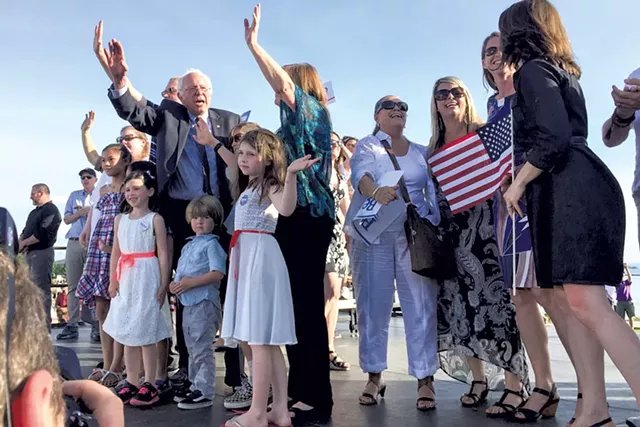 The most important race in Sanders' 45-year political career did not get off to a promising start.
After word leaked in April 2015 that he was about to launch a bid for the presidency, his staff scrambled to get ahead of the news. At a hastily arranged press conference in the shadow of the Capitol, he announced his campaign as if it were an afterthought. There were no supporters and no stagecraft — just Sanders at a podium, looking harried and distracted.
"We don't have an endless amount of time," he barked at a modest crowd of reporters, waving his hands in the air. "I've gotta get back."
A month later, the senator hosted a second, more traditional kickoff — and it was an entirely different affair. Some 5,000 people flooded Burlington's Waterfront Park, cheering Sanders' every word as he promised a political revolution. Devine's camera crew was in place to capture the candidate and his family in front of an American flag and a sun-soaked lake. The energy and passion were palpable.
"Give 'em hell, Bernie!" one man yelled.
Like the two kickoffs, the Sanders campaign was a study in contrasts. At times, it seemed an ad-hoc affair, duct-taped together and about to collapse. But at other times it appeared a well-oiled machine, capturing the mood of the moment with uncanny precision.
Behind it all — the brilliant and the bizarre — was Sanders himself.
"In terms of strategy, some campaigns just turn everything over to staff and consultants. And that's just not, as you know, the way he operates," Weaver said. "So he was involved in every major decision."
Minor ones, too, according to some aides — particularly when it came to the campaign's message. While some saw Sanders' notorious micromanaging as a destabilizing force, others credited him as the best strategist on the team.
"I think the upside of that is, the message of the campaign looked exactly how Bernie wanted it to look," said one senior staffer. "There was no deviation."
According to Weaver, his boss was too busy to really gum up the works.
"The scale of a presidential campaign is so big, and his schedule was so aggressive, in terms of appearances and rallies — I mean, he was running everyone else aground at 74," the campaign manager said. "That kind of enterprise does not lend itself to micromanaging."
One would think not. From the fall of 2015 through the final primaries in June, the septuagenarian senator kept up a breakneck schedule, often delivering three hour-long stump speeches in two cities a day. A week before Super Tuesday, his chartered Eastern Air Lines jet touched down in seven states within 48 hours.
"There is certainly something to be said for how far we got simply due to the sheer determination and grit of the senator," the senior staffer said.
Sanders' nonstop travel made a difference. His worst losses came on days featuring multiple contests, when he didn't have the time to introduce himself to voters. When the electoral calendar allowed him to "campaign hard" in a state, said Tulchin, he often prevailed — particularly when independents and previously unregistered voters could cast ballots.
Take Michigan, where Sanders spent significant time in late February and early March: Polling averages showed Clinton leading Sanders by more than 20 percentage points in the days before the March 8 primary. Tulchin's own polls had Sanders down by nine. But after a final weekend of barnstorming and a solid performance in a Flint debate, he pulled off the biggest upset of the race — winning by a hair.
The outcome was so unexpected that the team had decamped to Florida and planned no public appearances. Late that night, a bedraggled Sanders made a brief statement next to a Miami hotel pool.
The candidate didn't always help his own cause. More comfortable behind a podium than pressing the flesh, he avoided retail politicking. During one early trip to Iowa, he beelined it to his rental car after every speech he made.
And while Sanders had his core economic message down pat, he struggled to calibrate responses to issues outside his comfort zone, such as gun violence, racial justice and foreign affairs. When challenged on those matters — by a politician or a reporter — he could appear hostile and condescending.
But Sanders never got sufficient credit for his sharp political instincts — on the stump, in forums and on the Sunday morning talk shows. Throughout the campaign, pundits derided his decision, in the first Democratic debate, to steer the conversation away from Clinton's use of a private server during her time as secretary of state.
"The American people are sick and tired of hearing about your damn emails!" he famously said in their October 2015 matchup in Las Vegas.
But those who saw it as an unforced error forget that Sanders was only just beginning to introduce himself to the American people. In that single viral moment, he managed to appear humane, humorous and substantive. It was the perfect distillation of his message: that what really mattered was the decline of the middle class — not Clinton's latest political problem.
"Enough of the emails," he said. "Let's talk about the real issues facing America."
Environmentalist Bill McKibben, who endorsed Sanders early in the race, noted that it would be difficult to design a candidate less likely to "capture the hearts" than "an aging guy with a thick accent who calls himself a socialist and comes from the second-smallest state in the union." But that unconventional background, coupled with "an endless focus on the issues," was precisely what made Sanders appealing, McKibben argued.
"People perceived that it was about substance," he said.
The Team
Paul Heintz
Tad Devine and Jeff Weaver
Within weeks of his Waterfront Park kickoff, Sanders was drawing crowds of thousands from Minneapolis to Denver. In July 2015 — nine months after he'd addressed the Madison house party by speakerphone — he filled the nearby Veterans Memorial Coliseum with some 10,000 supporters.
Donna Butler, a retired church secretary whose husband died in Vietnam, stood on the floor of the arena and marveled at the man.
"He's forthright and speaks the truth," she said. "God knows the nation needs him."
Back at headquarters, on Church Street in Burlington, Sanders' skeleton staff struggled to meet the demand.
"We started planning these big events, and the venues just kept getting bigger," recalled Robert Millar, a Winooski city councilor who had worked on Sanders' 2012 reelection campaign before joining the presidential bid.
Earlier that summer, Weaver had boasted to Seven Days, "By the time it's all said and done, it'll be conceivable you could have well over 100 people between headquarters and state operations."
In the end, the number was closer to 1,200.
Leading the effort was a ragtag team of Sanders loyalists and Washington, D.C., consultants.
Chief among them was Weaver, a Franklin County native who had driven Sanders around the state in a Ford Pinto during a failed 1988 gubernatorial campaign. After working his way up to Senate chief of staff, he had left politics in 2009 to start a comic book superstore in northern Virginia. Long after Sanders pressed him back into service, his cellphone continued to identify him as the owner of Victory Comics.
Michael Briggs, a taciturn ex-reporter who had spent nearly a decade in Sanders' Senate office, ran the press shop. Devine and his partner, Mark Longabaugh, provided the national campaign experience the Sanderistas lacked. And the senator's wife, Jane O'Meara Sanders, served as his sounding board — as she had since they met on his mayoral campaign trail in 1981.
Sanders' insular inner circle expanded over time to include such newcomers as deputy campaign manager Rich Pelletier and chief operating officer John Robinson. After proving themselves in the field, Iowa state director Robert Becker and New Hampshire state director Julia Barnes moved up to national roles. Even Sanders' 27-year-old body man, Essex native Shannon Jackson, became a trusted adviser.
By all accounts, Revolution Messaging was the operation's most valuable player. A D.C. firm that grew out of President Obama's 2008 campaign, it coordinated digital strategy and raised the money to fuel Sanders' revolution.
"Everyone wants to know what the secret sauce was, right? Well, it was all of it," Weaver maintained. "Everybody we got was, like, top shelf."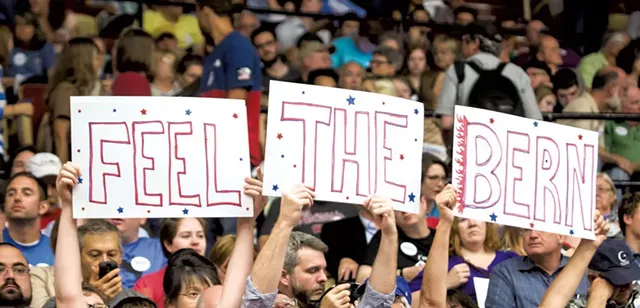 Maybe, but they weren't your typical campaign hands. Many career-conscious operatives steered clear of Sanders, recognizing the risk in crossing the notoriously vengeful Clintons. And those who joined up had to acclimate to Sanders' unconventional style.
"Bernie doesn't make calls to big donors," Millar noted. "He's not the kind of guy you sit down in a room with a Rolodex and say, 'You gotta call all these people.' He would never do that."
So instead of assembling a traditional finance team, the campaign put Revolution to work expanding Sanders' online presence and building his email list — harnessing both to solicit small-dollar donations. Obama veterans, such as Scott Goodstein and Arun Chaudhary, worked with Howard Dean alum Michael Whitney and Sanders' Senate social media guru, Kenneth Pennington, to marry Sanders' message to the medium. The results came in $27 at a time.
Sanders had always crowdsourced his campaigns, but this was another order of magnitude.
"Can you raise hundreds of millions of dollars from small, individual contributions?" he asked during a September 2014 interview with Seven Days. "I don't know the answer to that."
The answer turned out to be yes.
In December of that year, Devine told Seven Days that Sanders would need "in the neighborhood of $50 million" to make a play in the early states. By the end of 2015, he had already raised $73 million. And it just kept coming. The February night he defeated Clinton in New Hampshire, Sanders took to a podium at Concord High School and asked for money on national TV.
"I'm going to hold a fundraiser right here, right now, across America," he said, plugging the campaign's website.
Within 18 hours, he had picked up another $5.2 million.
By the end of May, Sanders had raised more than $229 million from 2.7 million donors, making him one of the most successful political fundraisers in history.
The early money enabled Devine and Longabaugh, whose firm specializes in television advertising, to compete with Clinton on-air. Though she launched her first TV ads three months earlier, in August 2015, Sanders outspent her when it counted: as the first four states prepared to vote in early 2016.
A week and a half before the Iowa caucuses, Devine and Longabaugh released the ad that would define the campaign. Called "America," it interspersed images of ordinary Iowans and a campaigning Sanders — set to the Simon & Garfunkel song of the same name. With barely a word from the candidate, the spot said it all: This was a campaign of the people.
"It just tapped into something big," Tulchin said. "The YouTube numbers were off the charts: tens of millions of hits."
It's one thing to inform and inspire, but it's another to get voters out to the polls. For that, Sanders relied on hundreds of field staffers and countless more volunteers. According to the campaign, its loyal forces hosted 74,000 meetings, knocked on 5 million doors and made 75 million phone calls.
"We started our operation in Iowa extremely late," said state field director Justin Huck, who was hired in June 2015. But by the time the caucuses arrived seven months later, he said, some 185 paid staffers were on the ground.
"They weren't coming to Iowa because they wanted a job in the White House and thought getting on early would help them get there," he said. "They believed in Bernie."
The Long Haul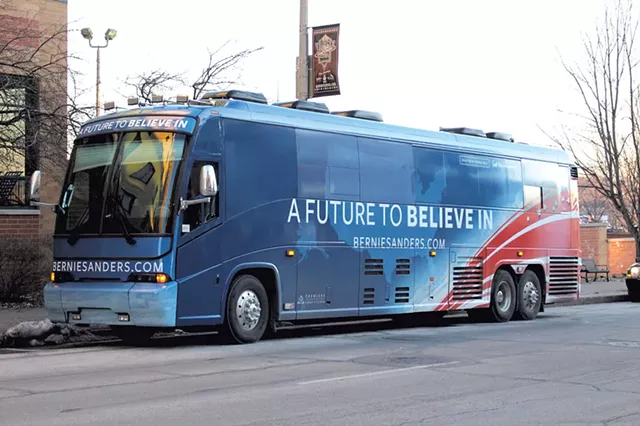 It's easy to forget, now that Clinton has prevailed, just how much Sanders rattled her. After his near miss in Iowa on February 1, Politico breathlessly reported that she was weighing a campaign shake-up.
"The Clintons are not happy and have been letting all of us know that," one unnamed Clintonite told the online outlet.
Days later, Sanders demolished her in New Hampshire — winning the first-in-the-nation primary state by a 22-point margin. It seemed, for a moment, that he might do the impossible.
Sanders' luck wouldn't last. Later that month, he fell five points short in Nevada and suffered a devastating loss in South Carolina. On Super Tuesday, he won enough states to stay in the race, but Clinton swept the South — and picked up a wide delegate lead she would never surrender.
The next morning at the Church Street office, Devine insisted to reporters that Sanders still had "a winning hand."
"Yes, we're behind," he said, looking groggy from a long night. "She has a substantial advantage. We believe we can make that up between now and June."
There's little agreement within his campaign around when the jig was up. Some point to Nevada, which the campaign expected to win and was central to its early-state strategy. Others point to the March 15 contests in Ohio, Illinois and elsewhere, when it became clear that Sanders would not replicate his Michigan success throughout the Rust Belt.
"I mean, I think realistically coming out of New York and the loss in Pennsylvania," posited a second senior adviser. "That one-two probably made it a really long shot."
Weaver, a true believer, claims he held out hope through the June 7 California primary.
"That we could pull it off," he clarified. "Not that we would."
There are just as many theories about what Sanders could have done differently.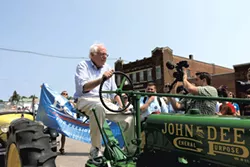 Some wonder whether Sanders could have done more to court nonwhite voters, who are critical to winning the Democratic nomination. The Vermonter did best among young, independent, working-class and male voters — and he carried the nation's whitest states. But Clinton often won more than 80 percent of the African American vote, helping her run up the numbers in the South.
Sanders' top aides have long argued that there was little they could do to compete with a former first lady of Arkansas, whose husband was once known as "the first black president." But others point to the lack of diversity among members of the senator's inner circle and wonder whether they ever really tried.
"I think they felt that the relationship with Hillary was so strong that they didn't have confidence in doing much of anything to change it," former deputy director for African American outreach Roy Tatem told Fusion. "Some people felt he had a better chance at winning the Latino vote and the millennial vote than the black vote."
Others thought the campaign suffered from an identity crisis.
"I think there was an ongoing discussion in the campaign about what the top priority was: winning the nomination or advancing the political revolution," the first senior adviser said. "In some ways, those two goals were able to be married. In others, it was difficult to sort of figure out which was the greater priority."
The most common complaint is that the campaign was simply mismanaged — by a meddling candidate and an inexperienced cadre of yes men. According to several staffers, the inner circle was plagued by infighting, with senior staffers jealously guarding their proximity to Sanders.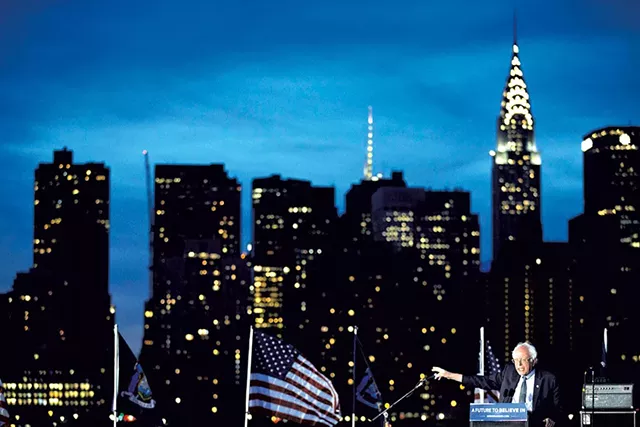 Instead of staying home to mind the ship, Weaver spent much of his time traveling with the candidate and appearing on cable news shows. Briggs, with whom Weaver frequently feuded, rarely left Sanders' side. That may have kept the campaign on-message, but it slowed the flow of communication to reporters.
"I think a stronger management structure would've resulted in a few more victories," said one top staffer.
Others disagree. They downplay the drama and argue that theirs was no more or less dysfunctional than any presidential campaign.
"As these things go, this was a pretty harmonious enterprise," Weaver maintained. "I mean, obviously people had a difference of opinion at times, but you want that. You don't want everybody saying yes."
With the benefit of hindsight, Weaver said, he might have made some changes.
"If I knew how much money was going to come in, would I have had a different spending pattern going into the campaign?" he asked. "Of course. But that was something no one could know."
Indeed. Such hypotheticals ignore the dynamic nature of political campaigns. A tweak here or there may have changed the ballgame — but not necessarily in Sanders' favor.
His top staffers still bristle at one postmortem, published in April by the New York Times, suggesting that Sanders could have prevailed had he taken a tougher tone with Clinton last fall. Maybe. But maybe it would have backfired, as it did when he questioned her qualifications in the lead-up to the New York primary.
It's anybody's guess.
What's clear is that Sanders and his team did better than nearly everyone expected — and that means they did plenty of things right.
The Revolution
Sanders waited five long weeks after Clinton clinched the nomination to concede. In that time, he seemed to work his way through the stages of grief: denial, anger, bargaining, depression. Last Tuesday, he reached acceptance, endorsing Clinton in a high school gymnasium in Portsmouth, N.H.
Sanders' critics questioned the holdup. They said he'd squandered the goodwill he'd generated within the party, allowed Warren to eclipse him as Clinton's progressive darling and endangered her chances of defeating presumptive Republican nominee Donald Trump.
But a precipitous endorsement risked alienating Sanders' most committed supporters, particularly those he had pulled off the political sidelines — and those most susceptible to Trump's gilded brand of economic populism.
"There was obviously a need for those people to see tangible results from this fight," argued one member of his headquarters staff. "These are not pawns. These are not people to be handed over in a backroom deal."
During negotiations this month in St. Louis and Orlando, Sanders delegates won several changes to the Democratic Party platform, including a call for a $15 minimum wage, a price on carbon emissions and the legalization of marijuana. Clinton released new higher education and health care proposals that met Sanders partway.
McKibben believes the nonbinding documents will force her to carry through with her commitments if she's elected president.
"If she doesn't, at least we have something with which to hold her accountable," said the Middlebury College scholar in residence, who helped represent Sanders in the negotiations. "Clearly he was going to vote for Hillary Clinton, but he wasn't going to walk away from the process until the issues that he fought for were decided. There's not many people who can hold up under that kind of pressure."
Many Sanders fans remained unsatisfied. At Portsmouth High School last week they jeered pro-Clinton speakers and staged a walkout when Sanders delivered his long-awaited endorsement. Outside the gym, Clay King held out hope that it might yet turn out differently.
"I hope that she endorses him," the 35-year-old massage therapist from Kittery, Maine, said, holding up a sign that read, "Bernie or Bust."
Sanders' shift swayed at least one die-hard supporter: 23-year-old Collin Young of Lanesboro, Mass., who wore a T-shirt featuring the candidate in Uncle Sam attire and the words "Feel the Bern."
"Just to see how Hillary's changed through this process — it helped me to like her more," Young said.
When Sanders took the stage that morning, he made clear his campaign was over and that Clinton would be the nominee. But he wasn't ready to give up on his broader goal.
"Together, we have begun a political revolution to transform America — and that revolution continues!" he roared.
In the days since, Sanders has begun to describe what that will look like. He plans to launch as many as three new organizations, including a policy-focused Sanders Institute and a candidate-recruitment entity called Our Revolution. This summer and fall he will travel the country — stumping not just for Clinton but for progressive candidates up and down the ballot.
If Clinton defeats Trump, Sanders will return to the Senate as the voice of the loyal, progressive opposition. It's a role that suits him. But his most lasting impact may be in the hearts and minds of the young people he inspired to vote — and run for office.
"I think you're going to see this play out for a generation," said Millar, who is himself running for state representative. "A lot of folks are just waking up."
That is the political revolution.