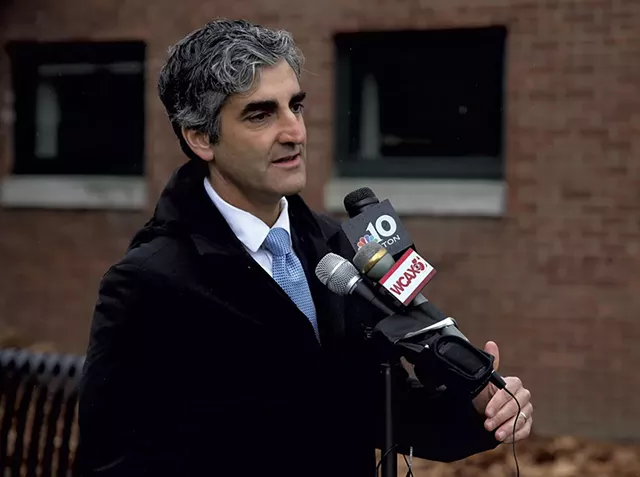 Courtney Lamdin ©️ Seven Days
Miro Weinberger
Burlington Mayor Miro Weinberger's current term in office has been his toughest yet.
Last winter, the Democrat lost two police chiefs to a social media scandal that made national headlines. Then came the coronavirus pandemic, which swept through the state, taking lives, hurting local businesses and shrinking city revenues. This summer, the national reckoning over racial justice landed quite literally on Weinberger's doorstep as protesters staged a die-in in front of his home to demand the firing of three city cops accused of using excessive force. And in the midst of it all, the well-financed developer of the infamous CityPlace Burlington project announced it was backing out.
The year is ending with another surge in COVID-19 cases that could derail the city's attempts at a recovery from the pandemic.
Weinberger, though, isn't throwing in the towel. On November 10, he announced that he will run for a fourth three-year term in March, telling supporters in an email that "serving as mayor has been the honor of my life."
"I have worked hard every day for the community. I still have that intensity and drive," Weinberger told Seven Days in a recent interview. "If I didn't have that, I wouldn't be running again. I still wake up every morning with the hunger to take on these challenges."
Nevertheless, Weinberger may find this bid for office to be his most difficult. In more than a dozen recent interviews, his supporters and critics agreed that the mayor has been a steady leader during the pandemic and that his financial acumen could guide the city's recovery. But they also said the issues that have plagued Weinberger's current term — plus the presence of strong opponents in the race — could threaten his chances of keeping the job he's held for nearly nine years.
"The longer you serve, you get a chance to build a legacy and get things done. You also create more opportunities for people to be critical," said Peter Clavelle, a Progressive who served as Burlington's mayor for 15 years. He previously has supported Weinberger, but he has yet to endorse a candidate this year. "It's gonna be a real race," Clavelle said.
Perhaps sensing an opening, four others have already declared their candidacy, including three city councilors: Progressives Brian Pine (Ward 3) and Max Tracy (Ward 2) and independent Ali Dieng (Ward 7). Still others could emerge before the Progressives and Democrats hold their caucuses in early December.
A crowded field could benefit Weinberger. He won reelection in 2018 by garnering 48 percent of the vote in a three-way race.
Weinberger, a housing developer who'd never before held elected office, had a much easier time when he won his first race in 2012 with close to 58 percent of the vote. That victory made him the city's first Democratic mayor in three decades.
Some Burlingtonians saw Weinberger's win as a rejection of the man he defeated, former mayor Bob Kiss, a two-term Progressive who diverted city cash to keep the struggling Burlington Telecom utility afloat. The move tanked the city's credit rating to near junk bond status, forcing it to rely on short-term loans for daily operating expenses. Its unassigned fund balance — the city's rainy-day fund — was $16.8 million in the red.
Since then, the Weinberger administration has boosted the city's credit rating by six steps, back to the Aa3 status it held before the Burlington Telecom fiasco. Last year, Weinberger tied the bow on extremely fraught debates over the city's sale of the utility to Indiana-based Schurz Communications.
When the coronavirus hit, Weinberger had built up $16 million in reserves, which helped the city replace lost revenues and avoid employee layoffs. Weinberger allocated $1 million of those dollars in March to set up the Resource and Recovery Center to assist residents and business owners with pandemic-related needs. Earlier this month, the city again tapped emergency funds to open three pop-up COVID-19 testing sites to confront another virus surge, though the state may reimburse the city's expenses.
"We were well positioned for a crisis," Weinberger said. "We certainly didn't imagine anything on this order of magnitude, but because we have rebuilt the finances and planned for a storm, we've been able to withstand it."
Burlington resident Erik Hoekstra has supported Weinberger in every election and said he will again this time. Hoekstra, a managing partner of development firm Redstone, said he hasn't always agreed with the mayor's policies but thinks the city needs Weinberger's financial know-how to weather the COVID-19 crisis.
"We need the guy that figured out how to get us out of the Burlington Telecom mess in the mayor's office to make sure that we can manage our way through this mess," Hoekstra said. "It's gonna be a yearslong process of recovery."
Hoekstra said Weinberger's management during the pandemic may earn him the same broad-based support that helped Republican Gov. Phil Scott garner 67 percent of the vote to secure a third term earlier this month.
But Hoekstra also recognized that CityPlace is bound to become a central campaign issue. First proposed in 2014, the long-stalled downtown project hit another snag in July when former majority owner Brookfield Asset Management told the city it was selling its shares to Don Sinex, the developer who first hatched the proposal. Weinberger sued the developers in September, alleging that they breached the project's development agreement with the city by not building it on an agreed timeline.
The lawsuit was a sharp — and public — rebuke of a project that Weinberger had heralded as transformative for the city. Instead, the site remains an empty pit, the butt of many a joke.
Jane Knodell, a former Progressive city council president who supported the project, thinks the suit is unproductive and possibly even political posturing — a way for Weinberger to show that he's not the "developer's mayor," as some have mockingly labeled him. Knodell, who hasn't yet endorsed a candidate, thinks the development could weigh Weinberger down.
"People are gonna want to know: What's the plan? How does this lawsuit get us to a better place?" Knodell said. "I don't think there's a good answer to that."
Shannon Jackson, a former staffer for Sen. Bernie Sanders' (I-Vt.) presidential campaign who is running Pine's mayoral bid, called CityPlace "the biggest blemish on Miro's record" — one that other candidates can leverage.
"It's been poorly managed," he said. "In the middle of town is a giant, gaping hole that, for years now, we have not had progress on."
Weinberger will also have to defend his record on policing issues after a summer of protests. Starting in August, activists occupied Battery Park for more than a month to demand that the city terminate three officers accused of using excessive force.
Weinberger's handling of those incidents has been repeatedly called into question. In April 2019, Weinberger and former police chief Brandon del Pozo attempted to influence a medical examiner's finding that the death of a man who had been punched by a cop was a homicide. In May 2019, lawsuits revealed publicly that two officers had knocked two Black men unconscious during unrelated arrests the previous fall.
In December 2019, Seven Days reported that del Pozo had used an anonymous Twitter account to troll a critic — and that Weinberger had known for months and kept quiet. The chief resigned in the ensuing uproar, and his replacement, Jan Wright, was put on leave when she admitted to similar behavior. She resigned in February.
Annie Schneider, cochair of Burlington's Progressive Party, said Weinberger's actions show he cares more about cops than the city's most vulnerable residents. The hundreds of protesters who marched to Weinberger's home won't forget it, she said.
"People are seeing a clear need for leadership that represents them and for a leader who listens to them," she said.
Ed Adrian, a former city councilor and Democrat, defended Weinberger, saying that it takes time to reform policing, despite activists' call for immediate changes. He called the del Pozo Twitter scandal "a minor hiccup" in Weinberger's nine-year tenure.
"The city isn't all about the police department and the hole in the ground," Adrian said, referring to the CityPlace project. Weinberger has kept city services running through the pandemic, Adrian said, and should be rewarded with another three years. "It's really that simple," he said.
Weinberger acknowledges that racial justice and police reform are top of mind for many voters, and he thinks his administration has made progress on those fronts. In February, the city hired Tyeastia Green, its first-ever director of racial equity, inclusion and belonging. In July, the city declared racism a public health emergency and in November formed a reparations task force to examine the city's role in slavery. Weinberger also appointed a temporary director of police transformation to assess the department's operations.
Courtney Lamdin ©️ Seven Days
Councilor Zoraya Hightower
But City Councilor Zoraya Hightower (P-Ward 1) said activists have had to push Weinberger to hold cops accountable. Hightower — who is serving as Tracy's campaign treasurer — said Weinberger's team was intransigent during talks about the protesters' demands to fire three cops, refusing to take action because the city had already investigated and disciplined the officers. Eventually, in September, after hearing hours of public testimony, the city offered the most senior officer a $300,000 buyout.
"There's some frustration and some hope for more systemic change," Hightower said of her constituents. "I think [which side] people fall more on will depend on the candidates."
Even Weinberger's supporters agree that he faces a credible challenge from any of the three councilors. First elected in 2017, Dieng has a strong following and is unabashedly vocal in pointing out what he sees as Weinberger's shortcomings. Tracy has served since 2012 and is popular among the young, leftmost-leaning Progs who are most unimpressed with Weinberger's policies. And Pine, who has been in Burlington politics for more than 30 years, could appeal to voters who want a more progressive mayor than Weinberger but one more moderate and experienced than Tracy.
Knodell said she thinks Weinberger would outpoll a Progressive in the more conservative New North End. But she also expects that Dieng, who lives in the neighborhood, could siphon off some of those votes. A four-way race involving Weinberger, the Progressive nominee, Dieng and Patrick White, a South End man running as an independent, could even force a runoff: To win the mayoral election, a candidate must earn at least 40 percent of the vote.
Another straw in the wind: The city council has moved noticeably leftward since Weinberger last ran. Progressives made big gains in the 2019 and 2020 elections by locking down wards and districts with significant student populations. In March, they nearly took Ward 5, a Democrat stronghold. Progs now hold the most seats on the council for the first time during Weinberger's tenure.
Former Ward 1 councilor Sharon Bushor knows about that shift firsthand. After serving 32 years as a left-leaning independent, she lost her seat to Hightower in March.
Bushor said Progressives may have alienated moderate voters during debates over policing this summer. Progs have been successful in council races, but to win a citywide race, Bushor said, the party's nominee needs to appeal to centrists, as well.
At the same time, Bushor thinks some Burlingtonians may be looking for a change.
"I think there is a disappointment with Miro," Bushor said.
"There are different constituencies who have axes to grind," she continued. "That just comes with the turf of being around for a while."
Clarification, December 2, 2020: Six Progressives, five Democrats and an independent currently hold seats on the 12-member Burlington City Council. A previous version of this story said Progressives held a majority.