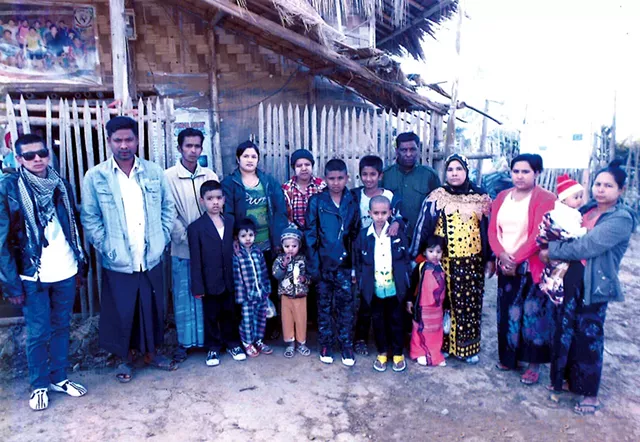 Courtesy Of Me Me's Family
Me Me (in yellow and black) and her family in a refugee camp in Thailand in 2014
Four calendars hang on the living room walls of Maung Mae's house in the Old North End in Burlington. Two are from the school district, alongside his younger siblings' achievement certificates and class photos from the Integrated Arts Academy at H.O. Wheeler.
The other two calendars, published by the Islamic Center of Myanmar, are outdated. One shows March 2014, a month after Maung Mae's family arrived in Burlington from a refugee camp in Thailand. The second calendar dates from last December, the month a car crash changed everything for his family.
"Need to change," observed Maung Mae, nodding toward the calendars. Like most Burmese, he doesn't have a surname.
During a recent visit with Seven Days, Maung Mae, wearing a back brace, slowly walked across the living room and then gingerly reclined on a couch. He pulled a fleece blanket over his legs, held a hot-water bottle close and rubbed his right temple. His walking stick stood nearby. Every few minutes, the 21-year-old shifted his position. Maung Mae felt fatigued; he'd been having sleepless nights.
"I miss my ma. My ma cooked good food," he said.
On December 17, Maung Mae was one of six people, including his mother, in a car involved in an early-morning head-on collision in Norwich, N.Y., as they returned to Vermont from the state of Georgia. They were about an hour from Utica, where they had planned to rest after 14 hours on the road.
A week earlier, Maung Mae's mother, Me Me, and his 5-year-old sister had traveled to Georgia to visit Maung Mae — who had moved there in the summer — and their extended family. Maung Mae's 13- and 8-year-old brothers had stayed behind to look after their ailing father. Having learned that his mother had leg pains, Maung Mae was returning to the Green Mountain State to help around the house when the accident took place.
The driver of the car, an extended family member, died at the scene. Me Me, 36, was pronounced dead en route to the hospital. Maung Mae's sister suffered internal injuries, and Maung Mae sustained head and back injuries. His doctor hasn't told the young man, who has worked as a hotel housekeeper and at a food-manufacturing factory, when he is expected to recover.
News of the accident sent shock waves through the Burlington School District. Me Me was due to graduate from Parent University, where she had been studying ways to support her children's education in their new country. She liked to study, especially English, said her 59-year-old husband, E Sar, and had taught middle school in the refugee camp where she lived for more than 20 years.
"Her dream was to support her children's education and for her to be educated," E Sar said through an interpreter.
Within a few days, Miriam Ehtesham-Cating, the school district's English Language Learning director and leader of some classes at Parent University, had set up a crowdfunding page to help Me Me's family.
"People talked about language barriers, cultural barriers. Me Me dispensed with all of that," said Ehtesham-Cating. "Far from being this stereotypical shy and retiring, insular refugee, she was a fully active person."
Lynda Siegel, an ELL teacher at the Integrated Arts Academy, echoed Ehtesham-Cating's sentiment. Me Me's determination and deliberate advocacy for her children were "exceptional," Siegel said. "She approached me with concerns. To have a parent request a meeting with me — in 23 years, that was the first time that had ever happened." When Me Me didn't have to go to work, she'd make something special for her family and send her kids to school with an extra bag of hot food for their teachers, Siegel recalled.
Ehtesham-Cating admitted that she had no experience setting up a crowdfunding page. But she wanted to do something quickly, she said, because people had started approaching her with offers of help for the family. In less than 24 hours, she achieved her initial goal of raising $5,000 — a "random" number" she said. She was impressed and grateful. "I don't know the people who donated. I see their names, but many of them are not known to me," said Ehtesham-Cating. "I suspect most of them never met Me Me."
Though she has since surpassed a second funding goal of $9,000, Ehtesham-Cating acknowledged that the amount pales in comparison with the family's other needs. Me Me, who started working as a housekeeper at Best Western Plus Windjammer Inn & Conference Center just weeks after she arrived in Vermont, was her family's main breadwinner. E Sar suffers from various medical ailments.
Currently, Siegel is convening a group of social workers, guidance counselors, pediatricians, therapists and teachers to help Me Me's family navigate their new life.
"It's only the beginning. I can't imagine the future," said E Sar. "Right now, I'm only concerned about my children."
His mother's greatest wish, Maung Mae said, was to see his grandmother before she passed away. But she died in February 2014 in Georgia, a week before Maung Mae and his family arrived in the U.S. Khin Aye Lwin, a relative, recalled that Me Me often said, "I want to see my mother's grave." Me Me couldn't afford the airfare and had to wait until someone was willing to make the 18-hour drive to Georgia.
On the eve of that fateful trip, by coincidence, Khin Aye Lwin invited this reporter and Me Me to her home for dinner. When asked if she was excited about meeting her family in Georgia, Me Me broke out in a big smile and nodded. She didn't think she could sleep. Her sisters had told her not to pack because they'd provide everything, she said, with Khin Aye Lwin acting as interpreter. (Though Me Me often seemed to understand more English than she let on, she was more comfortable responding in Burmese.)
Because Me Me would be staying overnight in Utica, Khin Aye Lwin asked her to bring a bottle of ointment to the latter's mother-in-law who lives there.
After finishing a bowl of Burmese rice vermicelli soup, Me Me got up to leave. A couple of minutes later, she opened the door and poked her head back in. Khin Aye Lwin gave a small yelp and said, "Ah, yes, I forgot to give you the ointment."
That was Me Me — always looking out for others. And in her family, she was irreplaceable.