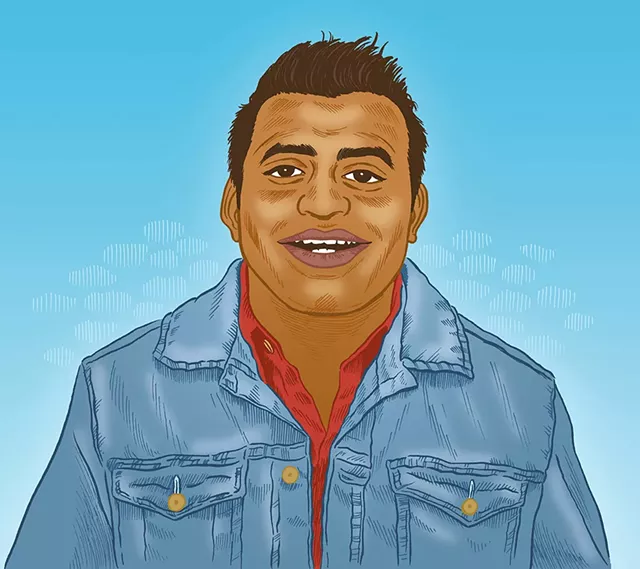 On April 21, Victor Diaz, a 24-year-old undocumented farmworker and migrant-rights activist, drove to Stowe with a friend for a Mexican food event. Federal immigration officers in plainclothes intercepted Diaz and arrested him in the parking lot of the Green Goddess Café. They drove him to a St. Albans detention facility before transferring him to a prison in Dover, N.H., to await a bail hearing.
When Diaz went before a judge last week in Boston, he had the benefit of an immigration lawyer and a petition on his behalf signed by 2,000 of his northern neighbors. Released on a $1,500 bond, the Mexican-born advocate is back in Vermont, but his case is far from over.
As he fights to stay in the country, questions remain in what's become the highest-profile deportation case in the state since 2013. Among them: Will public officials defend Diaz even though he was convicted of a DUI? How did U.S. Immigration and Customs Enforcement find out, and did his activism have anything to do with it?
Diaz has worked in Vermont for about six years. He's one of roughly 1,500 undocumented workers who keep the state's large dairy farms running. While seasonal farmworkers can get visas through a federal guest worker program, that isn't an option for year-round dairy farm workers.
Acknowledging the need for this migrant muscle, state leaders — prodded by labor activists — have taken steps to support it. For example, in 2013, Vermont became one of a handful of states to allow these workers, who are often isolated in rural areas, to obtain a "privilege card" which functions as a driver's license.
Migrant Justice, a local group that formed in 2009 to advocate for farmworkers, played a lead role getting that and other legislation passed. It's also called out instances of racial profiling and successfully fought previous attempts to deport undocumented workers.
Members of the group helped Diaz negotiate a difficult situation in May 2014, when he quit a farm job in Ferrisburgh because of unsanitary living conditions; he said there was sewage coming out of the faucet in the trailer where he and fellow workers lived.
When the employer refused to pay him for work done before his departure, Migrant Justice reps accompanied Diaz to the farm to demand his paycheck. He got what he came for. Afterward, Diaz, who now lives and works on a Vergennes farm, began volunteering on Migrant Justice's farmworker coordinating committee. He's helped lead its Milk With Dignity campaign, an effort to get companies to only patronize farms that meet certain labor standards, including decent accommodations and fair pay. Shortly after major milk buyer Ben & Jerry's embraced the idea in 2015, Diaz's photo appeared in a New York Times story about the farmworker labor movement.
He had just returned from a Food Chain Workers Alliance meeting in Los Angeles when the feds caught up with him in Stowe.
Diaz's arrest spurred Migrant Justice to action — again. On April 22, while Diaz was still in jail, about 40 of the group's members and supporters marched into Sen. Patrick Leahy's (D-Vt.) Burlington office to demand that he intervene with federal officials on Diaz's behalf. The group sent out a press release with the headline: "Vermont Human Rights Leader Arrested by Immigration Police at Mexican Cultural Event."
Later that day, ICE issued an explanation in a written statement that said Diaz, whose full name is Jose Victor Garcia-Diaz, was an "ICE enforcement priority" because of a DUI conviction.
ICE spokesman Daniel Modricker directed journalists to a 2014 memo in which the U.S. Department of Homeland Security prioritized the government's deportation targets. At the top of the list are undocumented immigrants convicted or suspected of terrorism and espionage; felons; and those caught at the border. The second rung includes people who have been convicted of "significant" misdemeanors — such as sexual abuse, drug trafficking and driving under the influence — as well as anyone who has "significantly abused" visa programs.
On October 21, 2015, at 9:20 p.m., a state trooper pulled Diaz over in Panton because the license plate lights on his vehicle weren't working, according to the police report. Trooper Brett Flansburg wrote that he smelled alcohol and spotted empty beer bottles in the backseat. Diaz blew a 0.096 percent — exceeding the 0.08 percent legal limit.
In November, Diaz pled no contest to a DUI in Addison County Criminal Court and paid a $400 fine. It's unclear whether he understood that his plea would make him a priority for deportation. Migrant Justice said he wasn't ready to be interviewed last week, and the public defender who represented him in the DUI case didn't respond to an interview request.
Undocumented immigrants aren't guaranteed an attorney during deportation proceedings, but Migrant Justice hired Matt Cameron, a Boston-based immigration lawyer, to represent him.
"I do have questions about the nature of this apprehension," Cameron said during a phone interview last week. "It feels a little targeted to me because of his labor work." Arousing his suspicions: ICE's arrest report, according to Cameron, notes that Diaz is an "associate of Migrant Justice."
On the other hand, Cameron acknowledged: "ICE has been getting pretty serious about DUI convictions." But, he said, "Certainly, he would not have been the same kind of priority down here in Massachusetts ... We're concerned with people who are beating their wives and selling drugs."
Diaz's supporters want more information about how ICE found out about his conviction and later tracked him to Stowe.
When local police take a person's fingerprints after an arrest, that biometric data gets passed on to ICE, which can run the prints through its own system, looking for matches with law-breaking noncitizens.
ICE began using this technique in Vermont four years ago. Since then, it's run more than 76,000 prints, which produced 1,124 matches —"aliens," in ICE's parlance, either convicted or charged with a crime. Of those, ICE has deported only 11.
But according to Migrant Justice, Diaz shouldn't have been flagged, because he had never run afoul of federal authorities. An ICE spokesperson did not respond to a request to confirm this.
Diaz's conviction is a matter of public record, so it's possible an enterprising ICE officer was keeping an eye on the docket at Addison County Criminal Court. It's also conceivable that a local official tipped off the feds.
Nationwide, collaboration between local law enforcement and ICE has been less than harmonious. In 2014, lack of cooperation forced ICE to ditch its Secure Communities program, which relied on local law enforcement departments to help them find what ICE terms "criminal aliens."
In Vermont, police agencies distanced themselves from ICE after the state's last high-profile deportation case.
During a routine traffic stop in 2011, Vermont state police asked a passenger, an undocumented farmworker and activist named Danilo Lopez, for proof that he was here legally. They notified ICE, which started deportation proceedings that lasted until 2013. ICE dropped the case when Leahy, Sen. Bernie Sanders (I-Vt.) and other public officials went to bat for Lopez.
In response, state police declared that enforcing federal immigration would not be a priority, and the department passed a new, bias-free policy prohibiting cops from asking about immigration status before making an arrest unless it's considered relevant to a criminal investigation.
The policy doesn't preclude officers from asking after an arrest, however, and it's silent on what they should then do with that information.
Trooper Flansburg, who arrested Diaz, said in an interview that he never asked Diaz about his immigration status and didn't know that ICE began an investigation afterward.
What about the prosecutor who charged Diaz? "I didn't report Mr. Garcia-Diaz to ICE. I don't generally routinely do that," said deputy state's attorney Chris Perkett. Under what circumstances would he? "I don't like to answer hypotheticals," he responded.
Perkett's suggestion: "You have to ask ICE" how it found out.
Seven Days did, but ICE did not answer the question.
Regardless of how it came to light, Diaz's DUI complicates his case.
Migrant Justice maintains that it doesn't warrant deportation, arguing that he's already paid the price. "He went though the criminal justice system and came out on the other side, and his interactions with the law should end there," said Will Lambek, a spokesperson for the group.
"In general, there is a powerful misconception that many people hold that there are deserving immigrants and undeserving immigrants," Lambek continued. "I think we have to challenge that and ask ourselves what the limits of our empathy and our understanding are."
Plenty of people agree. During Diaz's May 4 bail hearing in Boston, Cameron presented the petition and 30 letters asking for Diaz be released. "I haven't seen this kind of outpouring in a while," the immigration lawyer said afterward.
But the elected officials who helped Lopez three years ago appear more conflicted about what to do for Diaz.
On April 22, Leahy's state director, John Tracy, told the people who had crowded into the senator's foyer that Leahy was "clearly concerned about this." Tracy also said that Leahy, a longtime advocate for immigration reform, "strongly feels that our scarce [enforcement] resources be focused on criminals, not on people who are abiding by the law or raising families." This was before ICE disclosed Diaz's DUI.
Asked later whether the DUI changed Leahy's stance on the deportation proceedings, his spokesperson, David Carle, said in an email: "Senator Leahy recognizes and appreciates the concerns expressed on behalf of Mr. Diaz, who has been an important member of the Vermont community for years. The facts of the case, including Mr. Diaz's criminal conviction, are continuing to unfold, and Senator Leahy will continue to closely follow the case. Until there is more clarity, it would be inappropriate to say much more."
Sanders is also being cautious. According to his spokesperson, Josh Miller-Lewis, the senator's office sent a letter to ICE "asking them to carefully consider all the factors in Garcia-Diaz's case, including community ties in Vermont." Miller-Lewis said it was against policy to share the communication. Yet when Sanders' staff penned a letter on behalf of Lopez in 2013, it was posted on the senator's website.
Given that tepid congressional support, and his "second priority" status with ICE, does Diaz stand a chance of staying in the country? Cameron said he'll seek prosecutorial discretion — in other words, he will try to convince ICE that it's got bigger, more dangerous fish to fry. He may also pursue what's called post-conviction relief, attempting to retroactively modify his original conviction by, for instance, changing Diaz's plea deal to a lesser offense — undercutting the argument for deportation.
"I think we have a very strong case for that, based on the amount of support we have seen this week," Cameron said.
Resolution likely won't come quickly. In Boston, where Diaz is being prosecuted, immigration court cases take, on average, 586 days from start to finish.
In the meantime, Diaz doesn't plan to lower his profile. According to Lambek, he'll continue advocating for farmworkers' rights with Migrant Justice.