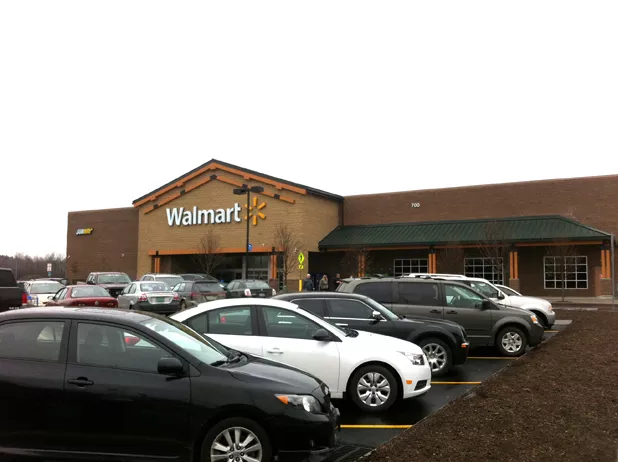 When the St. Albans Walmart opened its doors in mid-October, the nation's longest-running battle against the big box chain finally drew to a close.
On and off for two decades, city officials, local citizens and anti-sprawl activists fought the store, while others in Franklin County clamored for Walmart's cheap goods and one-stop-shopping convenience. The opponents won once, in the 1990s, and Walmart went away for a while. But in 2003 developer Jeff Davis revived plans for the store. Ten years later, shoppers queued up in anticipation of the grand opening on October 16.
For the grassroots band of opponents to the project, the store's opening marks the beginning of a new mission. Sue Prent, who lives in the heart of downtown St. Albans, said she's now focused on documenting the ways Walmart changes the community moving forward.
"It was wrong in so many ways — but there it is," said Prent. "We've got it now."
"It" is the largest Walmart in the state, located in a former cornfield two miles north of the main downtown stretch and with easy access to Interstate 89. Walmart is situated in the town of St. Albans, which surrounds the city, a separate municipality.
Now the question is, what does — not "would" — Walmart mean for St. Albans? Six weeks in, and with the holiday shopping season looming, is the community any different?
On a recent, dreary Friday afternoon, a long line of cars, turn signals blinking, pulled into the smooth blacktop parking lot. The expansive lot was about half full. Inside, shoppers pushed brimming carts through the store. A pregnant woman guided a cart laden with baby supplies and a new rocking chair. In a nearby aisle, a couple scrutinized the price of a 92-pack of diapers. Over in the grocery section, two women scanned the eggs for the best deal: $2.88 for 18. A sign near the front of the store advertised this year's Black Friday specials — which are actually scheduled for 6 p.m. and 8 p.m. on Thursday, Thanksgiving Day. Eight-inch pumpkin pies were selling for $2.98 apiece; in a nearby freezer, 13-pound turkeys went for $13.98.
"We just appreciate the community support," said store manager Ryan Hanson, who moved to St. Albans from a Walmart in Maine. He said the store's been "very, very busy" since opening — more so than expected, though he wouldn't say by how much.
Is there room for everyone in St. Albans' retail market? "Totally," said Hanson.
"We're glad to be here," he said. "'Save money, live better.' That's the company motto, and that's what we're doing here."
That motto lured customers away from the nearby Price Chopper — at least initially. Assistant grocery manager Heath Duchaine said sales were slow in the first few weeks after Walmart's opening — down roughly 15 percent. He was nonetheless upbeat about the situation, calling Walmart "great competition," and said shoppers were already coming back to his store, located a half mile south of Walmart on Route 7, for its friendly service.
Managers at other chain stores in town — including the Hannaford grocery store, JCPenney and Rite Aid — declined to comment on the Walmart effect; any comments, they said, would have to come from their corporate offices.
But smaller businesses are paying attention. At Amy's Gift Shop, located in the strip mall next to Rite Aid, owner Larry Cummings said he isn't in direct competition with Walmart — but that doesn't mean he isn't worried. The gift shop peddles Yankee candles and Sabra Field calendars, among other items.
"When a department store like Walmart opens two miles away, the focus is two miles away from downtown," said Cummings. He estimated that sales are down 20 percent from where they were last year at this time.
He said he'll get by — but with less help. The store employs five people, including Cummings and his wife. He wanted to add another part-time employee but won't be doing so now. "We'll work more hours," said Cummings.
Inside As the Crow Flies, a kitchen supply store on Main Street, owner Jessica Gaudette was busy gearing up for Thanksgiving. Walmart didn't scare her off; she purchased As the Crow Flies in May.
Traffic has been slow during the week, Gaudette said, but she is still seeing plenty of her regular customers. Her plan is to differentiate herself, and her wares, from Walmart's selection. That means carrying American- and European-made kitchenware — Lodge cast iron, wooden pepper mills, brightly colored Le Creuset cookware. "People want quality," Gaudette said.
Her goal is to offer a shopping experience that is as much about pleasure as it is about ticking items off a to-do list. That includes sponsoring in-store wine tastings.
On Friday, Gaudette paused to give a customer advice on wine pairings for Turkey Day, then went back to applying stickers to a large stack of stainless steel pie pans that, she hopes, will be in high demand this week.
"You go to Walmart because you need stuff," said Gaudette. "You go shopping because it's fun."
But Prent is worried that small shops and galleries alone won't make downtown St. Albans healthy and vibrant — a concern echoed by Paul Bruhn, the executive director of the Preservation Trust of Vermont. Prent and her husband moved to St. Albans from downtown Montréal 30 years ago. They didn't own a car at the time and were looking for a place with a "small downtown feeling." St. Albans had "everything you could need" in walking distance from the grand old house the couple purchased a stone's throw from the park.
In recent years, that downtown Prent so cherished has landed a $2 million grant to improve sidewalks, lighting and landscaping as part of a years-long revitalization effort. But the supermarket, pharmacy and stationery stores are gone, and what's moved in — galleries and gift shops — don't stock the stuff of everyday life.
"It looks really pretty now," said Prent, who supports those downtown revitalization efforts. "But I don't think we can be deluded by the fact that all the storefronts are filled."
Bruhn said St. Albans is making smart moves to position itself for the future. But he wonders what the character of downtown St. Albans will become.
"Will it be retail that serves the community first and foremost? Or will it be more high-end retail that's focused on tourism?" he said. "We'll have to see."
Prent contends that Walmart's effect extends beyond current businesses. Because the threat — or promise — of the proposed discount store loomed large for so many years, she believes that other businesses were scared off by the big-box retailer.
"Nobody was going to come in and set up business with Walmart breathing down their neck," she said. "It really has a profound chilling effect on new small business development."
Prent isn't convinced that Walmart will play nice with downtown retailers, either. On the day Walmart opened, she said, the store sent a truck driving up and down Main Street with a large sign urging consumers to move their prescriptions to Walmart. That truck, she said, drove back and forth in front of the downtown Rite Aid.
"That was incredible audacity," she said. The Walmart manager in St. Albans did not respond to numerous calls to verify the marketing tactic.
Prent and others said it would take more than one holiday shopping season to learn the verdict of Walmart's impact on St. Albans's downtown. That doesn't mean Prent won't be watching, in coming weeks, to see how this year's shopping plays out.
"All the people who wanted Walmart, and kept clamoring for it, insisted that it would be good for downtown," she said. She didn't buy it. But now? "I want to be proved wrong."