James Buck
U.S. Rep. Becca Balint
W hen Becca Balint woke up on the pullout couch of a Washington, D.C., Airbnb on Friday, January 6, she found herself stubbornly unchanged into a congresswoman. She gently roused her two sleeping kids, 12-year-old Sarah and 15-year-old Abe, to say goodbye, then walked the mile or so to her new apartment, where she put on the dark blue suit in which she would, for the next 18 hours, remain congresswoman-elect.
For three days, Balint, a Democrat, along with her 433 colleagues in the U.S. House of Representatives and much of the American public, had been captive witnesses to a tableau of historic dysfunction. A faction of far-right Republicans refused to back the GOP pick for speaker of the House, U.S. Rep. Kevin McCarthy (R-Calif.), forcing a mind-numbing sequence of roll-call votes — the most since 1923, when the House took nine ballots to elect a leader. With the speakership held hostage, Balint and her fellow House members couldn't be sworn in, rendering them powerless to legislate, help their constituents, authorize federal spending or otherwise constitute a functional chamber.
On several fronts, Balint was in limbo. She hadn't finished moving into her new place, a one-bedroom a few blocks from the Capitol that she'd scored for the unheard-of-in-D.C. price of $1,500 a month. When I met her there that Friday morning, a listing tower of empty Wayfair boxes sat on the curb. She had so far managed to acquire a bed, a rug, and a convertible sofa and chair for her kids to sleep on when they visit her during school breaks — in Abe's assessment, Balint said, "kind of bare bones."
Very little about Balint's life in her first days on Capitol Hill was within her control. Her schedule was dictated by the timing of roll-call votes; without a speaker, there were no legislative committees, which meant she had no idea what kind of policies she would be working on. (She has since been named to the House Committee on Oversight and Accountability.) Balint, a student of Buddhism, tried to find the lesson in the chaos. "This is all a great exercise in impermanence," she said at one point during the week. But compared to the joyous mood surrounding her victory in November, when she became the first woman and openly gay person elected to represent Vermont in Congress, her time in Washington was off to a grim start.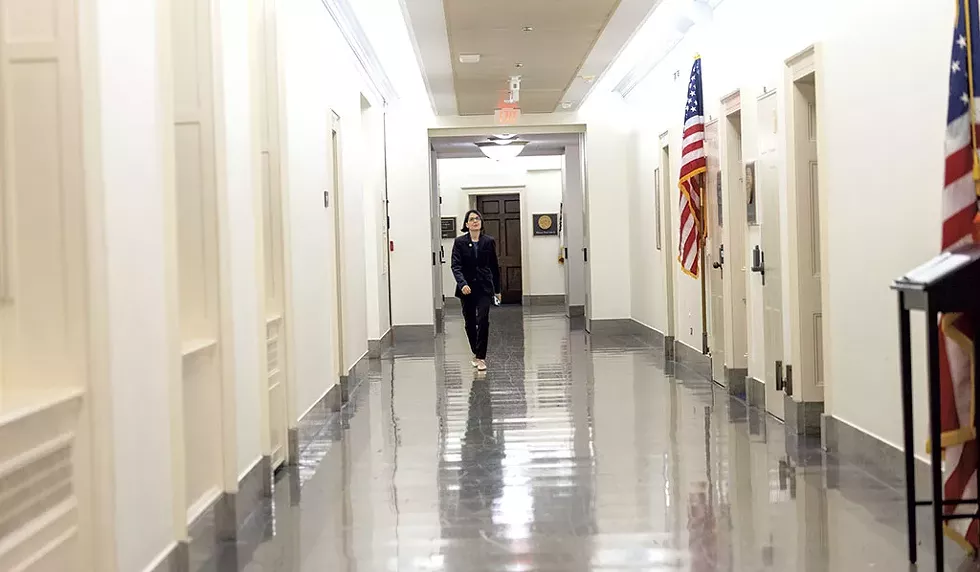 James Buck
U.S. Rep. Becca Balint
The 54-year-old former middle school teacher from Brattleboro had served eight years in the Vermont Senate, rising to majority leader, then president pro tempore, of the chamber. She'd defeated a better-known challenger, lieutenant governor Molly Gray, in the Democratic primary last August, and she easily won the general election against her Republican opponent. She arrived in D.C. with a list of issues she was eager to work on — affordable housing, the mental health care crisis, reproductive rights. Now she found herself at the mercy of a Republican majority that couldn't get its act together to elect a leader.

Her parents and older sister had been in D.C. earlier in the week, hoping to see her sworn in. But by Wednesday, day two of the speakership stalemate, they'd had to go home. "It's so incredibly frustrating," Balint told me on the third speakerless day. She had just emerged from another roll-call vote, looking like an unwatered plant. "It feels like we're getting a glimpse of the next two years." By Friday morning, Balint's only official action on the House floor had been shouting the name of the Democratic nominee for speaker, U.S. Rep. Hakeem Jeffries (D-N.Y.), 11 times.
That day, she would have to shout "Jeffries!" four more times. Finally, just before 2 a.m. on January 7, after 15 roll-call votes, McCarthy would be elected speaker and Balint would be sworn in at last, with her daughter crocheting a stuffed animal by her side. The excruciating fight for the gavel brought some of Washington's ugliest features into sharp relief — the backroom dealing, the ego-driven pursuit of power — and with a slim Republican majority beholden to its most extreme wing, Balint now faces two years in which her party is unlikely to accomplish much.
But she still believes she can lay the groundwork for long-term progress, she said, by building relationships with people "who are just as exasperated as I am." And in her brief tenure on the Hill, the spunky charisma that helped lift her to victory in Vermont already seems to be making an impression on her peers in Congress, according to her predecessor, U.S. Sen. Peter Welch (D-Vt.).
"I see my House colleagues all the time, and they'll say, 'We really, really like your replacement,'" Welch told me in mid-January.
Balint, a former coxswain on the Smith College rowing team, tends to greet people she knows as if they have just returned from a voyage at sea. This habit extends to people she encounters on a near-daily basis, including the security guard stationed by the main entrance of the Longworth House Office Building, where her congressional office is located. The guard was one of the officers on duty at the Capitol Hill hotel where Balint and other newly elected House members stayed during their orientation in November. When she reported to Longworth for her first day on the job, Balint said, he recognized her and showed her which door to use.
Several times over the course of the week I spent with Balint in D.C., I heard her squawk with delight when she left Longworth and saw him standing there — "It's youuuuuuu!" — to which the guard would respond, in similar fashion, "Heyyyyyyy!" Balint can be so enthusiastic about human beings that I occasionally found myself wondering if she actually exists in some parallel dimension, where people are statistically less disappointing.
But Balint is also a pragmatist, and her experience in the Vermont legislature and in life, she said, has taught her that all cooperative human enterprise turns on relationships. "When I was running, some of my detractors would say, 'You're not gonna be able to do what you did in Vermont in Congress,'" Balint said. "Well, I have to say — Congress is a people place, just like any other place."
---
First Impressions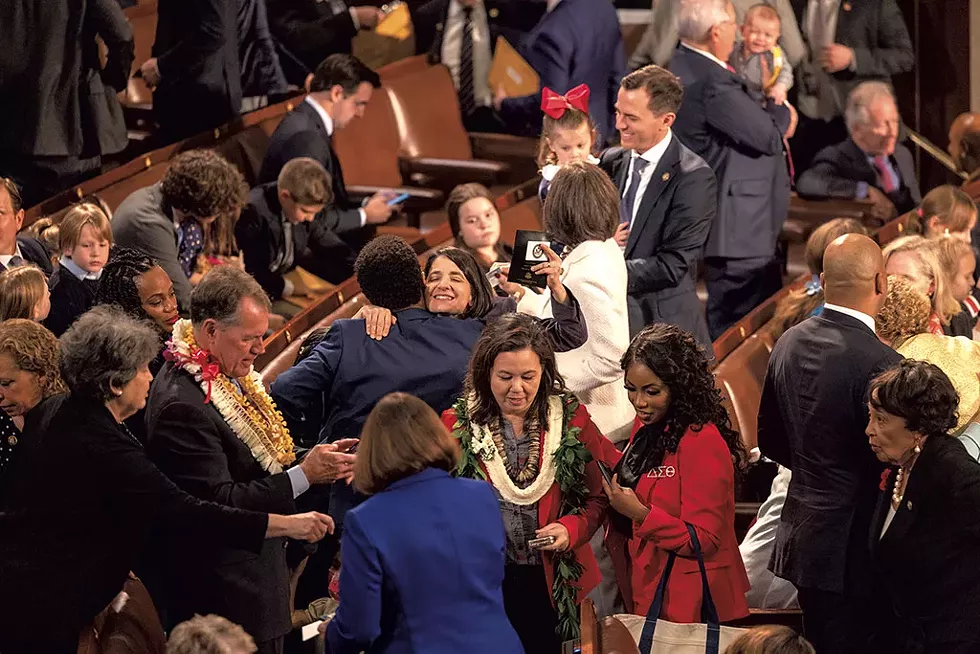 James Buck
U.S. Rep. Becca Balint on the House floor
A few hours before the House was scheduled to take its first vote for speaker, on January 3, Balint arrived at her Longworth office, wearing the blue velvet blazer in which she hoped to begin her term in Congress.
In the preceding weeks, she'd been in the spotlight for receiving more than $26,000 in campaign contributions from disgraced cryptocurrency mogul Sam Bankman-Fried and his associates. Balint was one of dozens of Democratic and Republican candidates who benefited from an influx of cash from the likes of Bankman-Fried, now accused of illegally funneling tens of millions of dollars to campaigns and political action groups in the 2022 midterms. Balint has maintained that she did not solicit the contributions and that her staff has set aside the donations as they await legal guidance on how to proceed.
But by the time Balint fastened her gold-plated House member pin to her lapel, the Bankman-Fried scandal had been eclipsed by fresh intrigue: McCarthy's bid for speaker, widely expected to be a doozy, and the curious case of newly elected U.S. Rep. George Santos (R-N.Y.), who concocted virtually his entire biography. On Tuesday morning, as Balint careered from one interview to the next in the Capitol, no one pressed her on crypto; instead, she was asked to weigh in on McCarthy ("no integrity") and Santos ("no self-dignity"; "should step down.")
In the Cannon Rotunda, where dozens of news crews had camped out among the Corinthian columns, Balint told WPTZ-TV that she hoped to join forces with moderate Republicans to address the nation's mental health crisis. Her mood was ebullient. She was breaking barriers; she was ready to hustle. "My heart is bursting in the best way," she said. "I love meeting new people."
Afterward, Balint debriefed with her chief of staff, Megan Garcia, and her communications director, Sophie Pollock, about what she should do with her hands while she was on camera, one of the many considerations of her new life. "I have to remember not to do this" — Balint emphatically placed a hand over her chest — "because the microphone's here, and it goes krrrrrrr. So maybe I should just not grab my solar plexus."
Then Balint and Pollock descended in an elevator into the bowels of the Capitol and walked to a tiny, stuffy room lit by overhead fluorescent lights, where more TV crews awaited. As Balint was miked up for an interview with WCAX ("You're definitely our cheeriest," one of the producers remarked), she spotted a familiar face.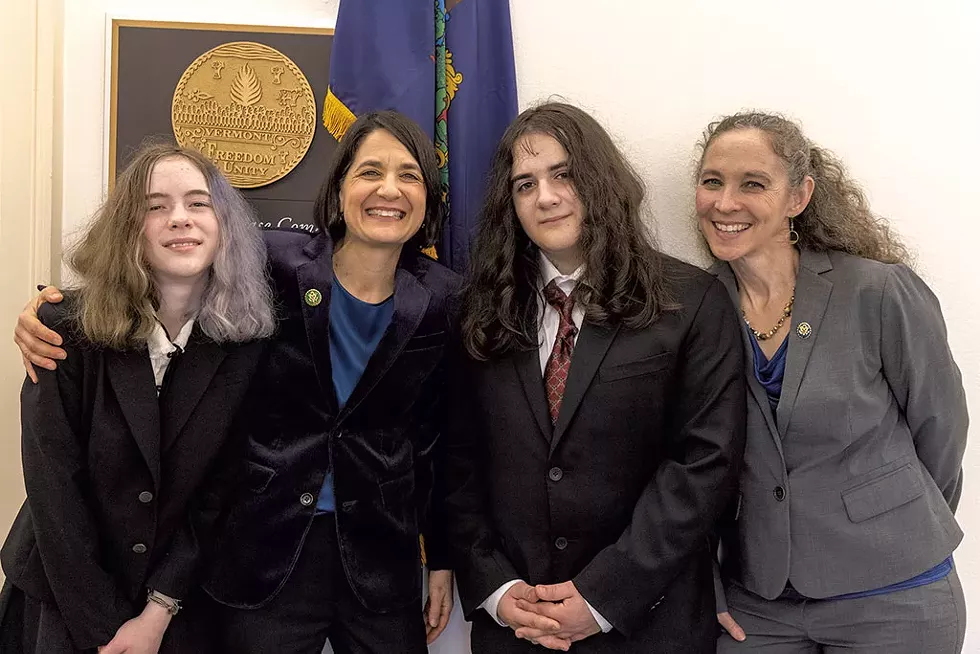 James Buck
Balint and her wife, Elizabeth Wohl, with kids Sarah and Abe
"Greg! Good morning, good morning!" Balint effused to a young bearded guy in a navy blazer, Rep. Greg Casar (D-Texas), a fellow first-time House member from Austin. Back on camera, hands clasped in front of her at the six o'clock position as if she might, at any minute, start churning butter, Balint was asked how she planned to keep making history.
"Love that question," Balint said. "I want Vermonters to always recognize me — as the person I was as a teacher, and that's who I was as a legislator and as leader of the Senate in Vermont. Unfortunately, that's not true for so many politicians in this country. So I might make headlines simply by being myself."
Around 11:30, back in her Longworth office, Balint scarfed down half a club sandwich and spent a few final moments with her family before she was due on the House floor.
"Can I get a picture of you with our children?" asked Balint's wife, Elizabeth Wohl. "Of course!" Balint said. She squeezed onto a leather sofa between Sarah and Abe, beaming. Then, she had to find her phone ("You always have to have your phone," Garcia reminded her, to which Balint replied, a little glumly, "Yeah, I know") and say her goodbyes. "I don't know when I'll see you again!" she called to the gaggle of staffers and supporters in her office. "We're living history!" Her parents, who would watch from the House galleries, wished her luck.
As Balint made her way through the underground tunnel between the House office buildings to the Capitol, she ran into a fellow first-year, U.S. Rep. Andrea Salinas (D-Ore.). Balint swooped in for a hug, provoking a small grimace from someone walking in the opposite direction.
---
'Scrappy Little Dyke!'
James Buck
Rep. Balint greeting Rep. Andrea Salinas (in white pantsuit)
In mid-November, Balint and the other newly elected Democratic women attended an orientation event at a Capitol Hill restaurant, hosted by the Elect Democratic Women PAC. The chair, U.S. Rep. Lois Frankel (D-Fla.), summoned the group to the front of the room and asked them to introduce themselves using only three words. There were at least 100 people in attendance, including a couple dozen senior members of Congress. Without hesitation, Frankel said, Balint jumped to the front of the line and yelled, "Scrappy little dyke!"
This pronouncement, according to witnesses, had the effect of an exploding tube of confetti. "It was just hailed," said Salinas, the Oregon representative, who was among the newcomers at the event. "I think it was a watershed moment for a lot of the freshmen women, who were maybe a little more reluctant to put on their true selves."
James Buck
U.S. Rep. Becca Balint
Balint, who worked for nearly a decade at a wilderness camp in Plymouth before she became a middle school teacher, has spent most of her professional life defusing adolescent awkwardness and its grown-up manifestations. But for Balint, that moment also presented an opportunity to take back a word that had often been used against her. She grew up with few LGBTQ role models in politics, she said, and for a long time, she didn't think it would be possible for someone like her to hold elected office. Now, as a congresswoman, she could turn that feeling of powerlessness on its head.
"I was like, OK, what can I say that will just be, like, totally me, irreverent, that will give everybody else permission to say whatever?" she said. "The haters are out there. But if I use their word, I take away its power." Since then, Balint told me, several queer House members and staffers have privately thanked her for proudly embracing her identity.
As a first-time representative, Balint has a penchant for getting noticed — a potential asset for Vermont, one of seven states with just a single delegate. Holding a leadership role in the House someday, she said, is "not part of my vision for the work that I want to do here." But she has already assumed some official duties — as a cochair of the Congressional LGBTQ+ Equality Caucus, vice chair for new members in the House Progressive Caucus and deputy whip for New England Democrats — that will allow her to get to know more of her colleagues, and for them to get to know her.
"Becca's got a very dynamic personality," Frankel said. "I can just tell, watching her interaction with caucus members on the floor. She's young enough, if she likes the job, to be here for a while and to be a leader. She'll be a shining star."
---
Balint in the Bardo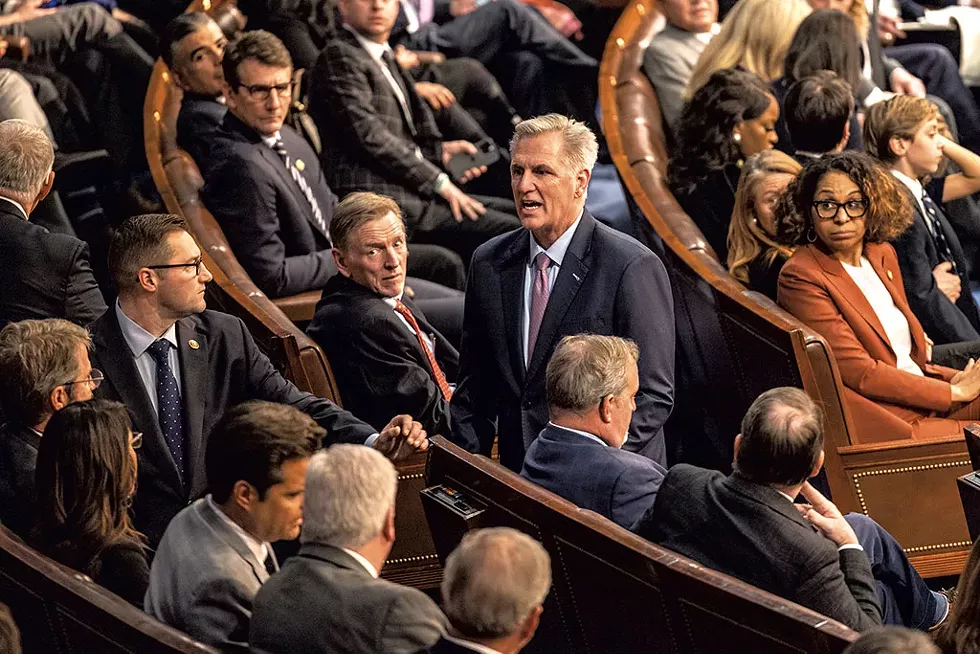 James Buck
U.S. Rep. Kevin McCarthy confronting GOP members of Congress who voted against him for speaker of the House
Day three of speaker misery, Thursday afternoon: Balint yelled Jeffries' name for the seventh time with a gusto that, at one point, moved Jeffries to text her to express his gratitude. Then she ducked out of the chamber to steal a few minutes with her wife and kids before she would be summoned back to shout it again — and again, and again, and then five more times after that.
She had dark circles under her eyes from doomscrolling the night before. As she trudged through the underground tunnels of the Capitol to meet her family in the visitor center lobby, Balint looked like a soul who had been granted temporary leave from the most boring circle of hell.
No one seemed to know when they might be released from this paralysis; even more troubling, Balint said, was that the GOP dissenters, most of whom have denied the legitimacy of the 2020 presidential election — including Reps. Lauren Boebert (R-Colo.) and Matt Gaetz (R-Fla.), two of McCarthy's most strident antagonists — didn't seem the least bit troubled.
"When you see people up close who actually don't care if we have a functioning government, who would be perfectly happy bringing everything to a standstill — that's bleak," Balint said.
Just then, we passed a security guard in the corridor outside the visitor center, and Balint suddenly sprang to life. "I haven't forgotten!" she said to the officer.
At issue, Balint explained to me, was Ben & Jerry's ice cream, which Sen. Welch had apparently promised the guard. But Welch had already returned to Vermont, and Balint was determined to make good on his commitment. "I just gotta figure out the transport!" she shouted as we walked away.
---
Taking the Mic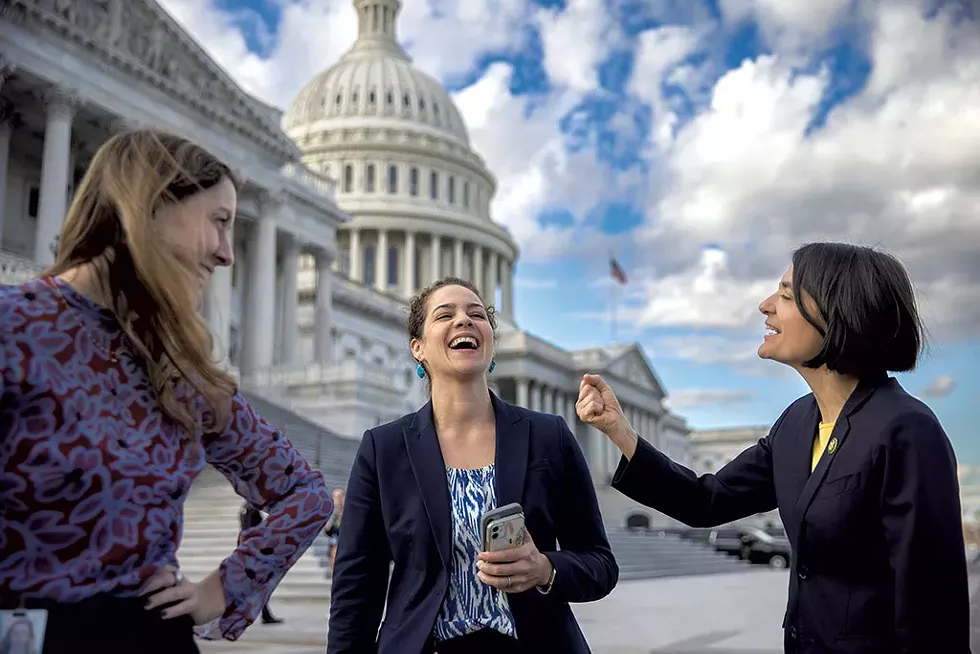 James Buck
Rep. Balint talking with staff members Sophie Pollock (left) and Megan Garcia
As a new member of Congress, Balint has had to absorb an extraordinary amount of information, ranging from the mechanical (e.g., how to lower the podium on the House floor, of particular relevance to the five-foot-tall Balint) to the technological (e.g., how to use an app called DomeWatch, which "sounds like something from SNL," as Balint put it, and tracks House floor votes in real time) to the peculiar (e.g., in the House cloakroom, you can, though this seems inadvisable, procure a hot dog).
During orientation, Balint said, U.S. Rep. Teresa Leger Fernández (D-N.M.) pulled her aside and led her into the statuary hall of the Capitol building. There, Fernández showed Balint how, by punching a secret code into a keypad hidden behind a marble pillar, an unmarked door would open to reveal a private lounge exclusively for women members of Congress. In this Hogwartsian nook, known more formally as the Lindy Claiborne Boggs Congressional Women's Reading Room, you can nap on a chaise lounge, or take a Zoom call, or gently disassociate into the gilded portraits of congresswomen past.
But Balint's main learning curve over the next two years will be figuring out how to maneuver in a legislative body led by people who seem chiefly interested in disrupting the normal functions of government. She said she has no illusions about how easy it will be to find moderate Republicans willing to cross party lines in support of safeguarding abortion rights or canceling student loan debt. "I knew what I was getting myself into," Balint told me. But even if her advocacy doesn't pay off this session, Welch said, it will bear fruit — perhaps very small fruit, but nonetheless fruit — down the road. "So much of legislation is working hard to build a base of support," he said.
With a much-compromised McCarthy finally in the speaker's seat, on January 9, Balint and the rest of the House Democrats voted against a Republican rules package that, among other things, authorized the creation of a special committee to investigate the investigators who investigated Donald Trump and his allies. Two days later, House Republicans passed a bill called the Born-Alive Abortion Survivors Protection Act, which would impose up to five-year prison sentences on health care providers who do not try to preserve the life of a viable fetus after an abortion — an extremely rare scenario in which laws against infanticide would already apply.
The measure is expected to die in the Democrat-controlled Senate. But for Balint, who gave her first House floor speech in opposition to the bill, it was an important reminder of why she'd run for Congress.
James Buck
U.S. Rep. Becca Balint
"On my side of the aisle, the folks who were lined up to speak — it was like an amazing mosaic of America. And over on the Republican side, it was all men, white men over 65, until the very end, when one older white woman came over," Balint said. "Just sitting there, having to hear some of them talking about our bodies, it's hard not to give into sort of fear and loathing, because it is so personal." But in those moments, she said, she's found a mantra that helps her zoom out: "I am the voice of the people who aren't here."
After the House adjourned that day, Balint and a group of Equality Caucus members went to a recording studio for a night of karaoke. Actually, Balint clarified, someone drove her there — one facet of this highly managed existence, she said, that feels "infantilizing" to her. "Like, I lead wilderness trips, and now I need people constantly telling me, 'You've got to go to this room. This is the floor. This is how you get there. Let me know if you need me to pick you up!'"
But in the karaoke lounge, Balint was in her element. She sang Dolly Parton to a midwestern congresswoman's Kenny Rogers in a rendition of "Islands in the Stream"; she performed Beyoncé's "Single Ladies" and Journey's "Don't Stop Believin'," accompanied by all the midwesterners in the room. At one point during the evening, U.S. Rep. Sharice Davids (D-Kan.), whom Balint has long admired, said to her: "You're so fun."
For Balint, those moments of exuberance are a spiritual necessity. "We are facing a very cynical, extremist element, and we have to find our joy, or else we'll become embittered and burnt out," she said. "And then we're not gonna be able to fight the good fight."

This story was updated on January 27, 20223, to reflect that Balint has been appointed to a House committee.
Correction, January 25, 2023: A previous version of this story misreported the length of Balint's tenure in the Vermont Senate.